Α lightweight fleece jacket is a very useful piece of clothing for hiking and trekking.
Its principal role is to offer the right balance of insulation (warmth) and moisture management to the upper body, while hiking in cold, wet & cold or cool conditions.
Not every type of fleece is suitable for the activity.
Wearing a bulky 300-weight fleece for instance (weight is measured in gr/m2 of fabric) we would be overheated, soaked in sweat and finally overcooled even when hiking in cold conditions.
Heavyweight fleece jackets are more suitable for rest breaks or for camp use but they are less thermally efficient for their weight than lightweight down and synthetic jackets that most of us use nowadays.
Moreover, it's not designed to offer supreme protection against wind and rain. Models offering a fraction of such features are more likely to have breathability issues. With other words, it's not ( and there's not in general ) a piece of clothing that excels in everything.
Usage
On the other hand, a lightweight fleece jacket is an important part of the layering system and can be worn:
as an outer layer on top of a breathable hiking shirt/ baselayer.
as a mid-layer between the baselayer and a windaproof/waterproof shell, a down/synthetic jacket or both.

I personally use it as follows:
Cold conditions
I usually wear it throughout the hike as an outer layer on top of my hiking shirt or as a midlayer ( when it's windy) between the former and a light windproof shell ( eg rain jacket, softshell). When resting at camp I tend to wear it below my puffy jacket for extra insulation.
Wet & Cold conditions
During wet and cold days I wear it as a midlayer between my hiking shirt and waterproof jacket. It keeps me dry and most importantly warm, a thing even more important during multiday trips in wet environments ( eg Scandinavia, Scotland).
Cool conditions
At the start of the hike, before getting warmed up, I wear it as an outer layer on top of my hiking shirt.
Mild conditions
In areas with more exposure to the cold ( eg ridges, passes ).
Characteristics
Lightweight fleece jackets are available in a variety of qualities and styles. Usually – but not always – the pricier models use fabrics that are lighter, wick better and are sufficiently – and not excessively – warm.
For hiking the below characteristics are important:
Weight
A fleece weighting less than 200gr/m2 is considered lightweight.
Comfort
It should have elasticity in order to move freely with the wearer, not restricting his moves. The seams should be flat and soft to prevent irritated skin. The collar should be soft as well to allow the free motion of the neck.
Breathability
It should excel in moisture management ( allowing sweat to escape quickly ) in order to keep us dry and comfortable while on the move.
Venting
To have at least a half-length zip or – even better – a full one.
Style
It should have a slim and comfortable athletic fit in order to be easily worn under other layers of clothing.
Durability
Not all fleece fabrics are equally durable in heavy use. It should feature a modern abrasion resistant technology.
Personal choice
My choice is the technical SALEWA Pedroc Polartec Full Zip Men's Fleece that ticks all the above boxes and has performed exceptionally during the last 3 years of heavy use.
The new version of the jacket is SALEWA Pedroc Polarlite Men's Jacket .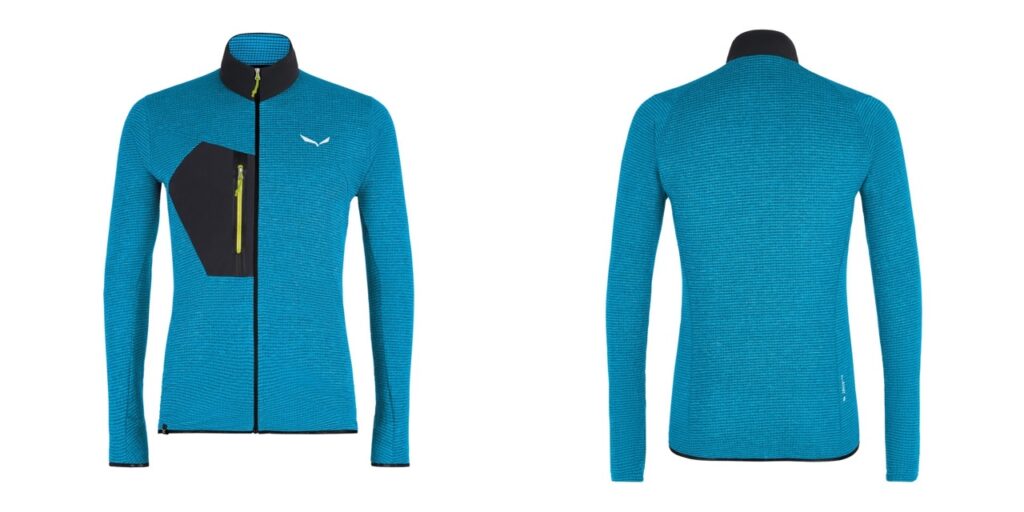 If you do not own a lightweight technical fleece, think about it. Products with similar characteristics are readily available. No matter the one you choose, the truth is that a lightweight technical fleece is a very practical "tool" for years of use on hiking and backpacking.
Happy trails! 😊✌️