On every hiking trip – no matter its duration – the stuff carried in our backpacks ( clothes, equipment, food and water supplies ) can contribute – to some extent – to a safe and enjoyable experience.
The way that the pack's contents are organized does play an important role as well to the quality of the experience.
The article was written having multi-day backpacking trips in mind ( where the equipment used is way more ),  but the tips outlined below can prove useful even for organizing a pack for a day-hike.
Safety / Stability
First and foremost, everything should be placed – if possible –  INSIDE the pack. A plethora of items strapped to the outside – an image often accompanying people new to hiking / backpacking – should be avoided. 
These items are at risk of being damaged or lost ( dropped ) but most of all they affect our stability, thus compromising our safety in challenging terrain !
A loaded backpack is pulling us backwards, so we automatically lean forward in order to get back to our neutral position. The heavier the pack, the more energy is required to put things into balance.
The backpack's negative impact on our stability can be minimized by efficient load distribution.
Load distribution
Bulky but low-density items ( sleeping bag for instance ) should be placed at the bottom of the pack. 
The heavier and denser items should be placed :
at the pack's middle height

 

close to our body ( against the back panel )
centered to the spine, dividing equally the weight on both sides.
In contrary, the lightest and low-density items ( such as clothing ) should be placed:
at the top of the pack

 

away from our body

 
Comfort
Waste and shoulders straps should be adjusted in a way that the weight is "resting" more on the hips (~70%) than the shoulders (~30%). During the hike we readjust accordingly in order to release pressure.
Organization
Similar items ( clothing for instance ) as well as bulkier items ( shelter, quilt / sleeping bag, food supplies ) are better organized in ultralight waterproof stuff sacks !
Items that we'll probably use during the day's hike should be stored in external pockets and the top of the pack to be readily accessible, thus to avoid stopping every once and while to open our backpack.
More specifically, our stuff are better organized by height inside the pack as follows:
Bottom
Bulky but low-density items that we won't use until setting up camp ( quilt / sleeping bag, air sleeping mat, clothes worn during sleep ).
Middle height
Our food supplies ( by far the heaviest we carry during multi-day unsupported backpacking trips ), our cooking system, paper maps for the remaining days and our shelter ( if it fits and it's dry ).
Top of the pack
clothing ( with waterproofs, insulating jacket / fleece, gloves and beanie placed on top )
first aid kit, toiletries, repair kit

 
External pockets
snacks for the day's hike

 

water bottle

 

paper map, compass, GPS
sunscreen, lip balm

 

poop kit ( toilet paper, trowel, lighter, antiseptic hand sanitizer )
the tent's fly ( if it's wet ).

 
Waterproofness
A waterproof liner containing all our stuff should be placed inside the pack – no matter the weather forecast – in order to protect them from getting wet. Backpack rain covers are unreliable in driving rain, so even if we use one, our backpack should be lined as well.
A reliable and cheap solution that I've been using for many years now is a trash compactor bag that can be used for multiple times.
Backpacks: My personal choices
Thruhikes ( Multi-day trips ) : Salewa Alptrek 55+10L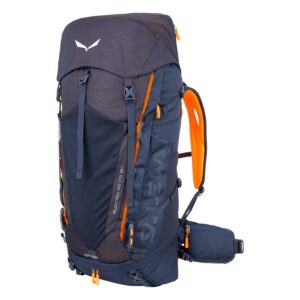 Full autonomy for up to 2 weeks ( lightweight clothing and camping equipment plus all the food supplies ).
Overnights ( 2-3 day trips ) : Salewa Alptrainer 35+3L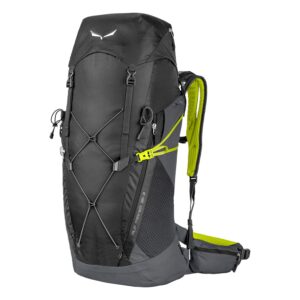 Autonomy for 2-3 days.
#Speedhiking excursions (day-hikes) : Salewa Ultra Train 22L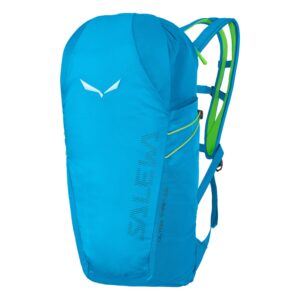 Super light and efficient for the short in duration but yet so rewarding day hikes !