The sun finally disappeared beneath the never ending horizon. The frozen wind turned violently in an easterly direction. Strong gusts were hitting our tent's orange walls, whose bright color looked like the only vivid dot amidst this barren, hostile landscape. Slowly – but steadily – dark took over and blended perfectly with the pitch black of the cold desert. I stayed outside wearing everything I had. I just couldn't get enough of it! The sound of the wind, the sense of remoteness. In fact, there was absolutely no other place in the world I would rather be!
-«Come inside man! Let's hear some music! »

I heard Argiris call from the tent.
I crawled into my sleeping bag and – when I settled – we stayed still, listening to a calm Celtic melody. This one in particular, had been the last act of our daily routine. We were tired and soon fell asleep. Today- as yesterday and the day before – we penetrated another 40+km into Europe's largest desert…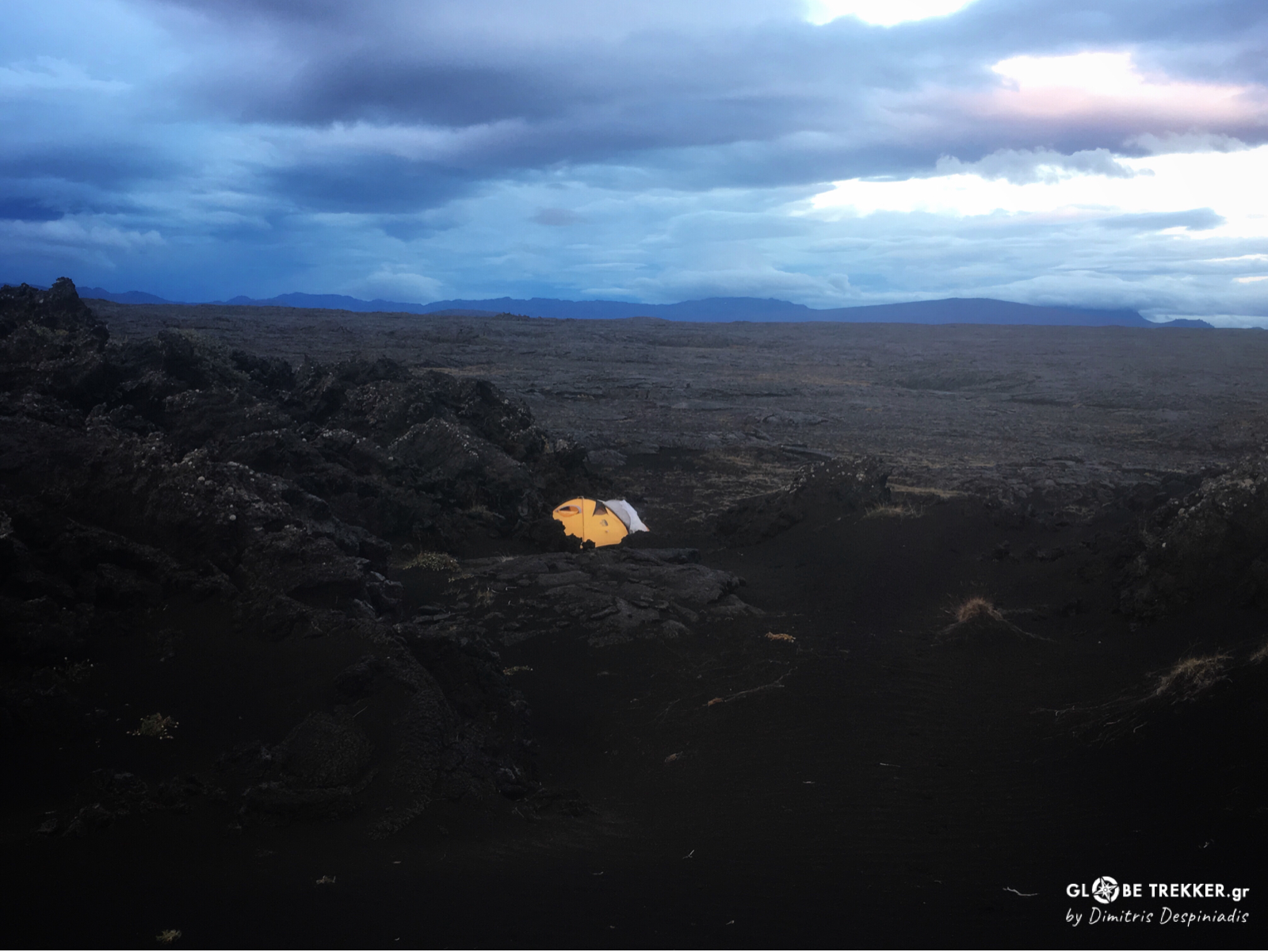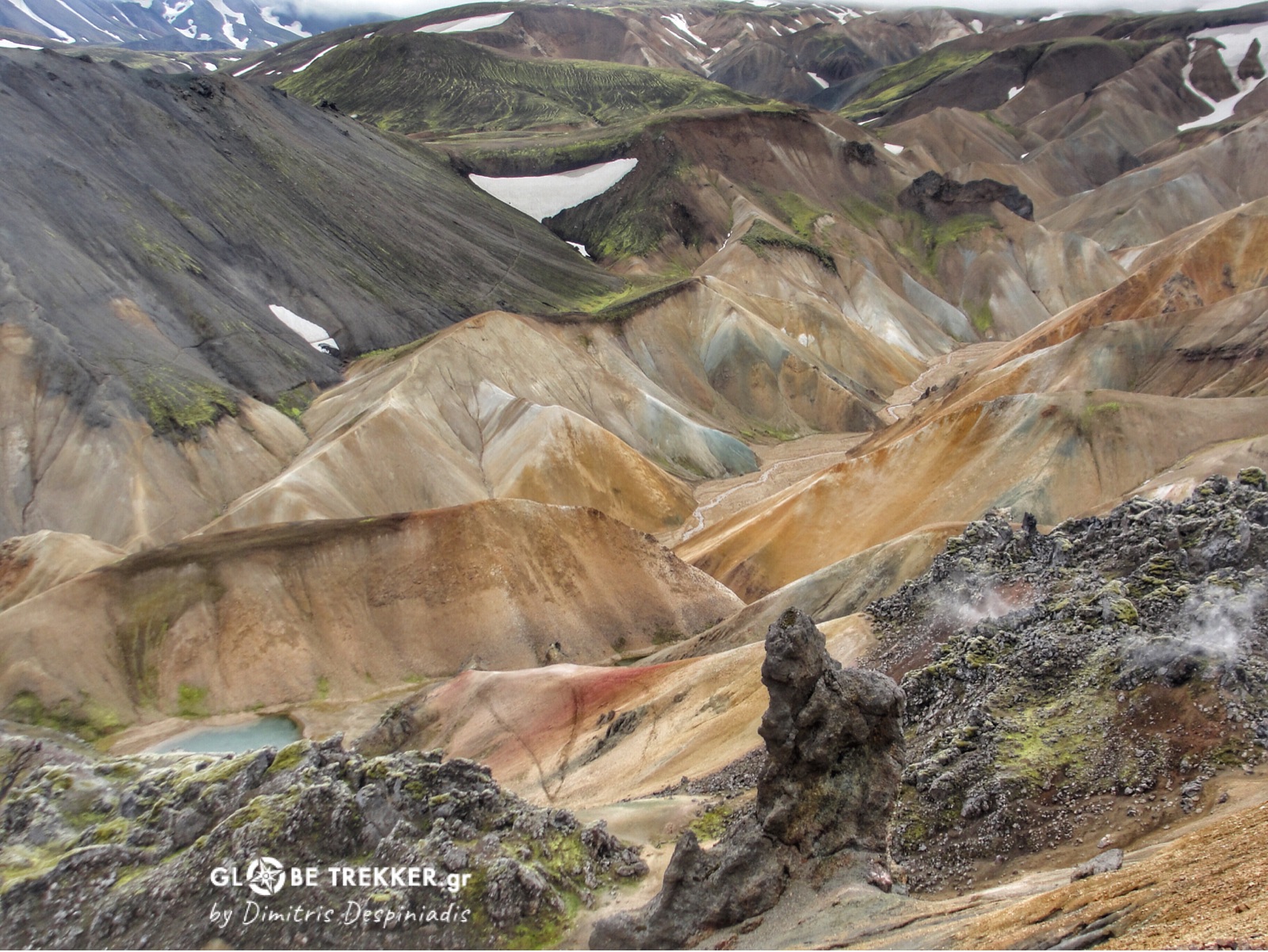 In August 2017 I traveled with my close friend Argiris to Iceland in order to cross the island on foot – from the northernmost tip to the southernmost shore (~600km) – and in complete autonomy!

Iceland lies atop the ever expanding mid-Atlantic ridge, that separates Eurasian and North American tectonic plates. As a result it is one of the Earth's most geologically and volcanically active areas! The idea of a long walk through this land of wonders got us hooked from the very beginning!
The last two months prior to our departure, we had spent countless hours planning a route on the map, carefully selecting every item of food and gear and maintaining a good physical shape. Time passed really quickly!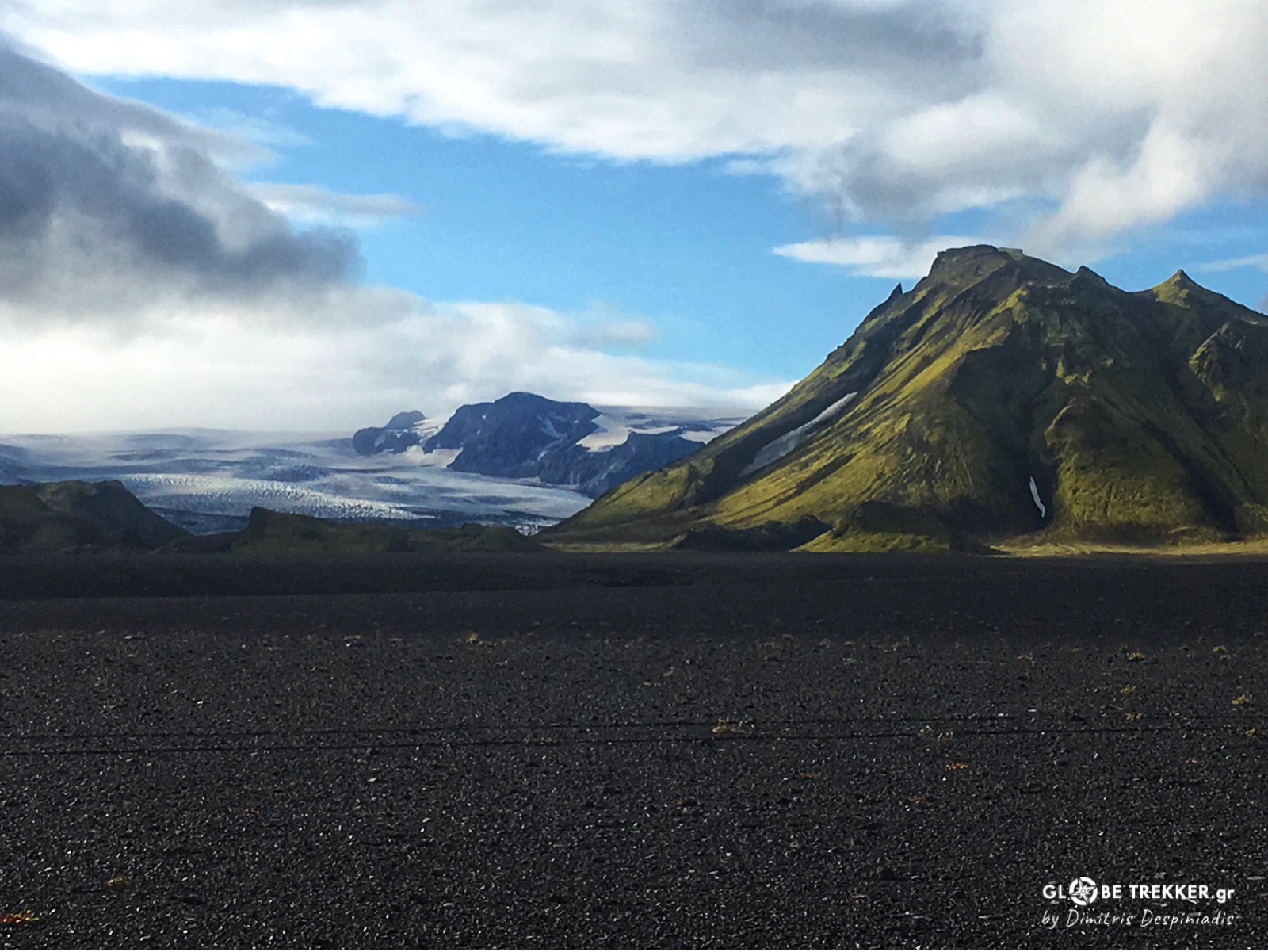 August 20, 2017

Hraunhafnartangi lighthouse , Northern Iceland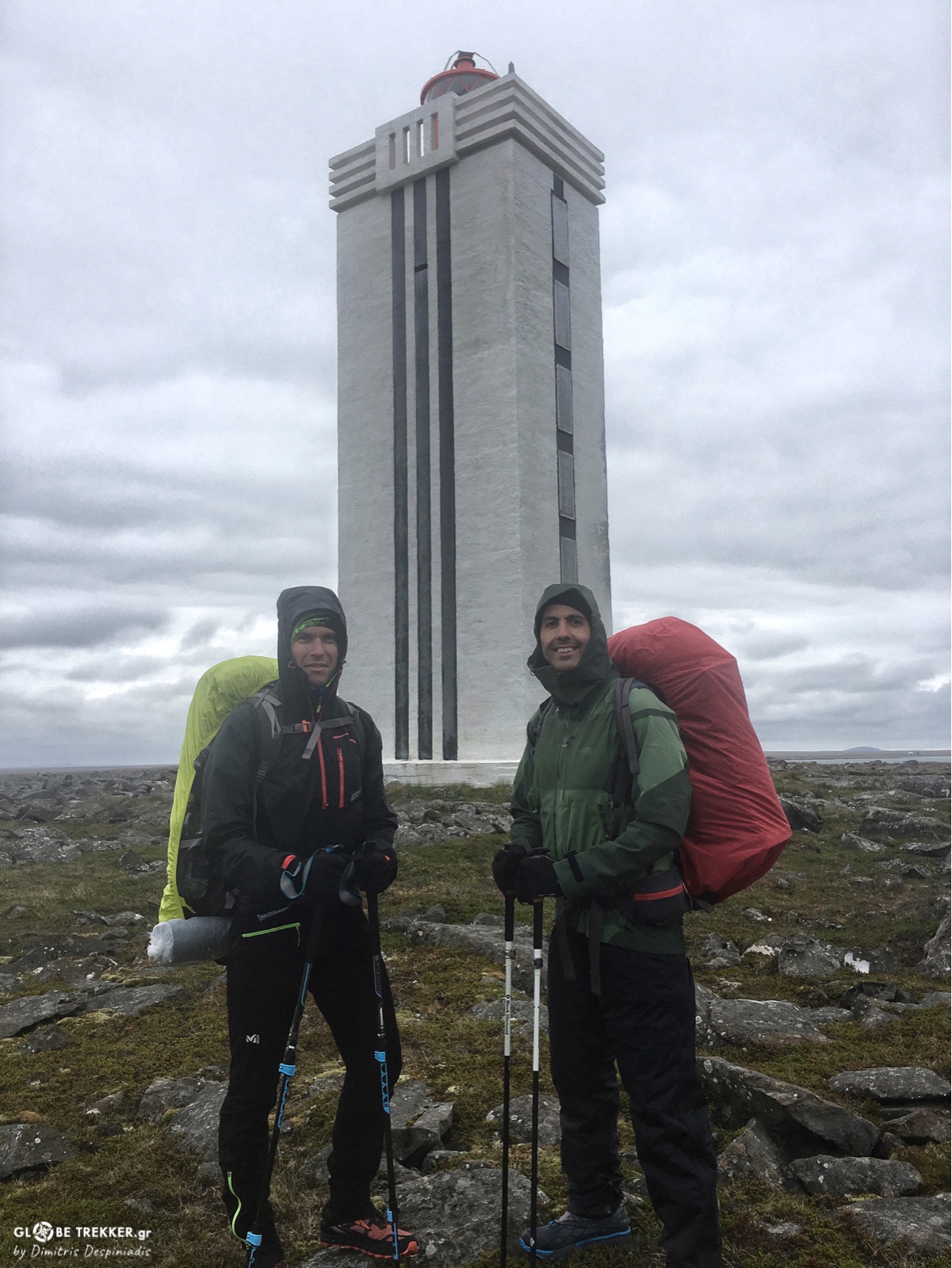 It was already afternoon when we arrived at the lighthouse. Two flights, two bus rides and two hours of hiking transferred us from the heat of Greece to a different "summer" reality. Here, on the northernmost tip of Iceland – just a stone's throw from the Arctic Circle – we were greeted by cold winds and rain. We really liked this transition and we were eager to start our long hike!
So we started, carrying our heavy (27 kg) backpacks, stuffed with clothing, equipment and 15 days worth of food. Seabirds were flying above our heads and their crawls – as well as the sea's distinctive iodine smell – accompanied us on the first kilometers, right next to the thick layer of foam that constantly forms the tide of the Greenland Sea to the rocky coast.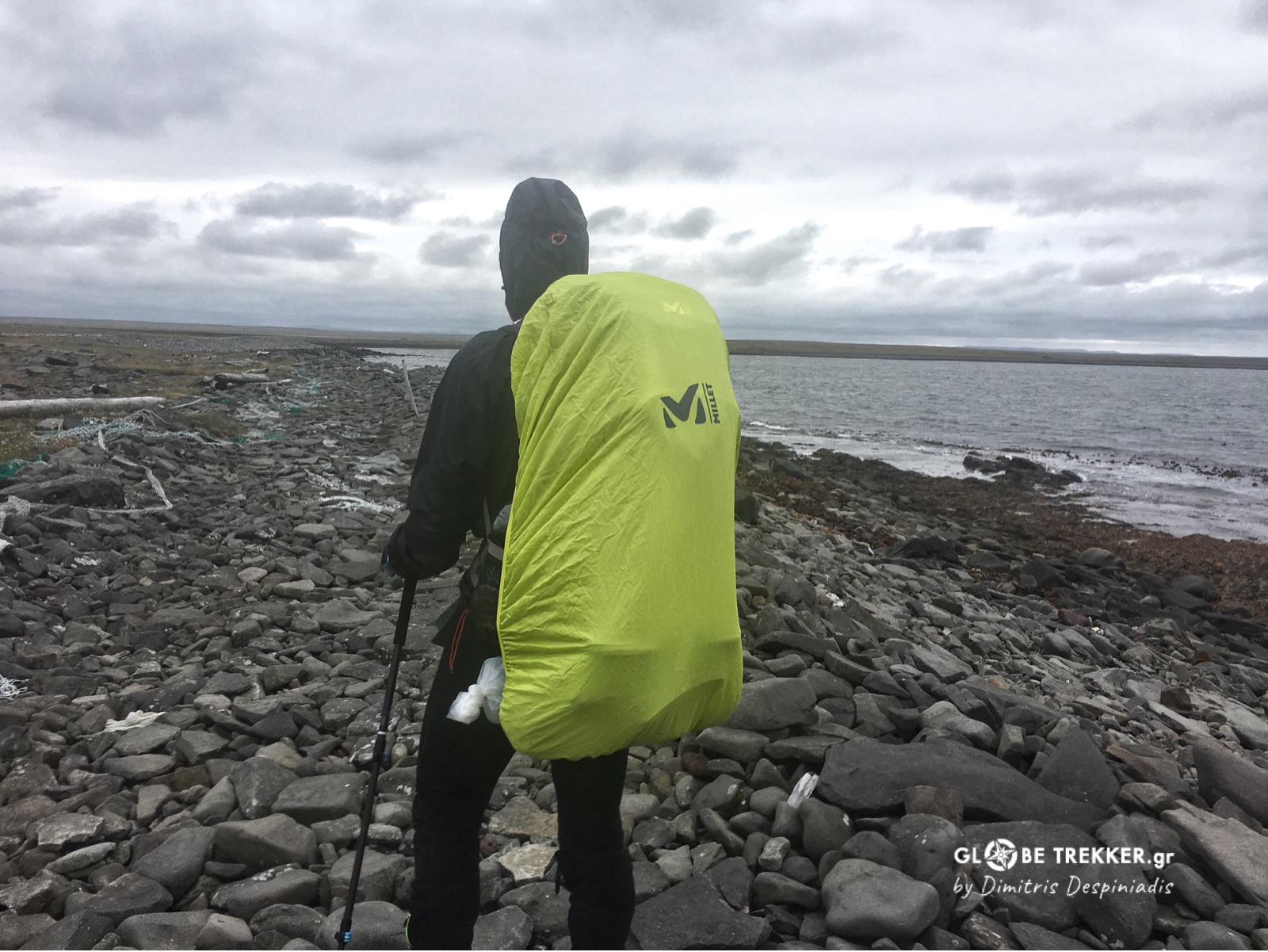 Soon we left the coast behind. Dirt roads gave way to simple 4WD tracks and when those disappeared we traveled cross country due south. The carrying weight was a lot indeed, forcing us to stop and rest more than we would prefer. It was the only thing that we were thinking at the moment, so we didn't pay the appropriate attention on our surroundings.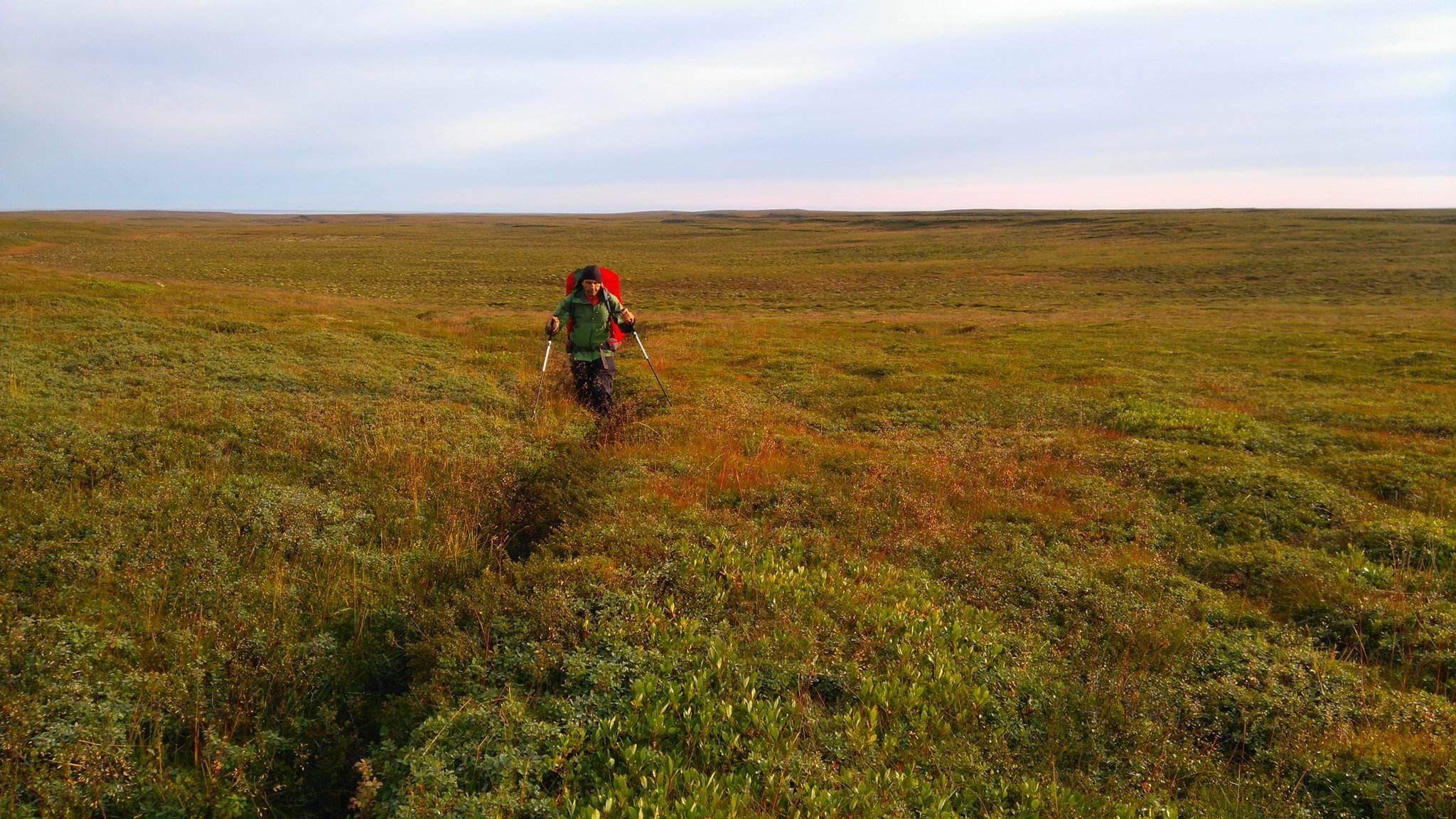 The most notable exception was the encounter of four arctic foxes who were playing in a distance of 300 meters, right at the base of the cliffs of Núpar!
The Canyon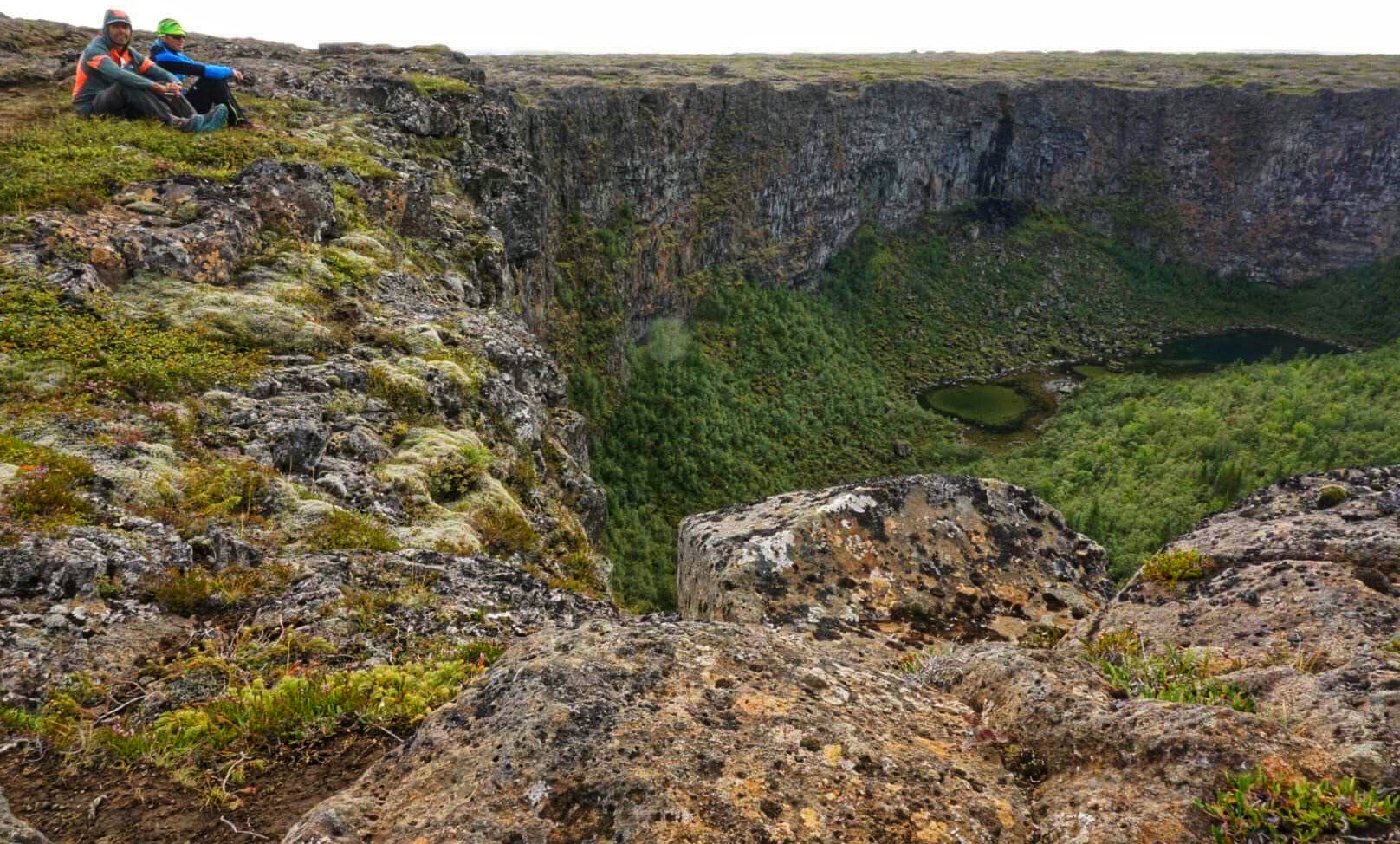 After crossing Jökulsá bridge we were awed by the sight of the horseshoe canyon Ásbyrgi. According to Scandinavian mythology, it was created when the eight-legged horse of Oddin touched the ground with one of his feet, thus leaving its mark on Earth. We – modern hikers – rather assumed that it was shaped by the primordial forces of water, fire and ice. We climbed the eastern wall and sat on top of the cliffs, admiring the exotic (for Iceland) forest of conifers and birches. Ásbyrgi was in fact not more than the northern end of the much bigger, Jökulsárgljúfur canyon.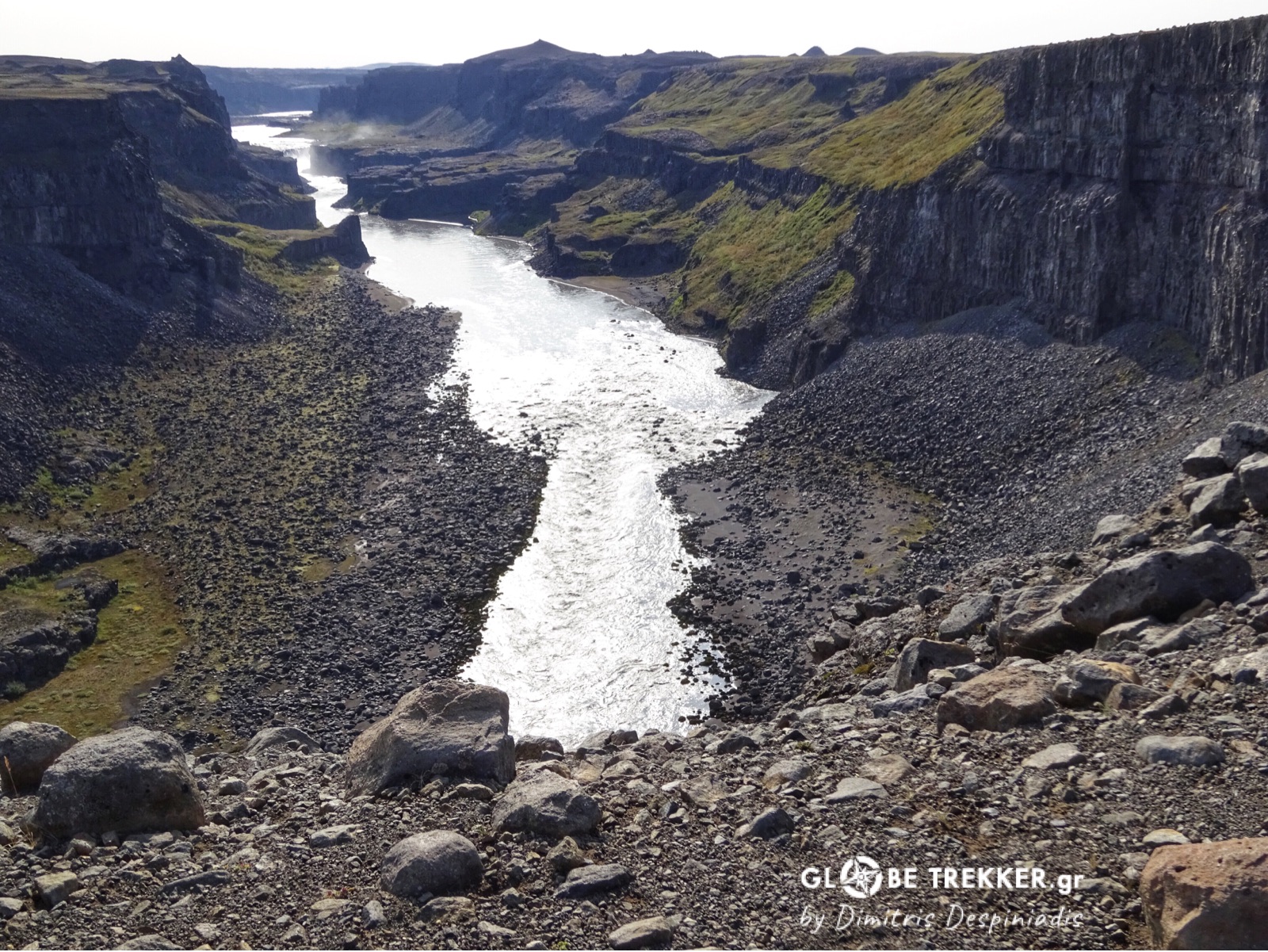 Jökulsárgljúfur (spell it if you can) is a result of a sequence of catastrophic glacial floods. We were really impressed by its wild beauty and the numerous basalt formations throughout its length.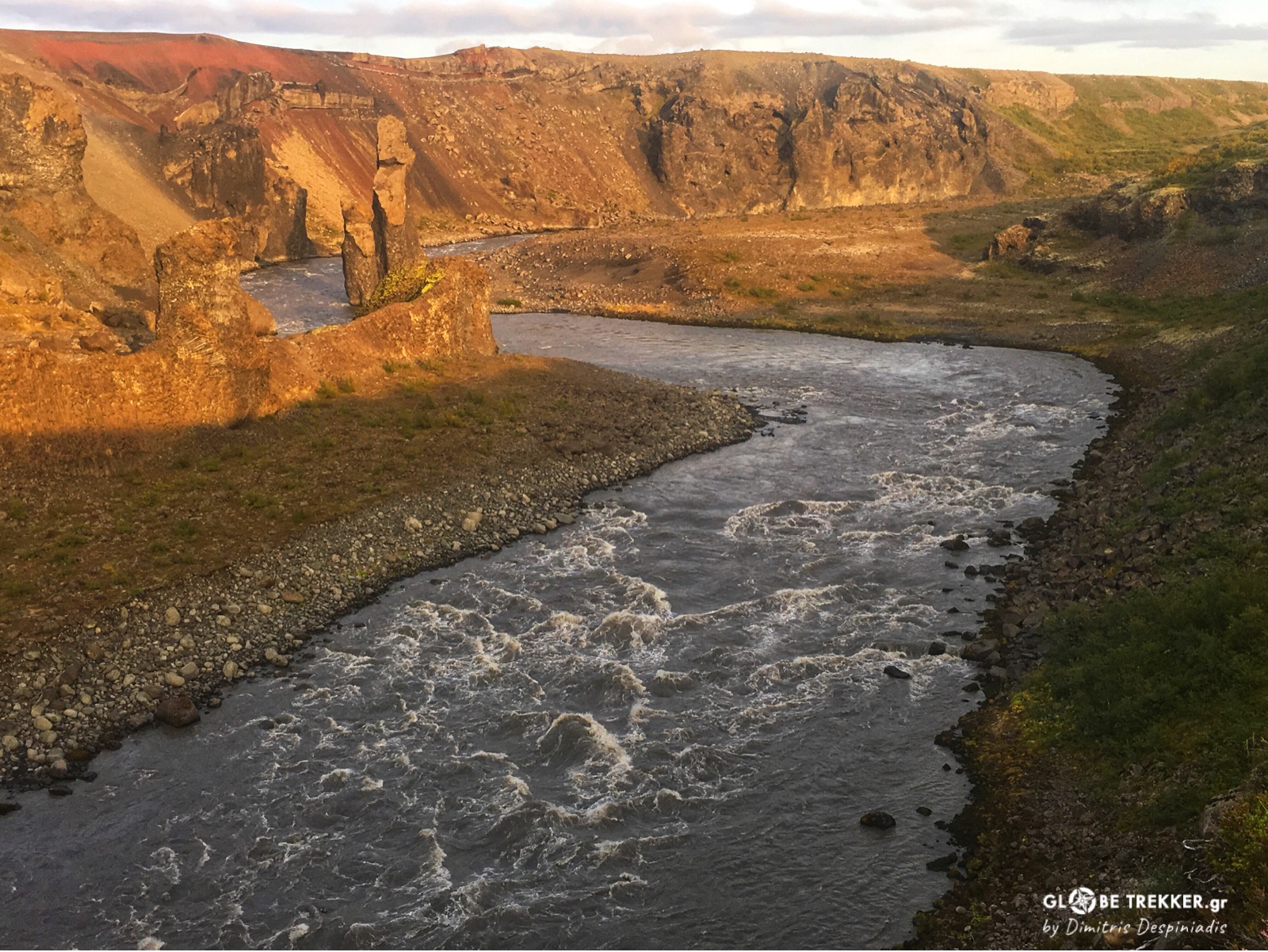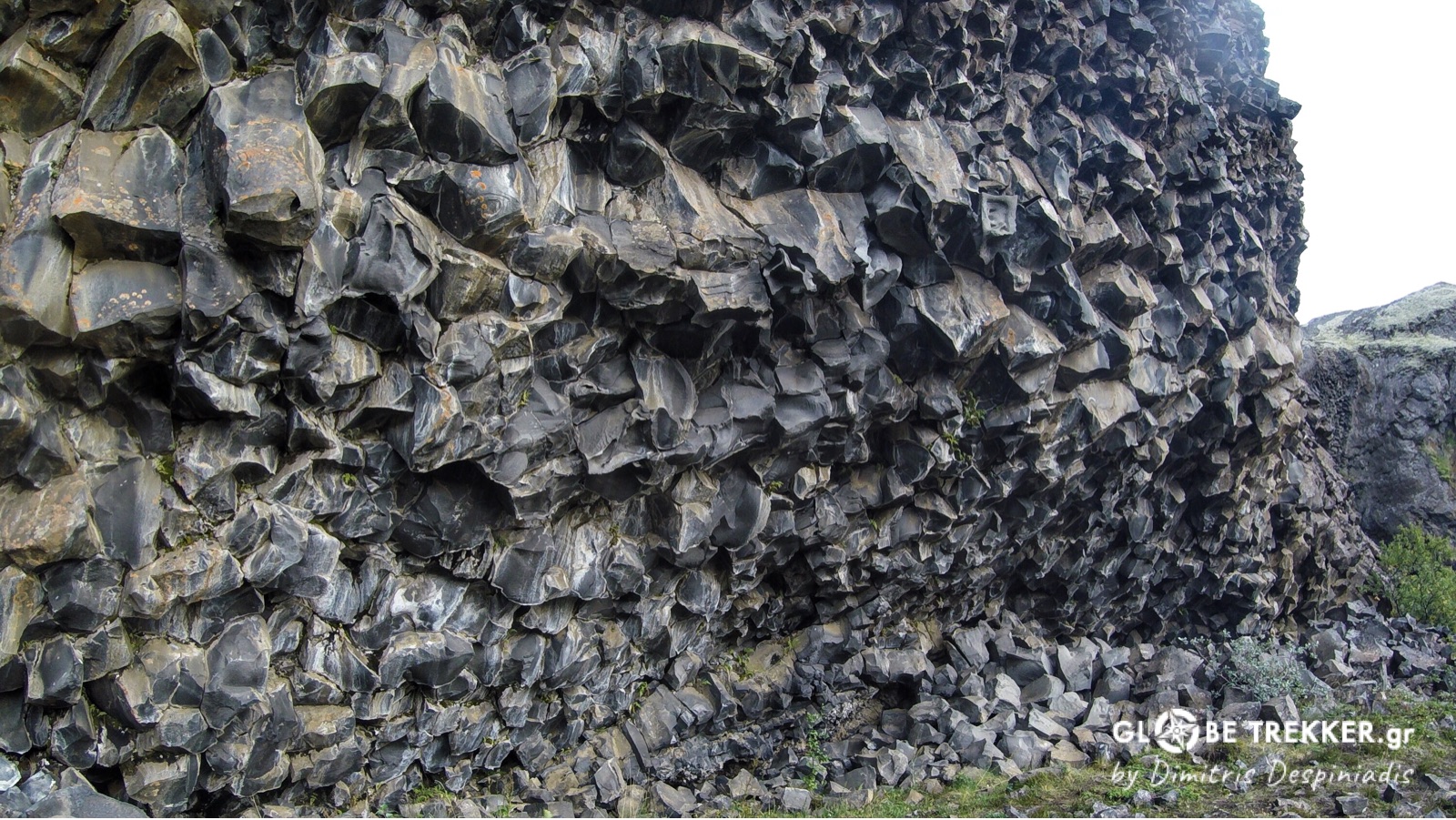 On the other hand, many creeks and small waterfalls – that were feeding the river – were giving a calm touch to the landscape. We hiked till dusk. My friend had already developed large blisters on both his feet and treated them the best he could.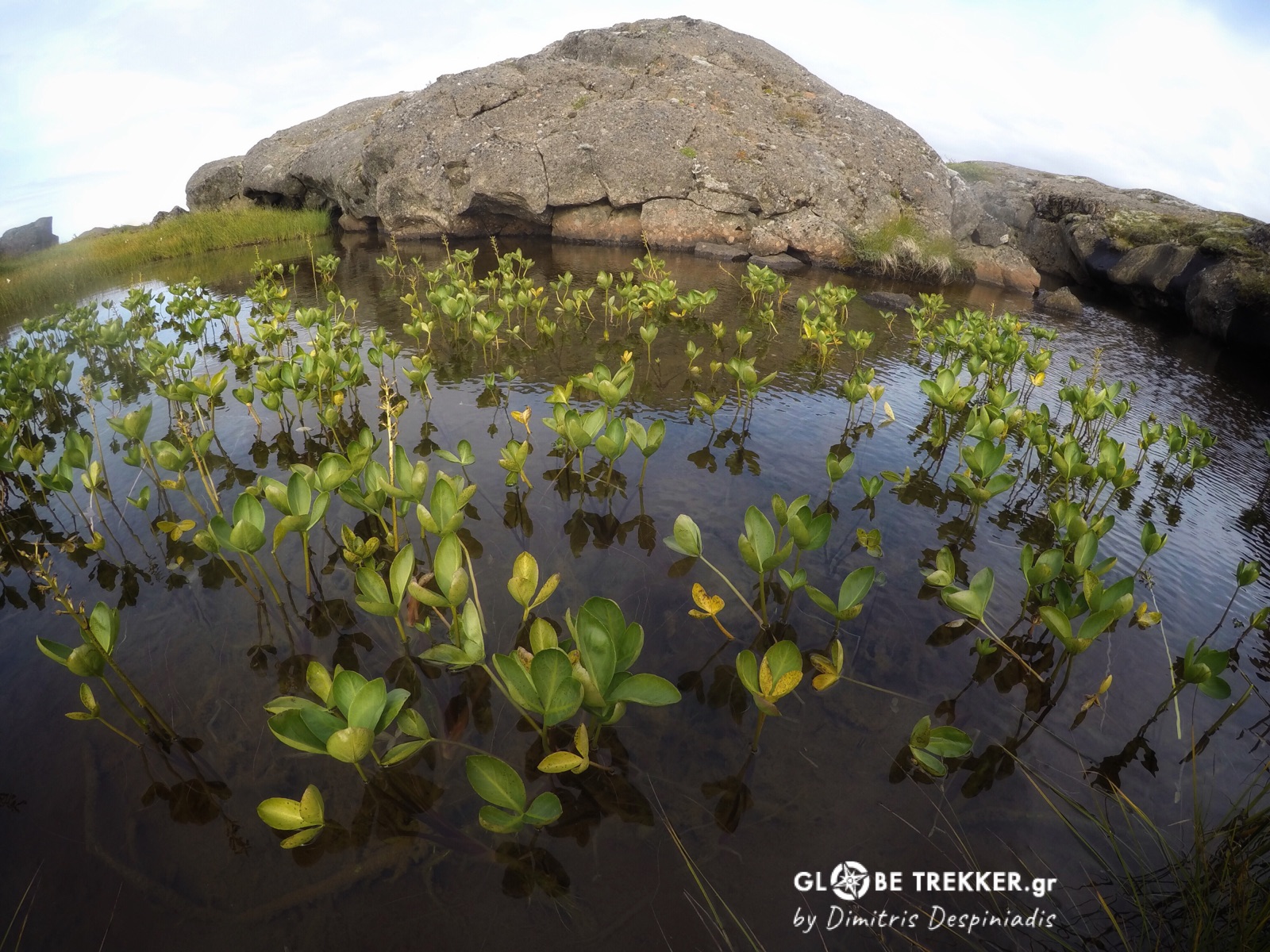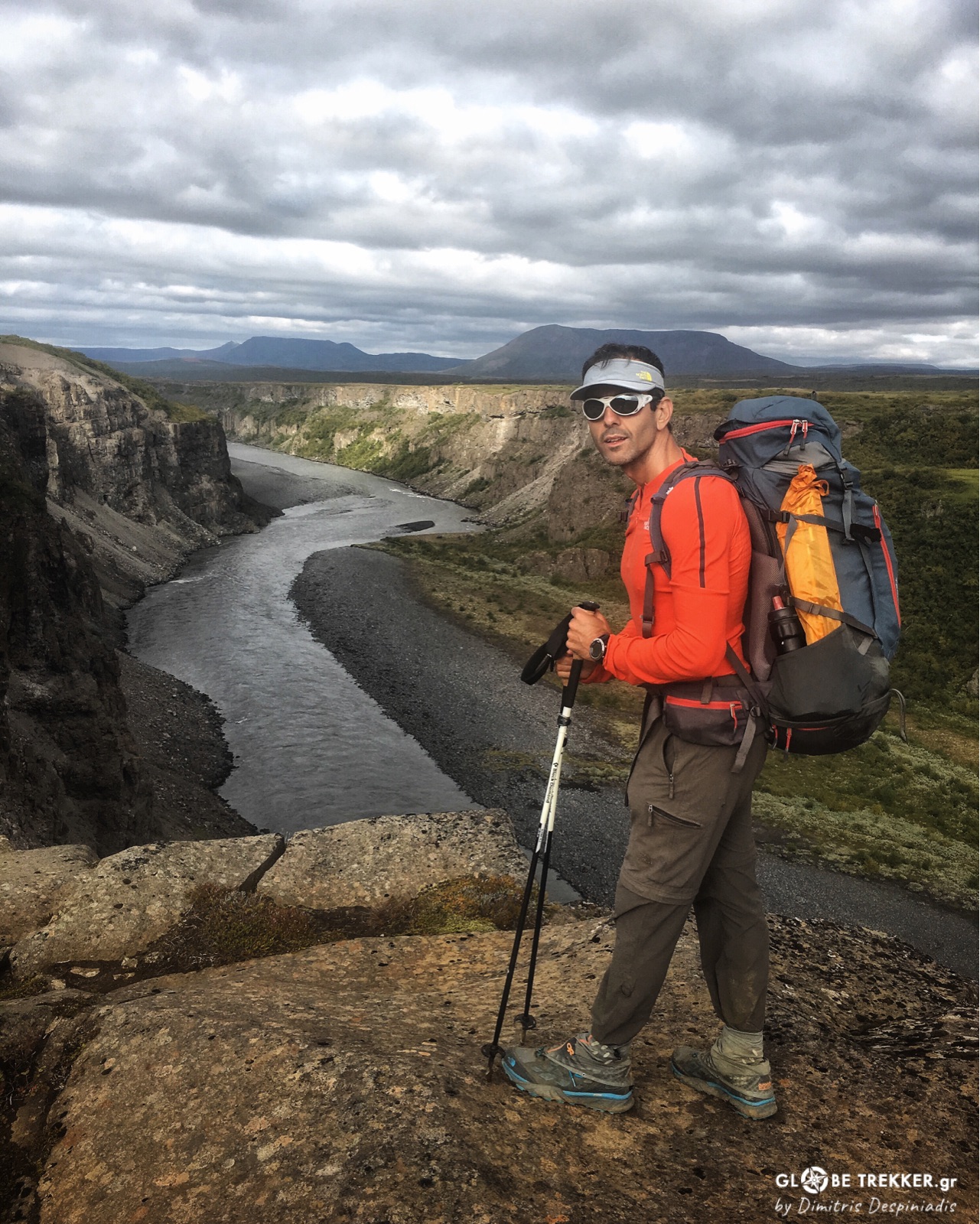 Next day was shiny. We spread our gear to dry and filled our bottles to the last water source available for the day. The more we were proceeding into the canyon, the dryer it became.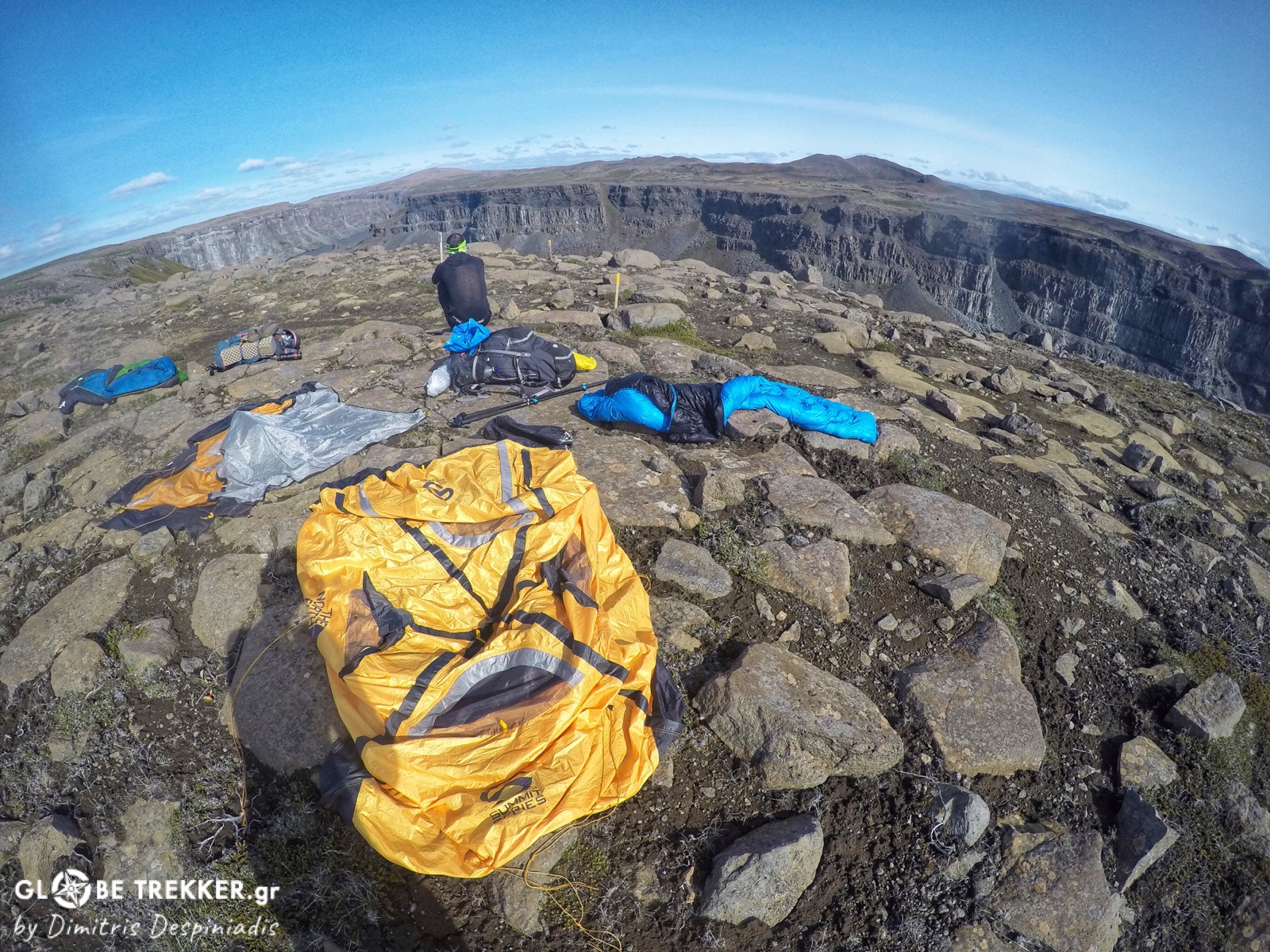 In this barren landscape, the mist rising above Dettifoss – Europe's most powerful waterfall – was clearly visible from afar. Its roar became increasingly louder as we approached but its sight was so breathtaking that is really hard to put on words!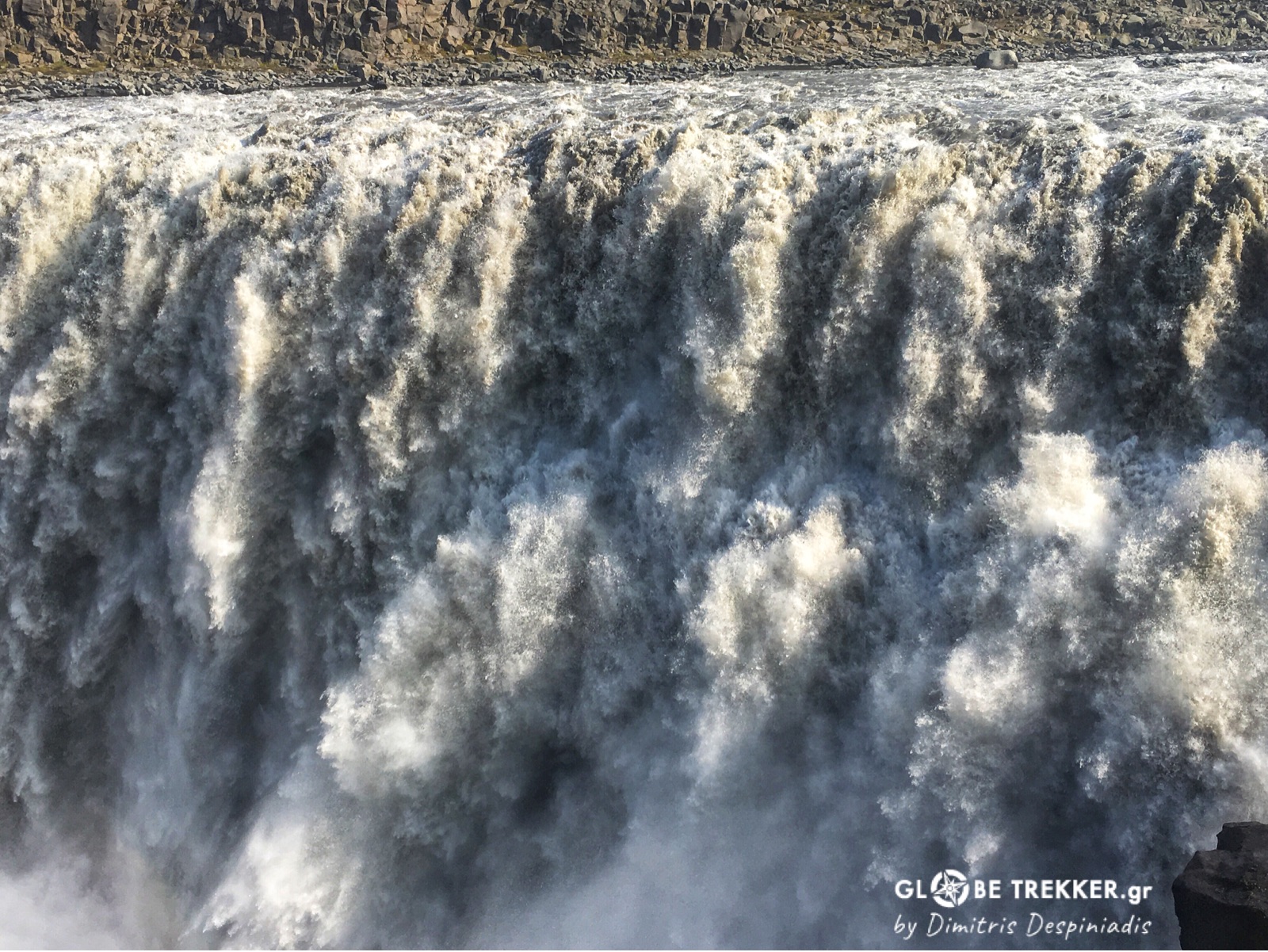 Towards lake Mývatn
We headed SW, leaving the waterfall and its tourists- who didn't fit at all to our lonely journey. Soon everything became so calm again, that the rhythmic sound of our footsteps was the only one breaking the silence for the remaining hours of daylight.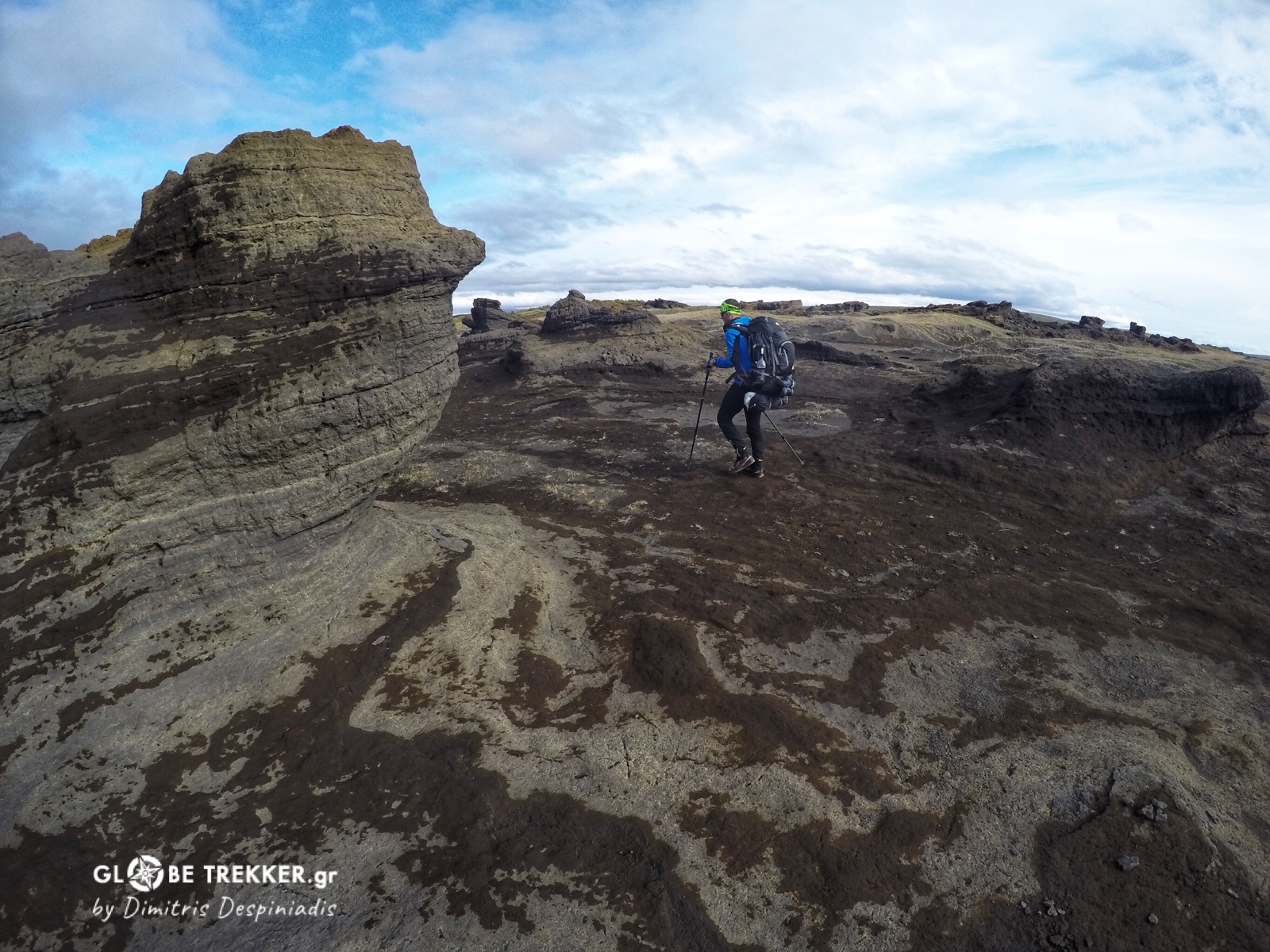 We pitched our tent in a lava field and by taking advantage of the fine weather, we ate and chatted a lot outside. Argiris complaint -first time ever- about his blisters and I didn't take it as a good sign!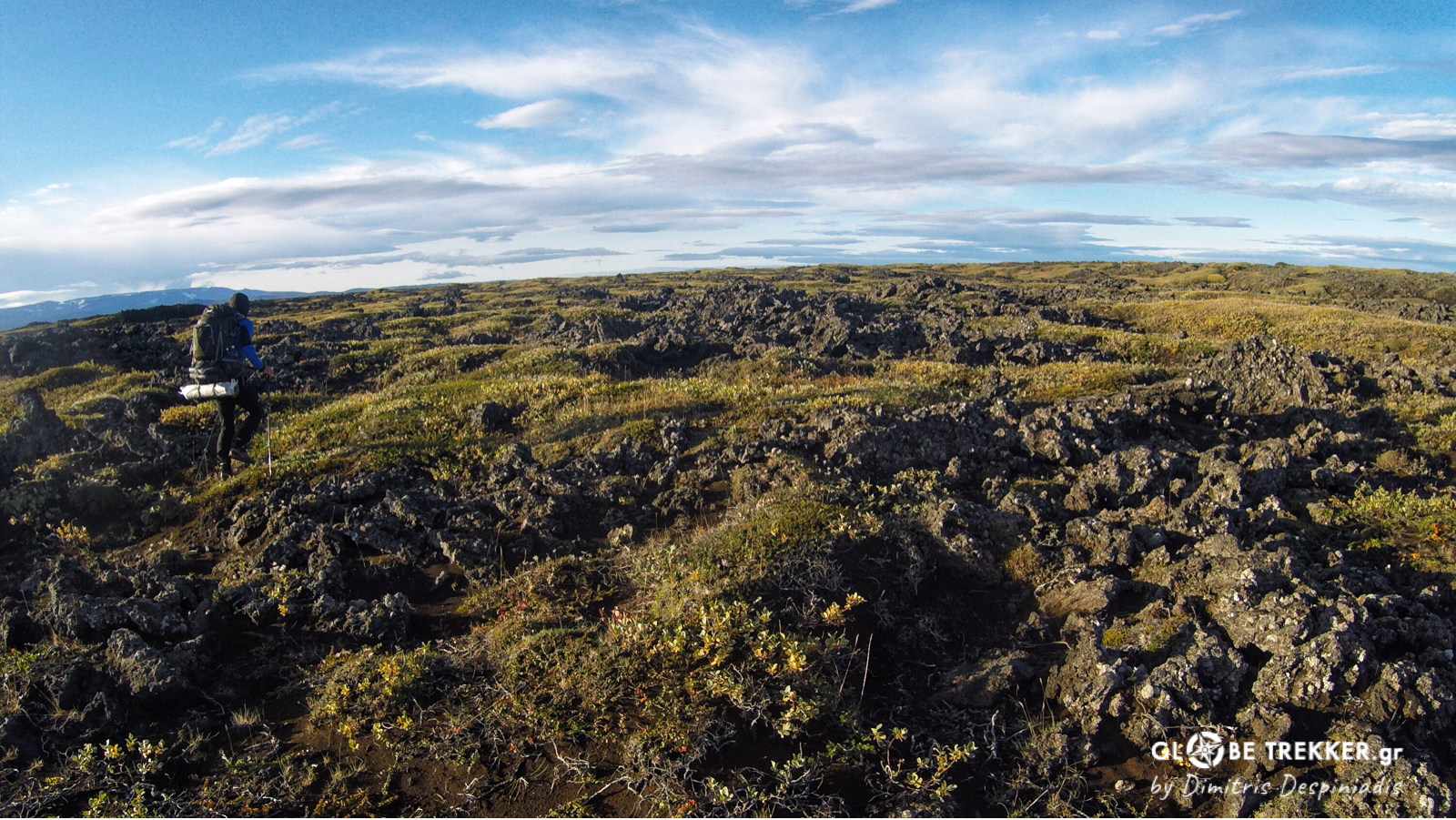 Our planned route was following for the most part the mid-Atlantic ridge, thus it was quite normal that we were about to witness different kind of geological wonders. An extensive geothermal area close to Krafla volcano was next.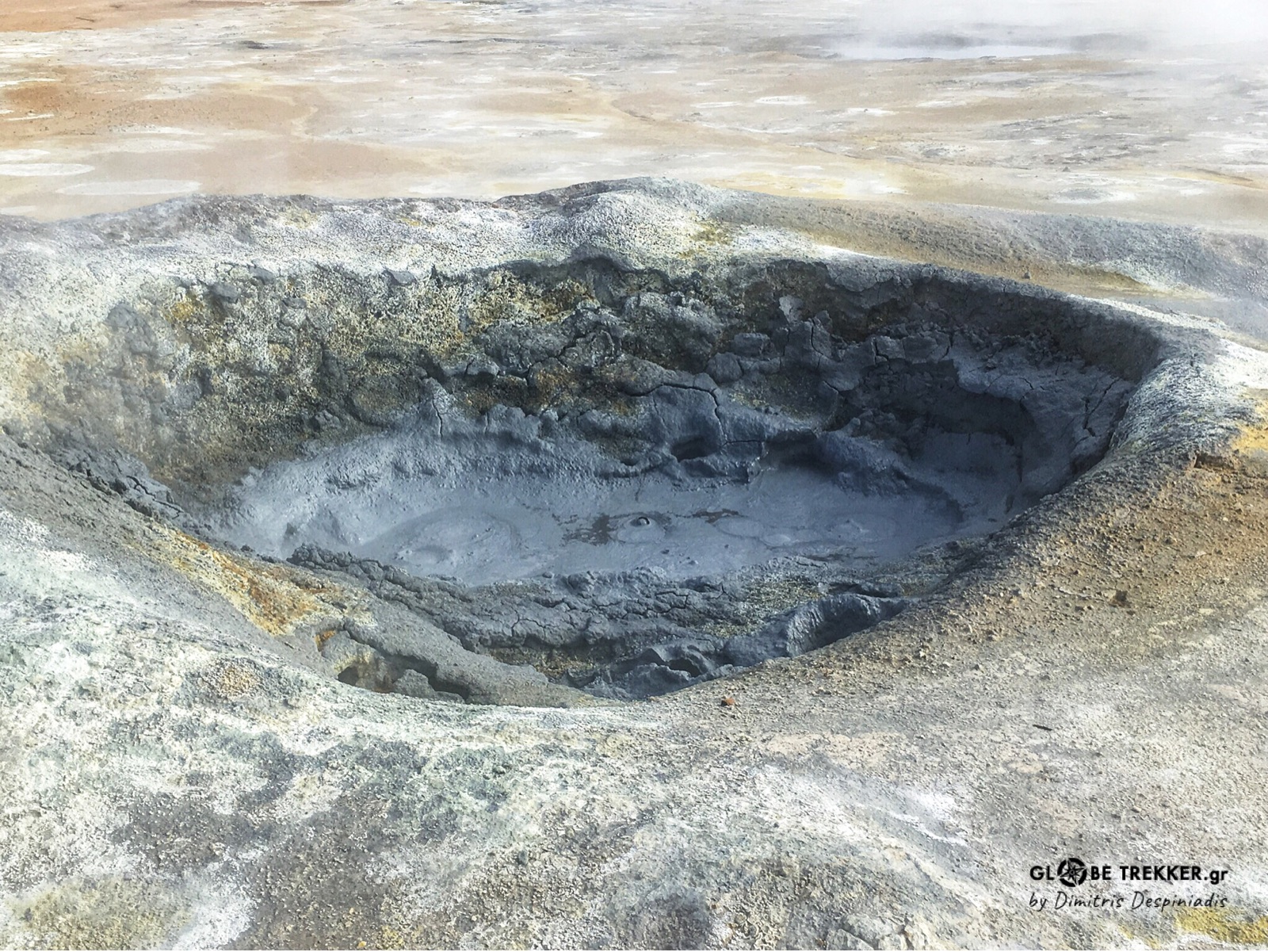 The air was filled with sulfur. Boiling mud pools and steaming fumaroles were creating a scenery right out from dark fairytales.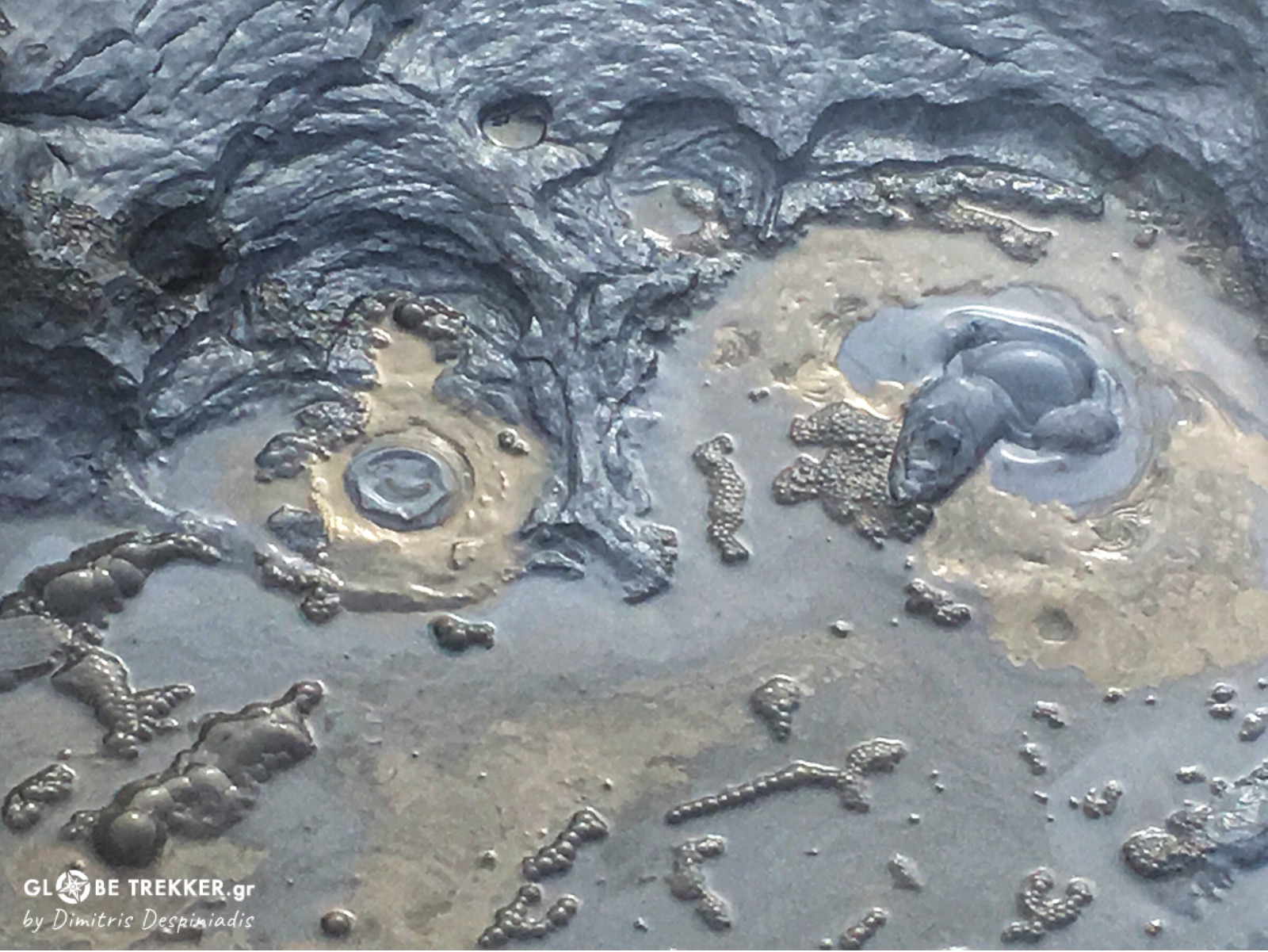 By midday we approached lake Mývatn and followed its eastern shore to the south. Midges – that gave name to the lake – where not a concern, as the wind was keeping them away. Fatty sheep were grazing on the grass – that was covering an old lava – and ducks were giving life to this peaceful volcanic wetland.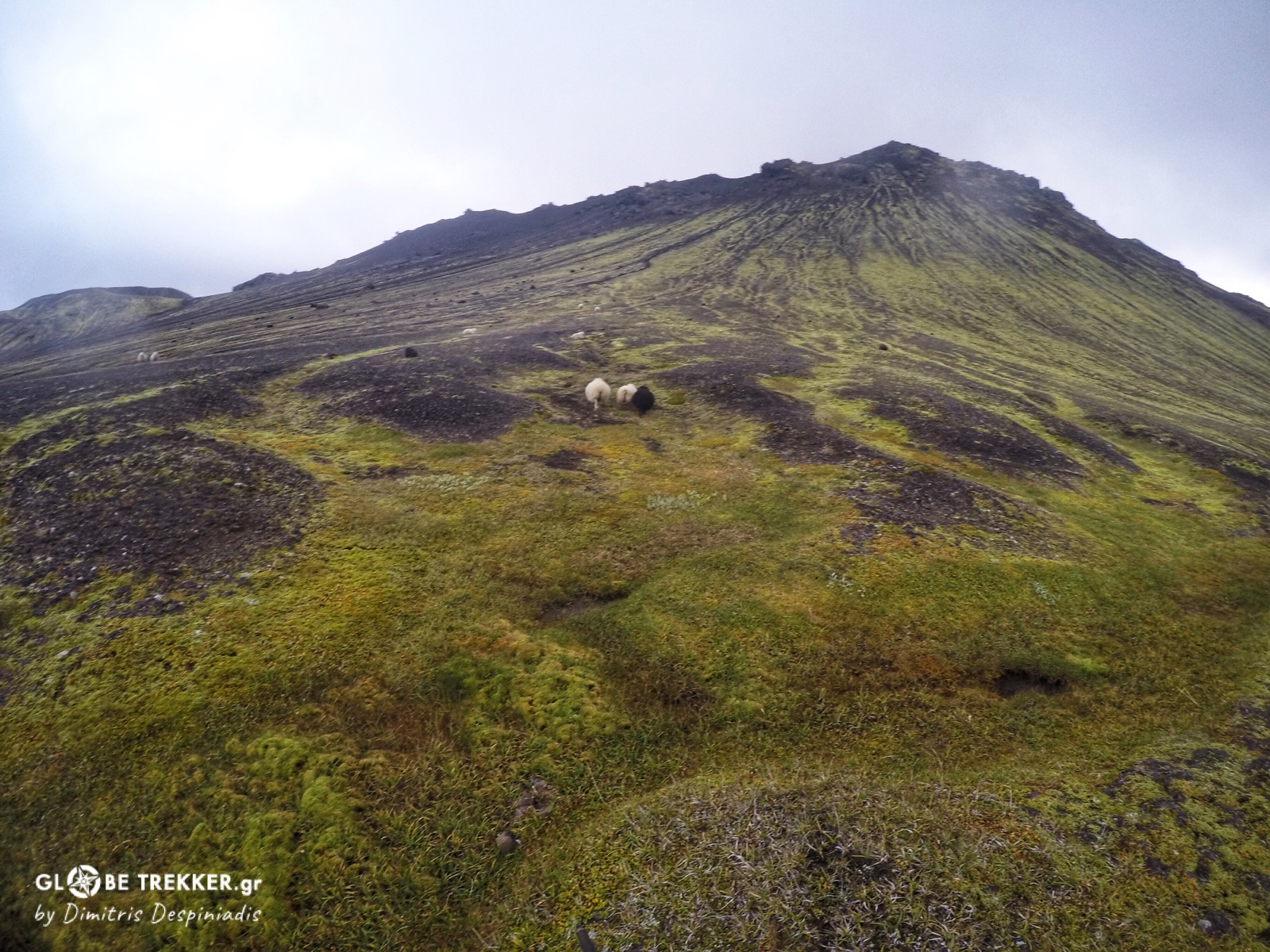 I almost ran out of water – just had enough for cooking – but I was tired after a long day of hiking and left the task for the following morning.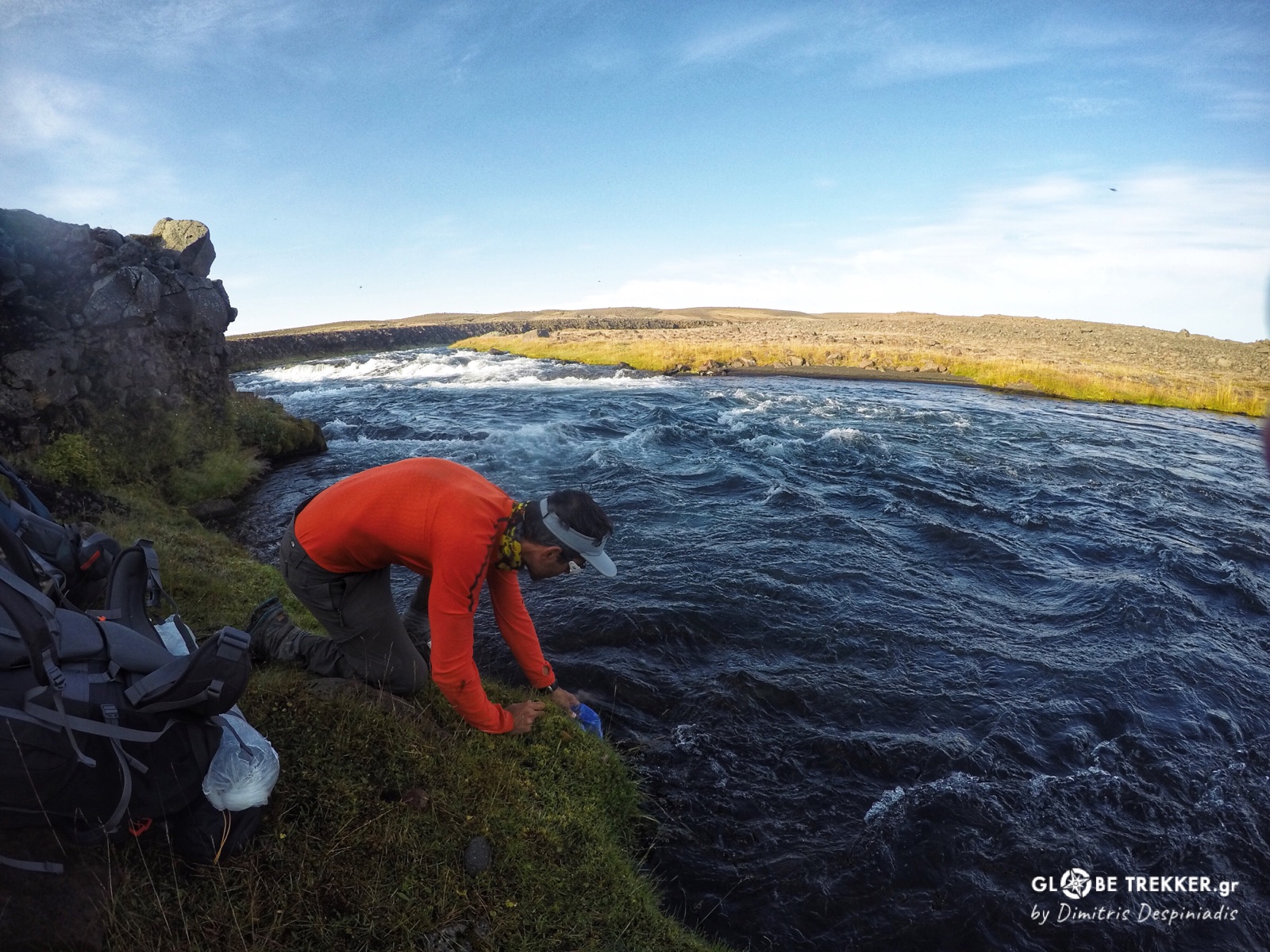 Odadahraun desert

As we left the lakes behind, the climate became very dry and the landscape extremely barren and desolate. By using volcanoes as landmarks for navigation ( like Sellandafjall on our left side ) we headed south.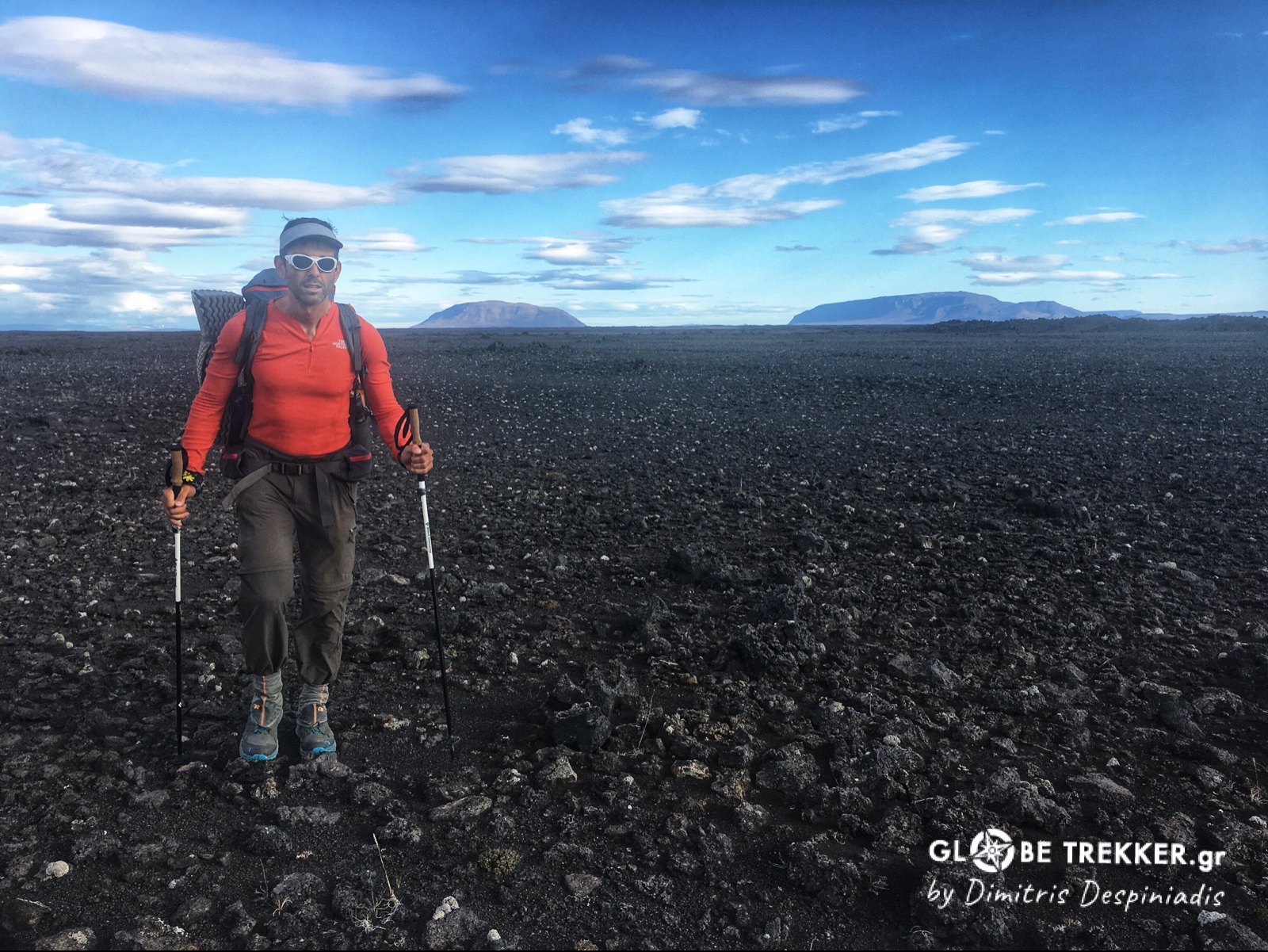 We were about to enter the subarctic volcanic desert Odadahraun, Europe's largest desert and – as I found out in the days that followed – one of the most hostile and simultaneously amazing places I ever wandered. So desolate and hostile, that NASA used it as a training field for its astronauts before the lunar landings!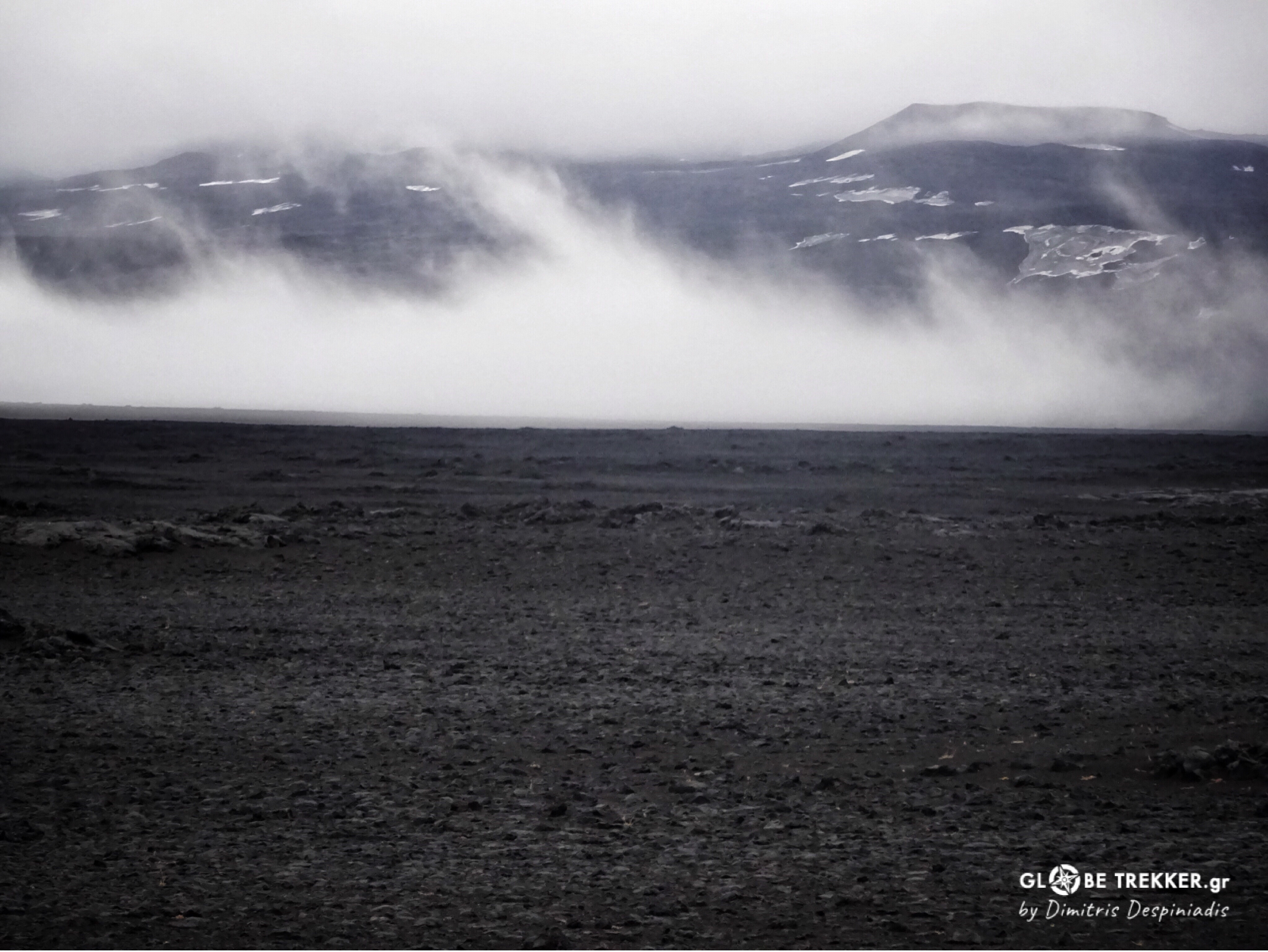 In this vast, almost featureless landscape it was hard to measure distances with the eye and many times that I tried I failed. When there was good visibility, an object ( e.g a rock ) that I thought that was lying kilometers away, was just a few hundred meters. The opposite occurred as well.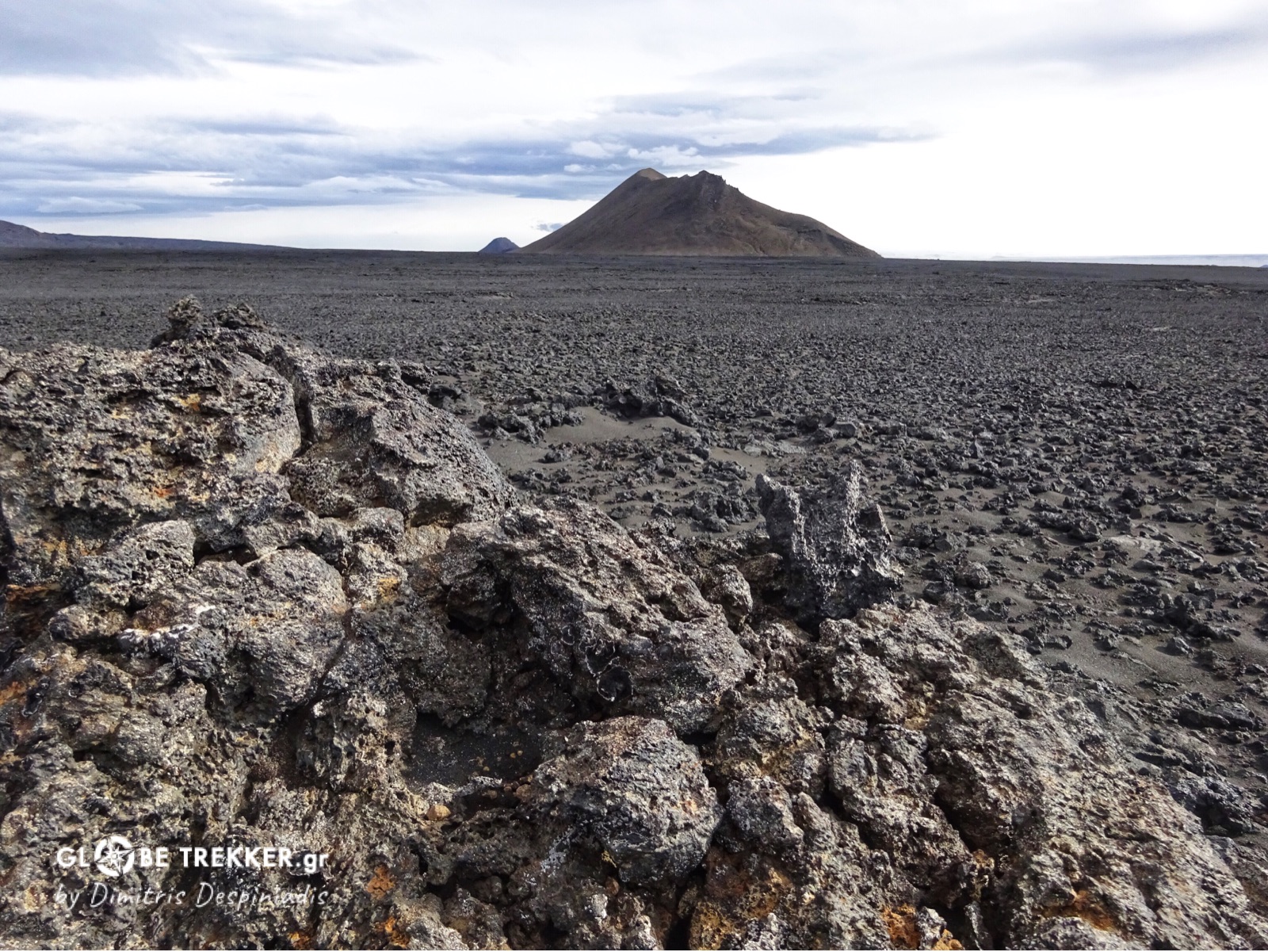 Whenever we traveled cross country through lava, progress was slow and in some occasions unrealistic. Although it sometimes seemed easy at the start, it could often lead to a labyrinth of vertical blocks!
So, we were following instead faint 4WD tracks for the most part, that often disappeared.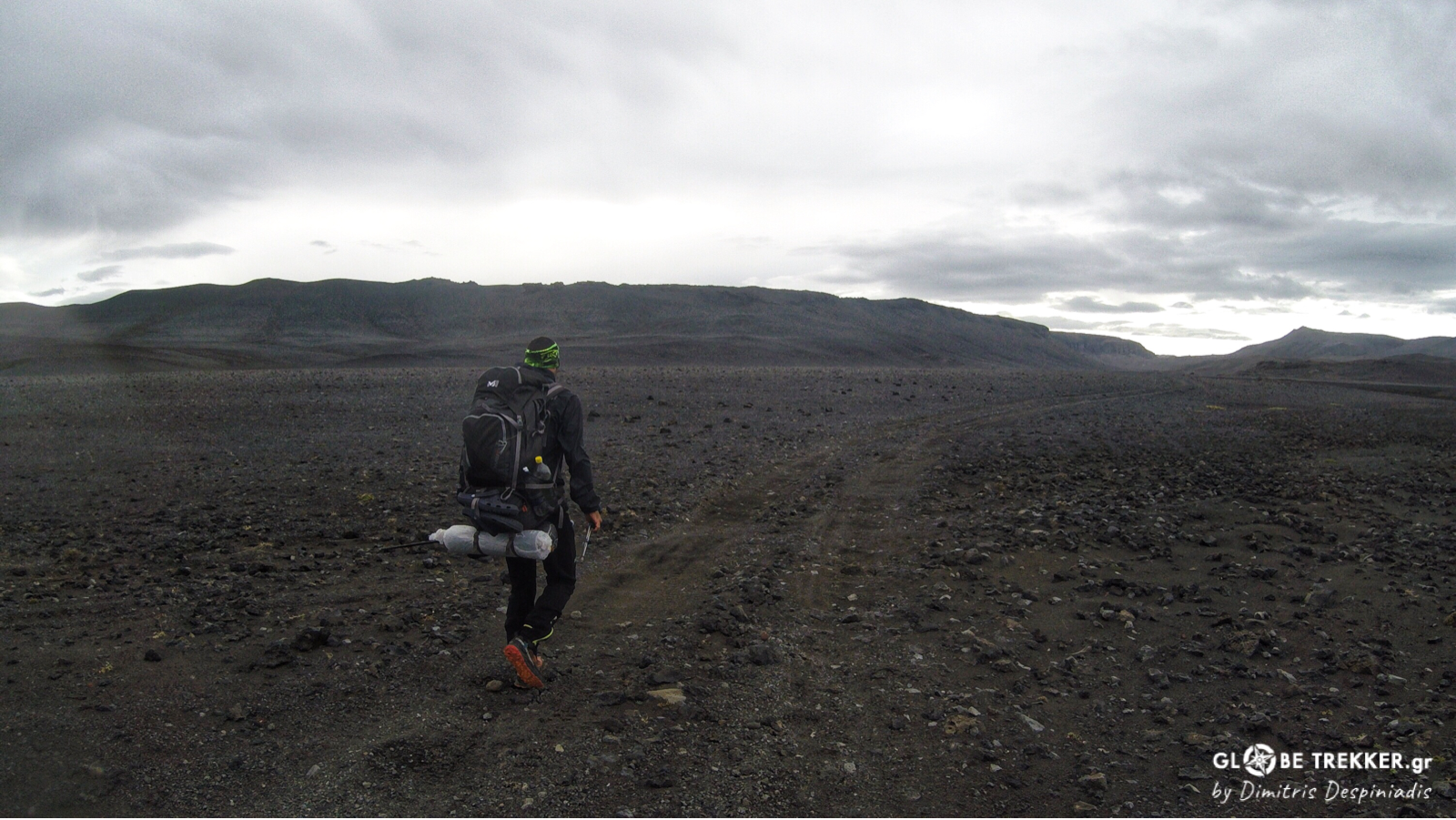 The landscape we were traveling through was so exotic and absurd that made me understand why it inspired Icelanders to create legends for the matter. Trolls were believed to transform into stones after contact with daylight and the most distinctive lava formations were considered unlucky trolls.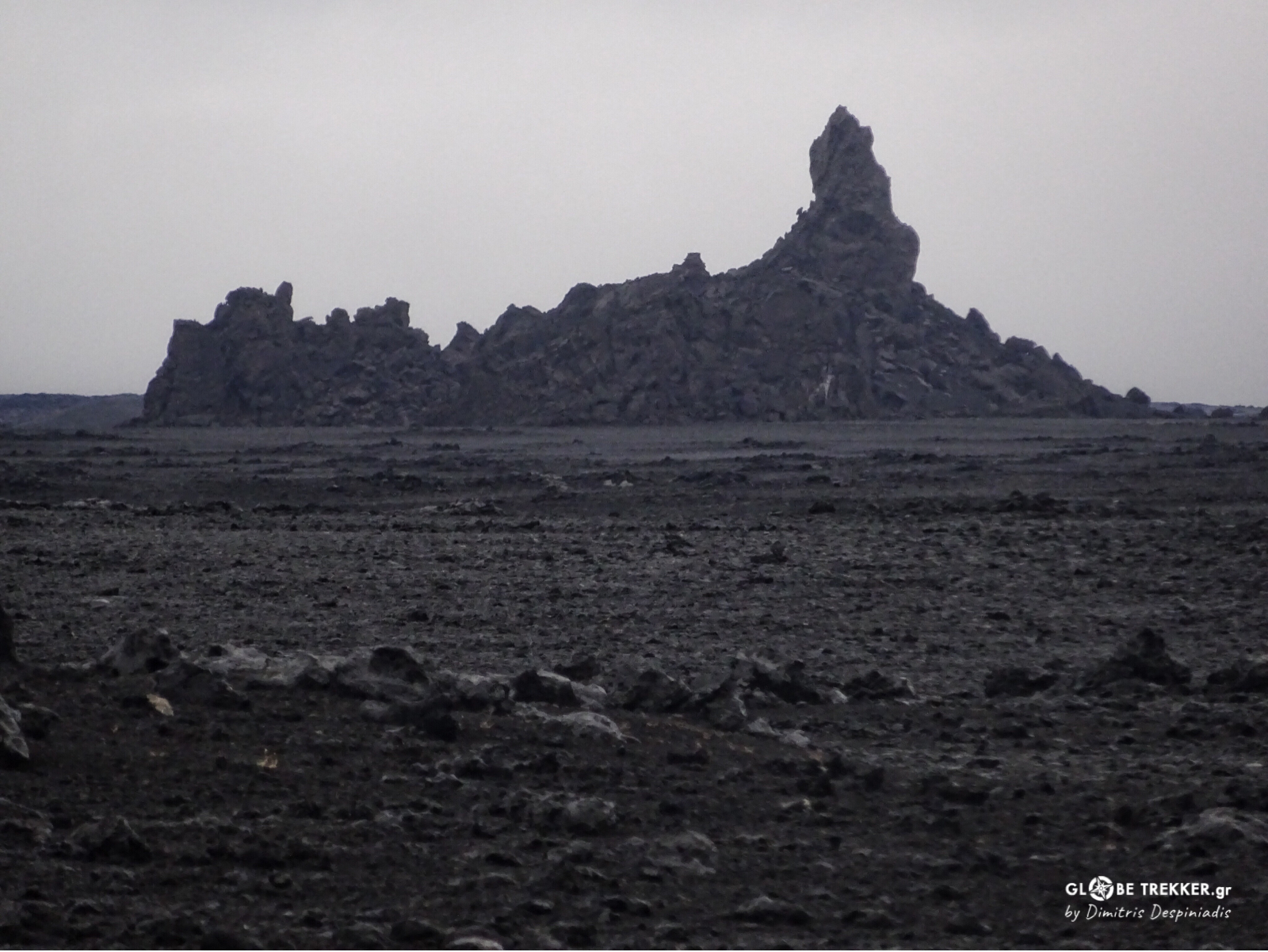 And wherever lava was absent, numerous rocks in every possible shape and size were hidden just below the surface of the soft sand, like the ones we used in order to support our tent from the wind.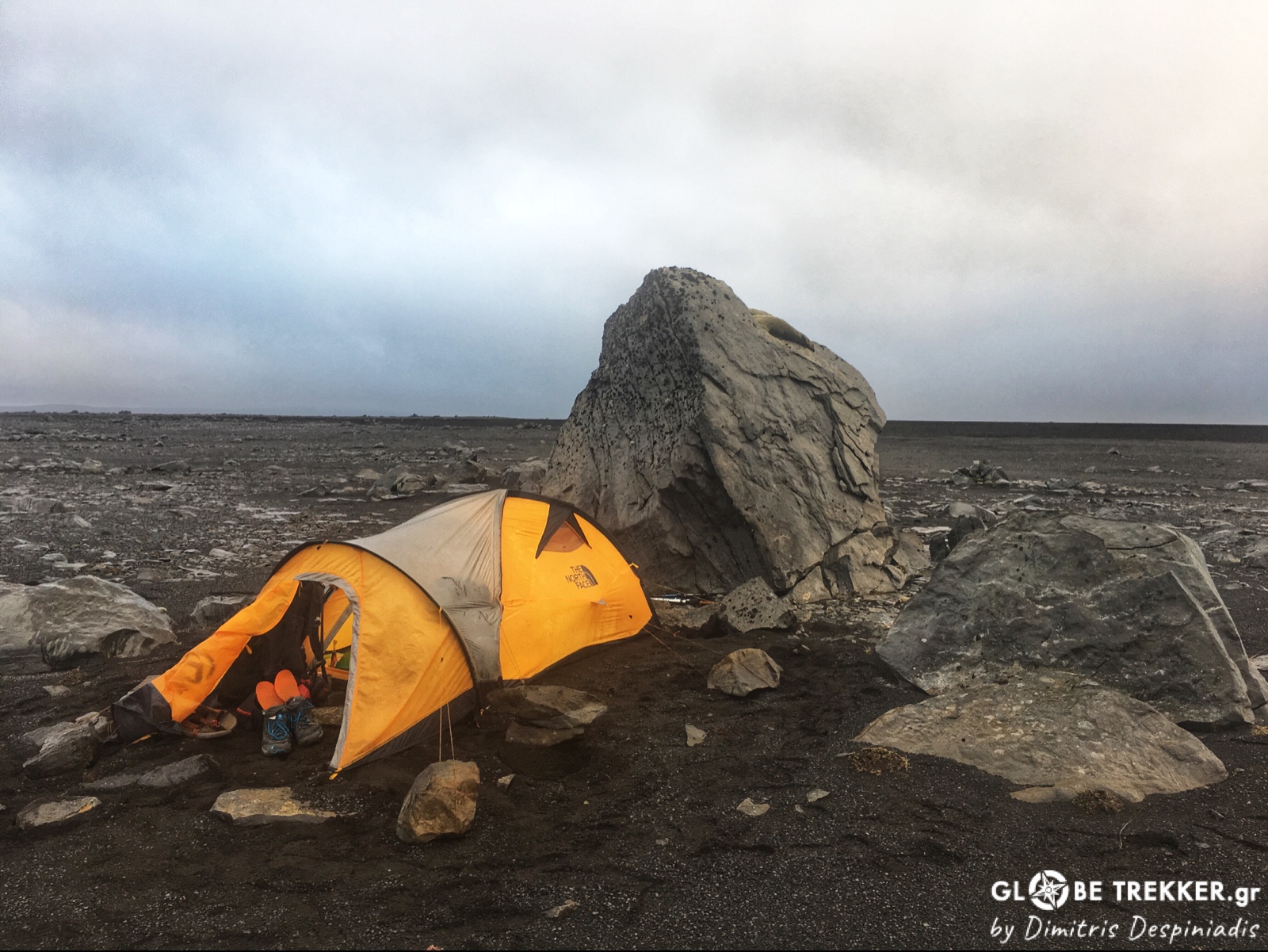 Argiris was looking really overwhelmed! He didn't sleep at all the previous night. His blisters ( especially on his right foot ) had become wounds that were looking really nasty.
As he could not walk up straight – for the last two days – imbalances emerged. The perineal and his toe's tendons had been swollen. Pain -as he said- was intense and in every single stride. Even the look of his face had altered!
When we finally approached the source of Suðurá river – that was emerging from beneath the lava- he asked me if we could camp at the spot. He could barely walk!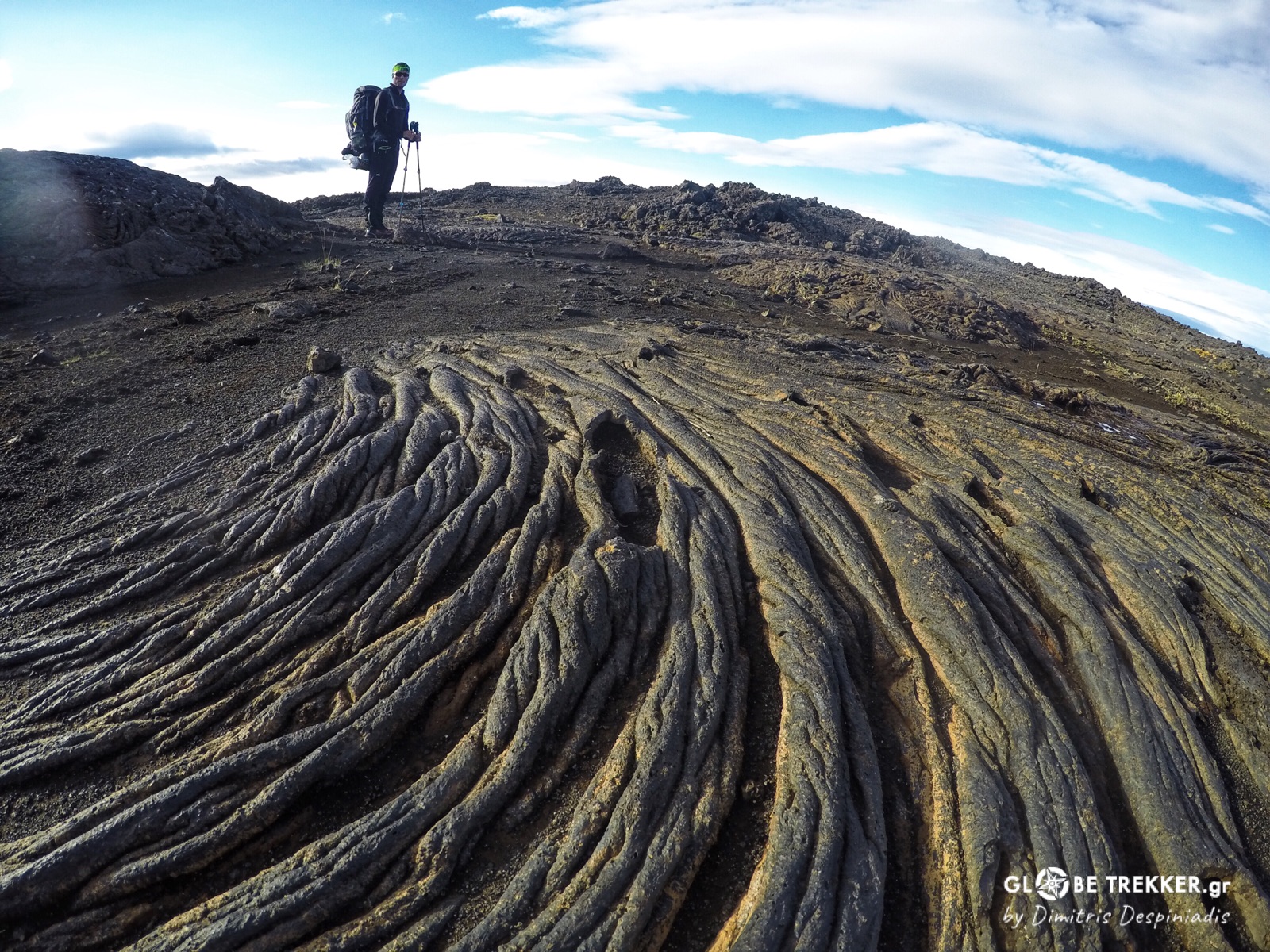 He was more than disappointed and as he knew how I wanted this – as well as himself – he told me calmly:
«-"It makes me sad but I have to stop for good Dimitris! I can't make any step further at the moment! The pain is so intense and unbearable that I can't imagine how I can deal with it – that's getting worse – for 400 km more ! But you don't have to stop! Go after it ! Take the tent and go! »
People who know Argiris know how tough he is! It was not a decision that he took lightly! I tried to calm him down by saying what I really believed.
That – despite our strong focus on the target – no successes and failures exist . They are all experiences that teach us a lot ! No way I would let him go in order to continue. We started together the crossing and together we would end it right there ( if we would stop), a little bit further or 400 km away , at the southern shore . He just had to agree to rest for a day and then take his decision.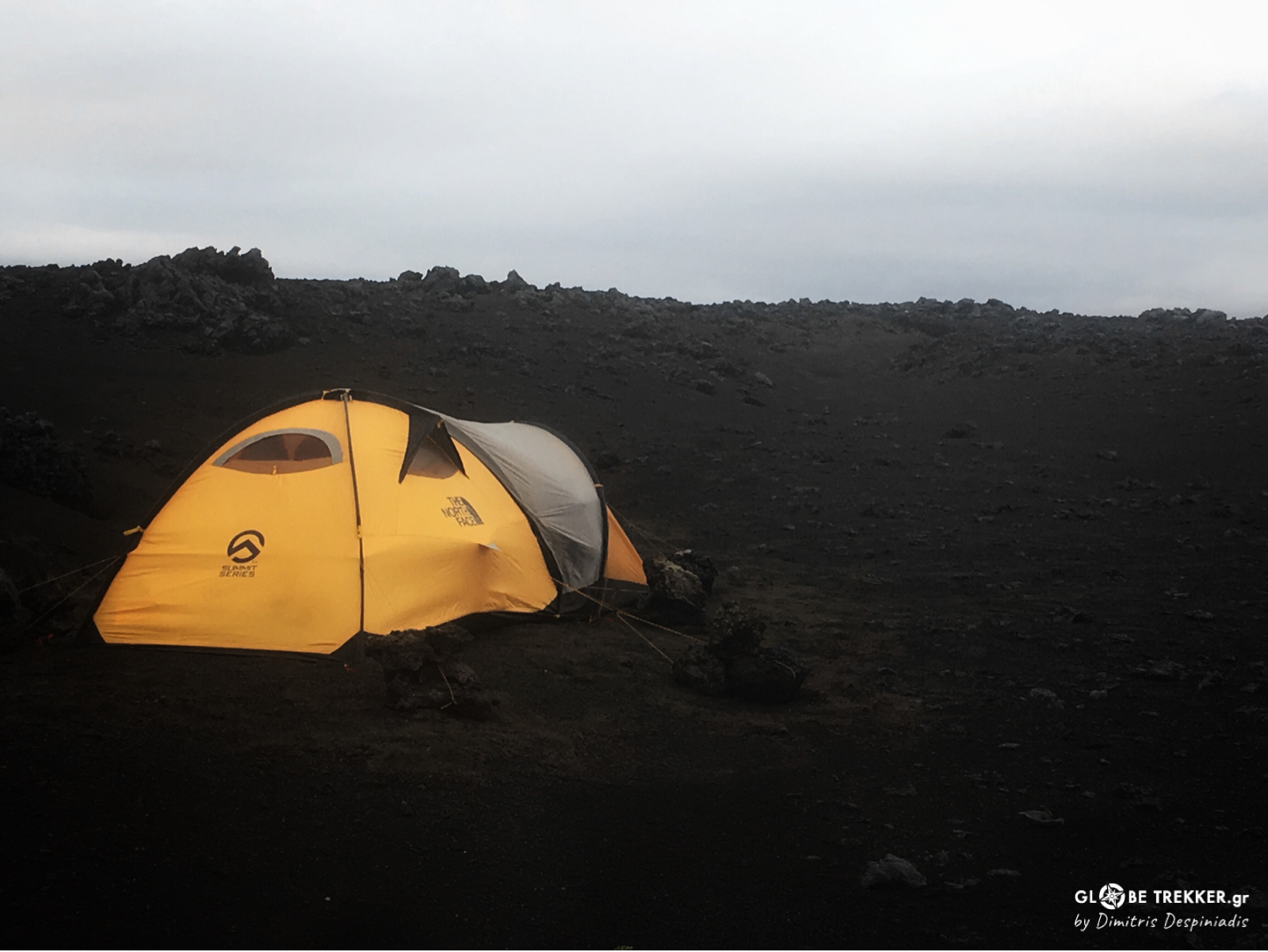 And he agreed! The following day was rest day and was spent in the tent as it was raining all day. It surely helped our sore muscles to recover and even Argiris feet felt a little bit better!
«-It's your decision! I think you should give it a try!»
«-OK Dimitris, but I think chances are slim !»
I knew that things were not good. We had already covered just 1/3 of the route ( 200 km exactly according to Argiris GPS ). Could his feet recover while walking 40+ km/ day ( with weight) and for 10 more days in a row?
But I knew him well and I was more than sure that he would try his best!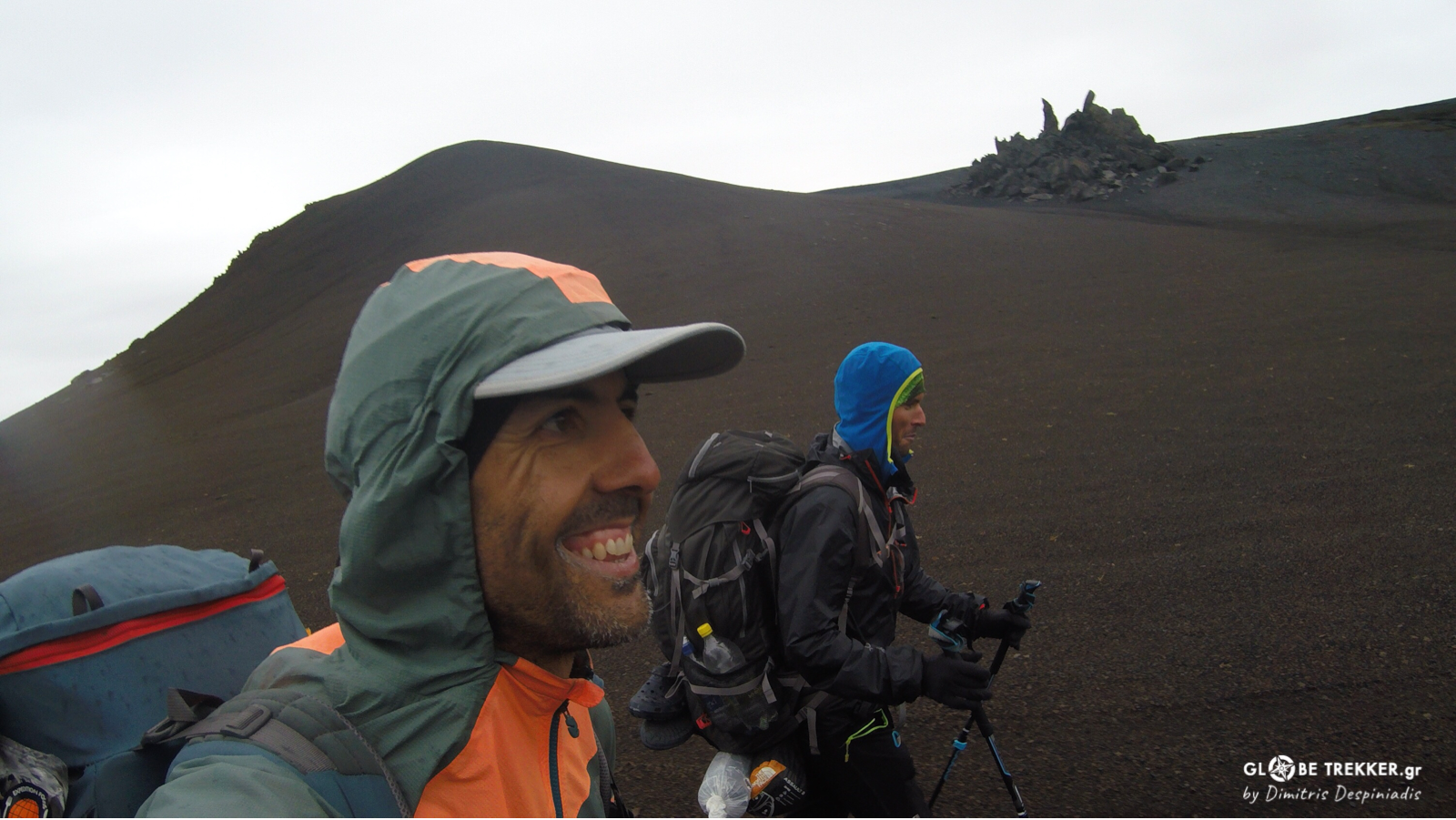 So we started again due south in a moonlike landscape towards Askja volcano . A black sandy plain followed the extensive lava field. Constant headwinds hit us hard, while entering a canyon at the foot of the volcano, whose diameter was huge!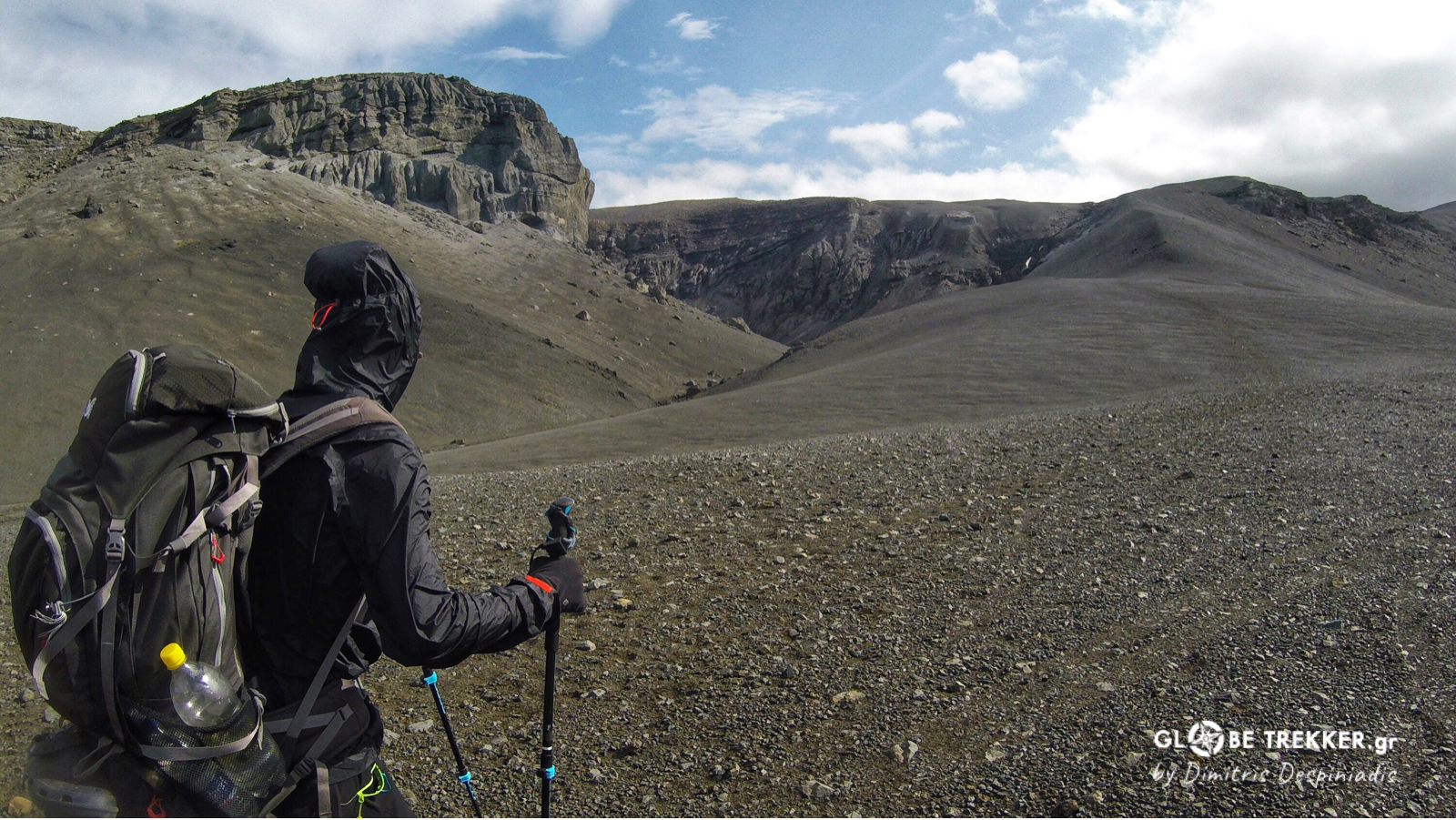 So, like two tiny moving dots, we continued marching through the vastness of the Icelandic interior.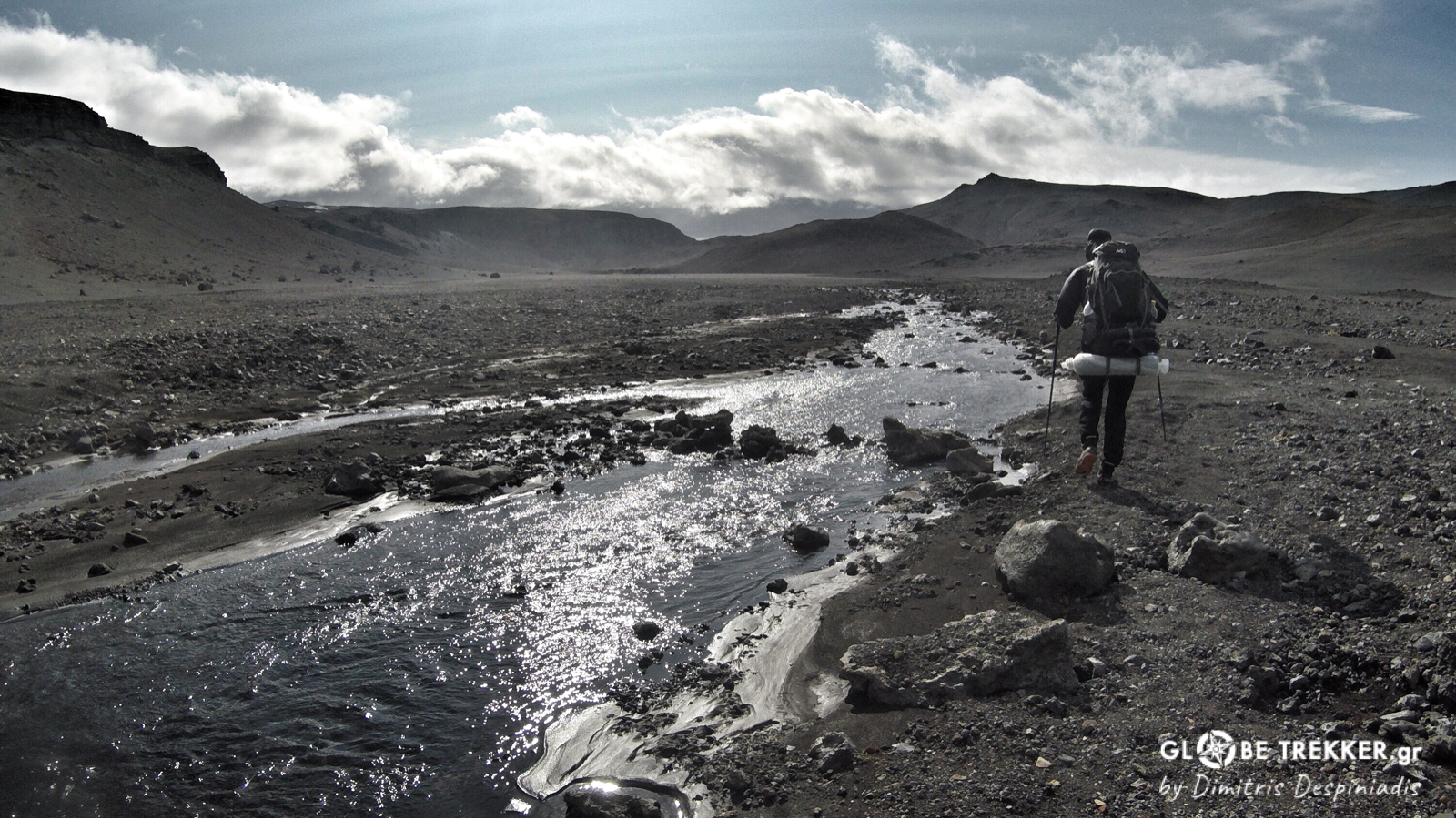 Every single day – even from the first kilometers – Argiris was suffering. I didn't have to ask and there was no need to hear him say anything about it. The look of his face was dark and was telling everything! He was alone in his own universe! And it was really admirable how he was dealing with it , meter after meter, day after day!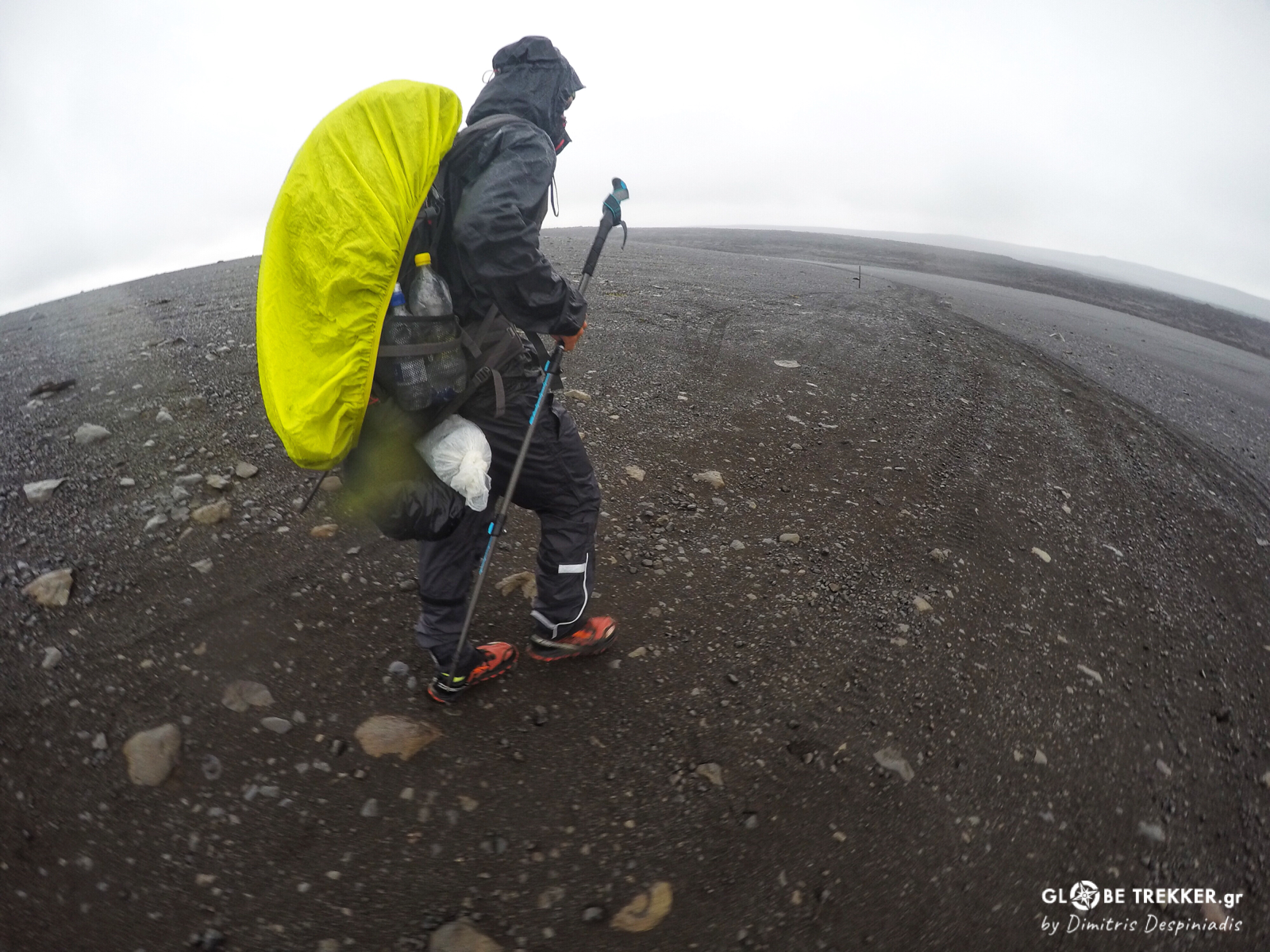 His calm, patient approach was inspiring! Every night he was checking his feet, that were seeing no signs of improvement. Always humble, he was saying that he would try the following day as well. As far as it goes!
Stressing situations usually strip people off, bringing their worst self to the surface and Argiris, with his courtesy and patience, confirmed once again the rare quality of his character!
The thought "If someone else was in this situation, he would quit 100 times!" crossed my mind many times.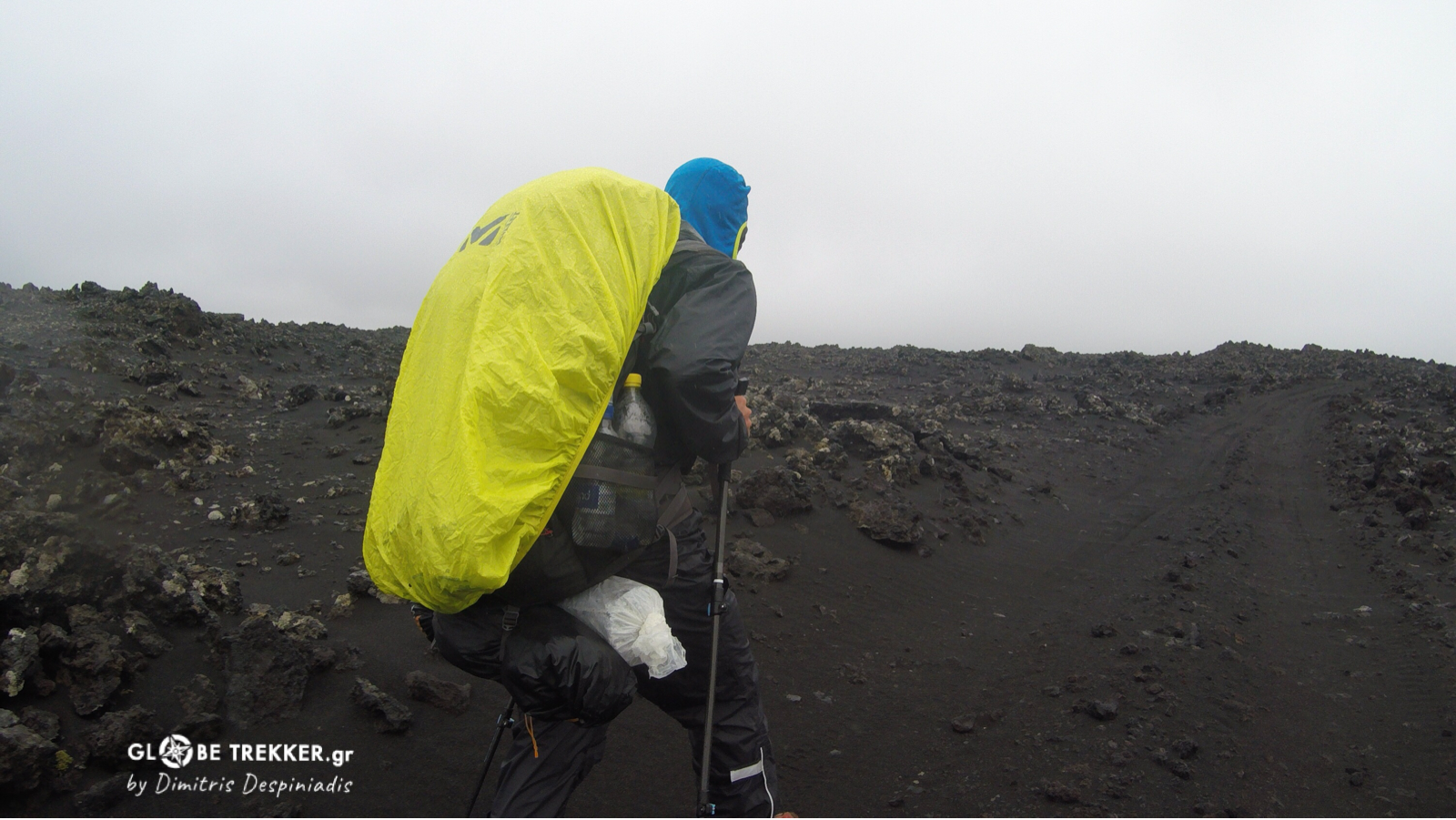 Volcanic sand penetrated in everything. Our tent, our clothes, every single item of our equipment, our hair and faces, even our toothbrushes. Everywhere! And when it was wet you just couldn't get rid of it. But we really didn't bother! It had become a part of our daily routine!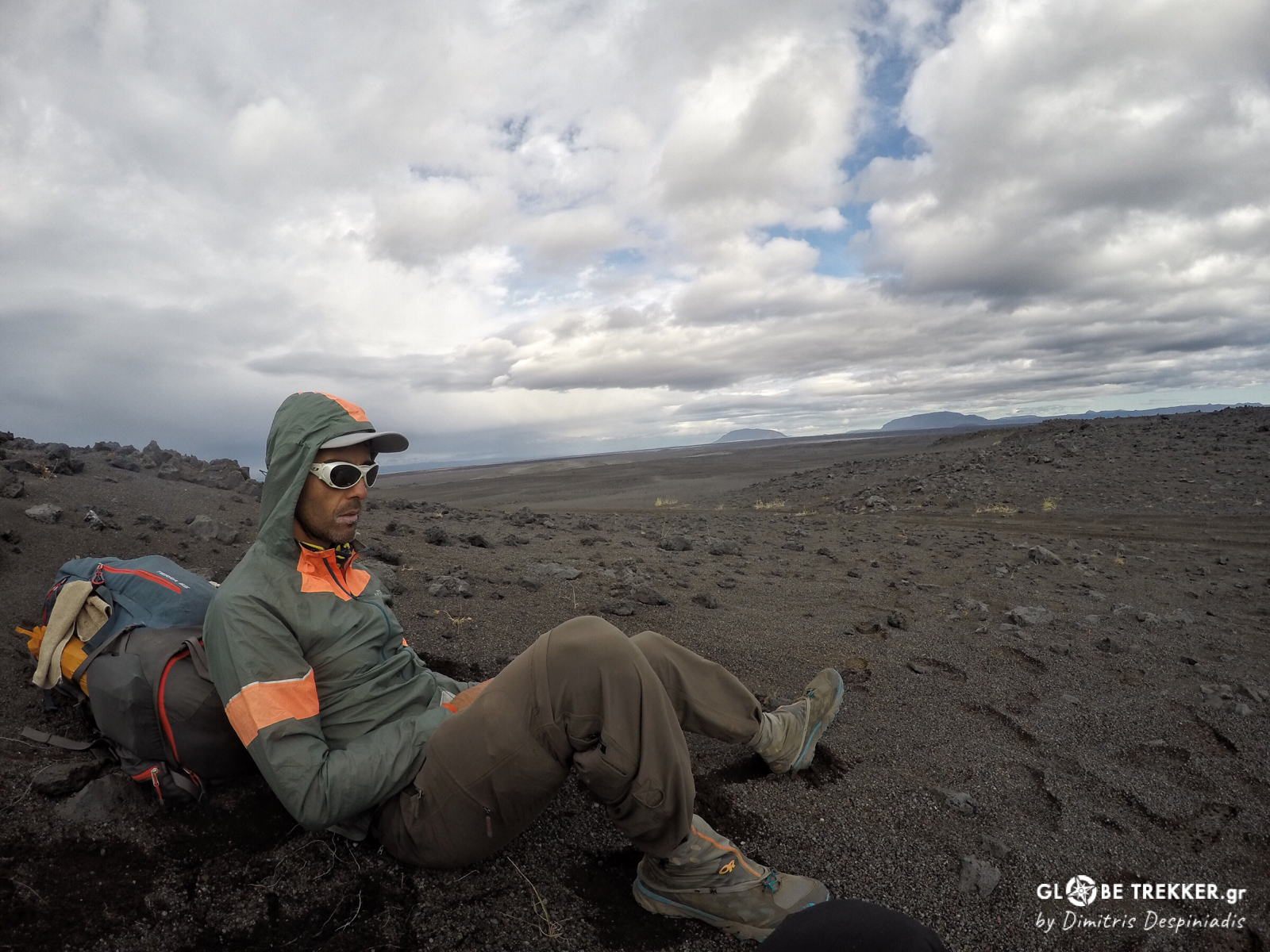 One particular evening, the visibility was good and we saw a huge white mass to the south. It was Vatnajökull, Europe's largest glacier. Although we would hike parallel to the icecap for at least 150 km, we just saw it in rare occasions!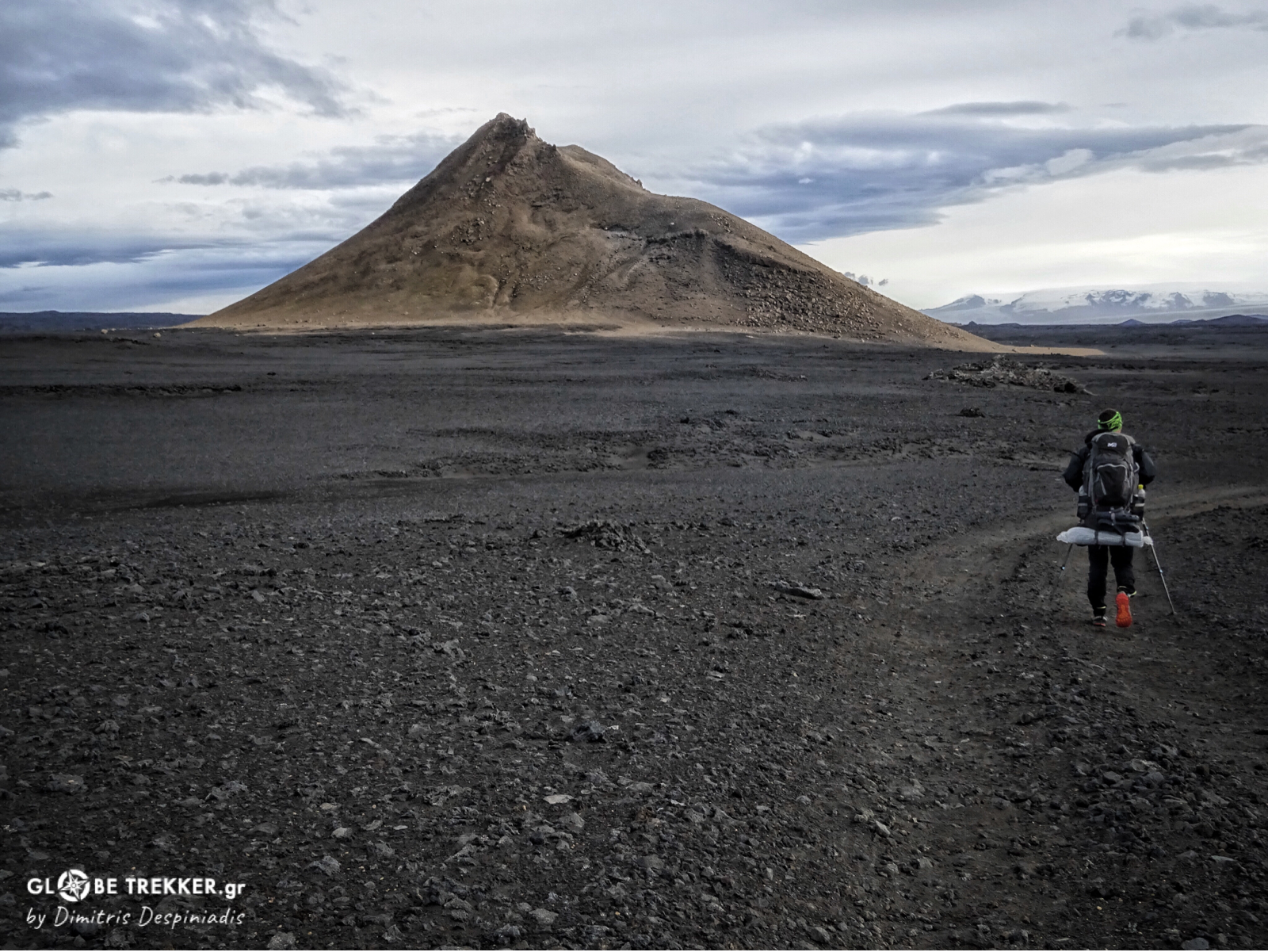 And that because the days that followed were wet and gray! The sky was gray, the land was gray, the mood was gray. Cold rain and sleet kept falling and there was nothing on the land to provide us a shelter for a while. Silently, both locked in our own thoughts, we were walking all day with a 10 minute break. And the landscape was so empty and featureless that it felt like we didn't take a single step further!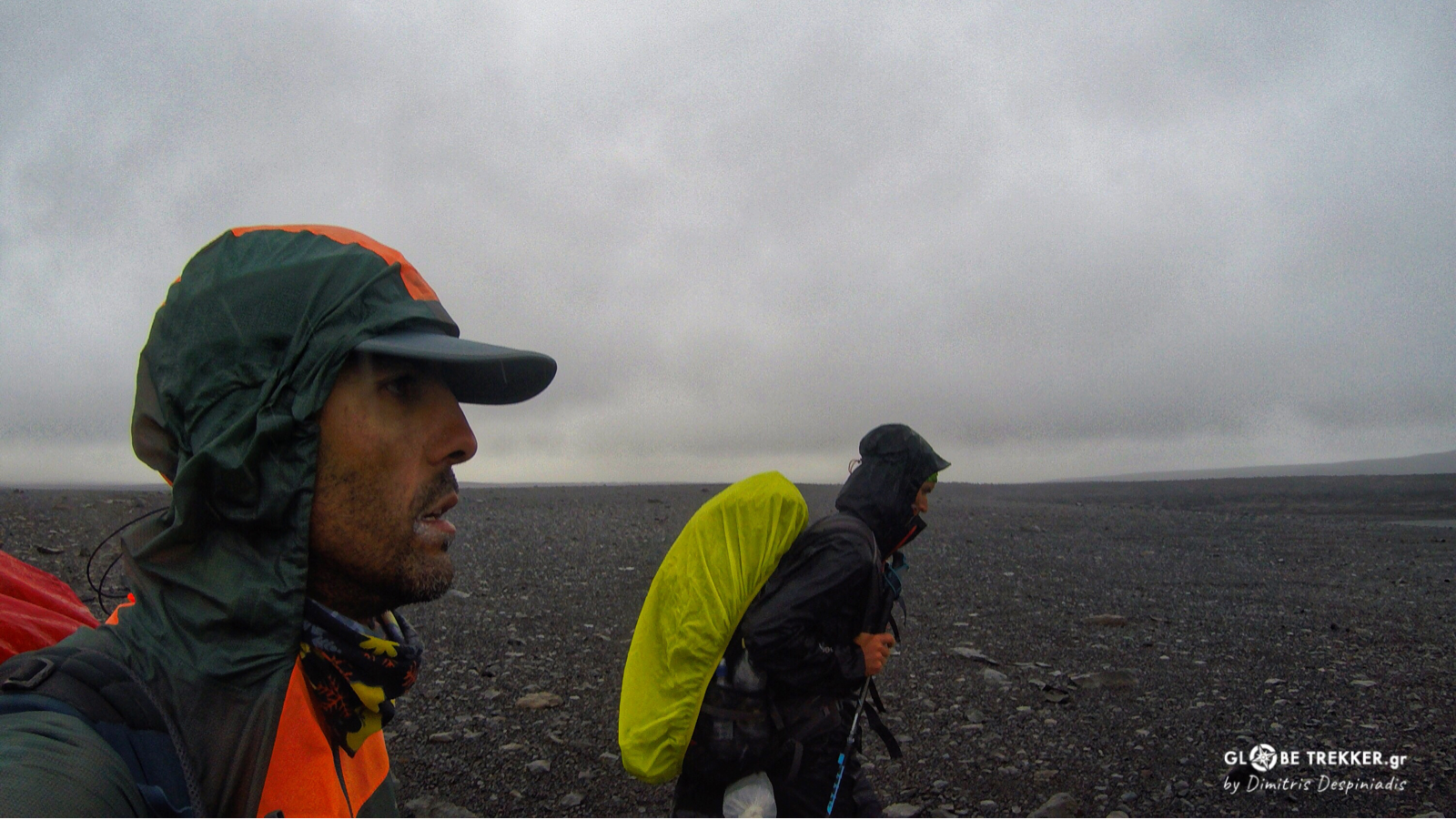 Every now and then, we had to ford glacial fed rivers. These were not as tricky as we expected, perhaps due to the moderate snowmelt of the season.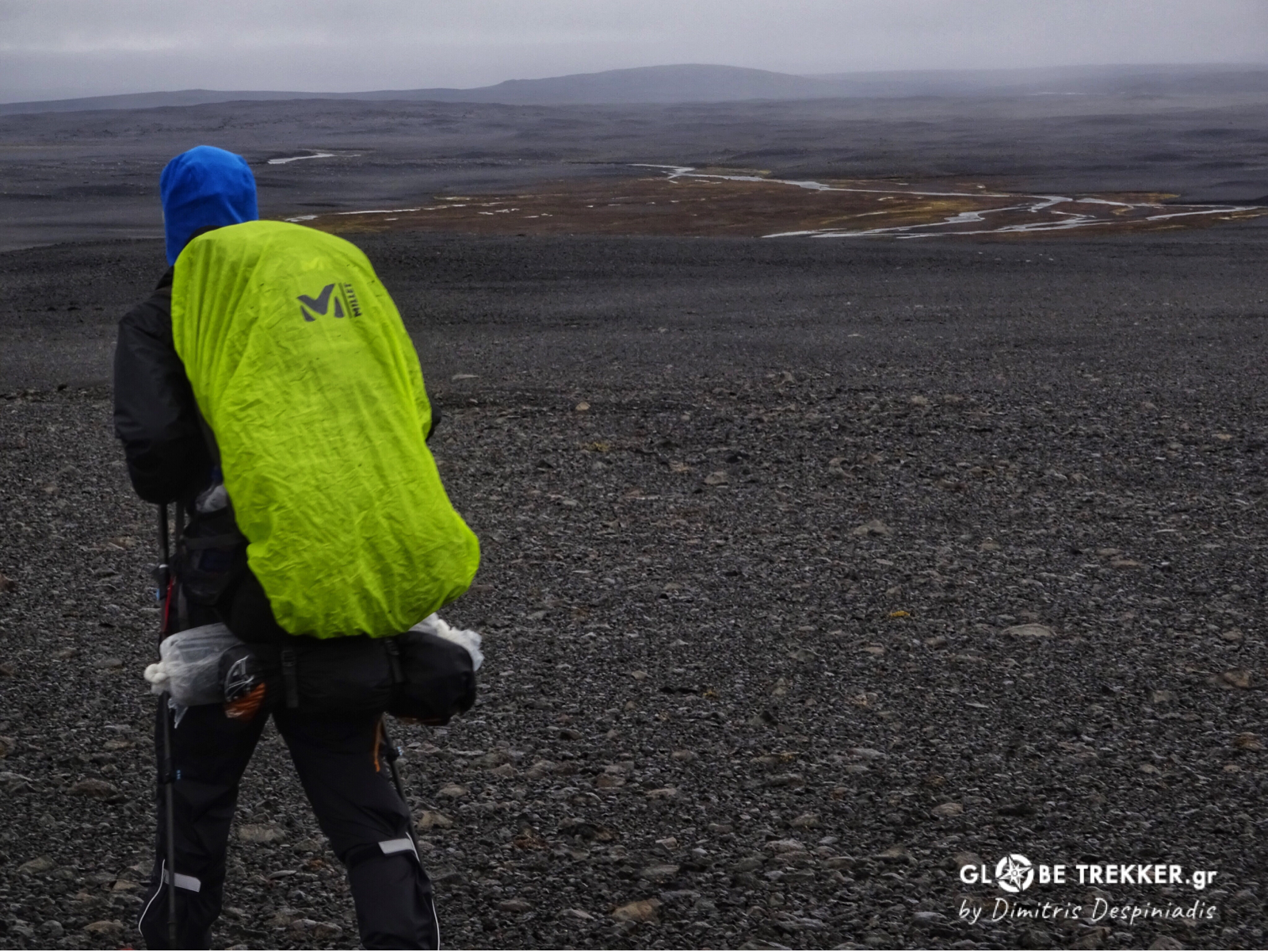 Except one! It was late afternoon. Water was well above our knees – that we had to put off our pants – and the current strong enough to test our coolness. I suppose we would consist a rather funny sight wearing just our bottom underwear and three layers of clothes on the upper part of our bodies. Finally, everything went smoothly.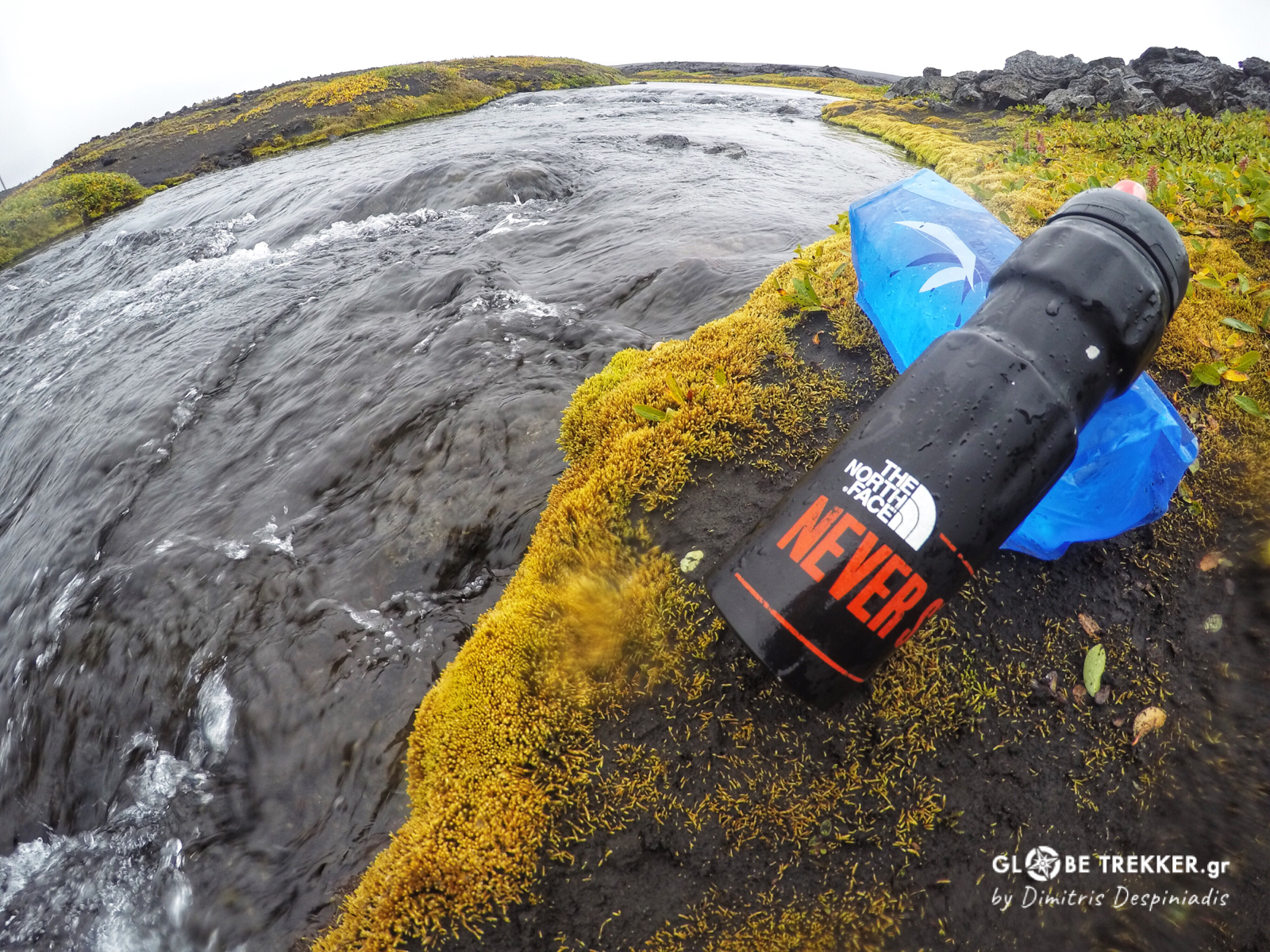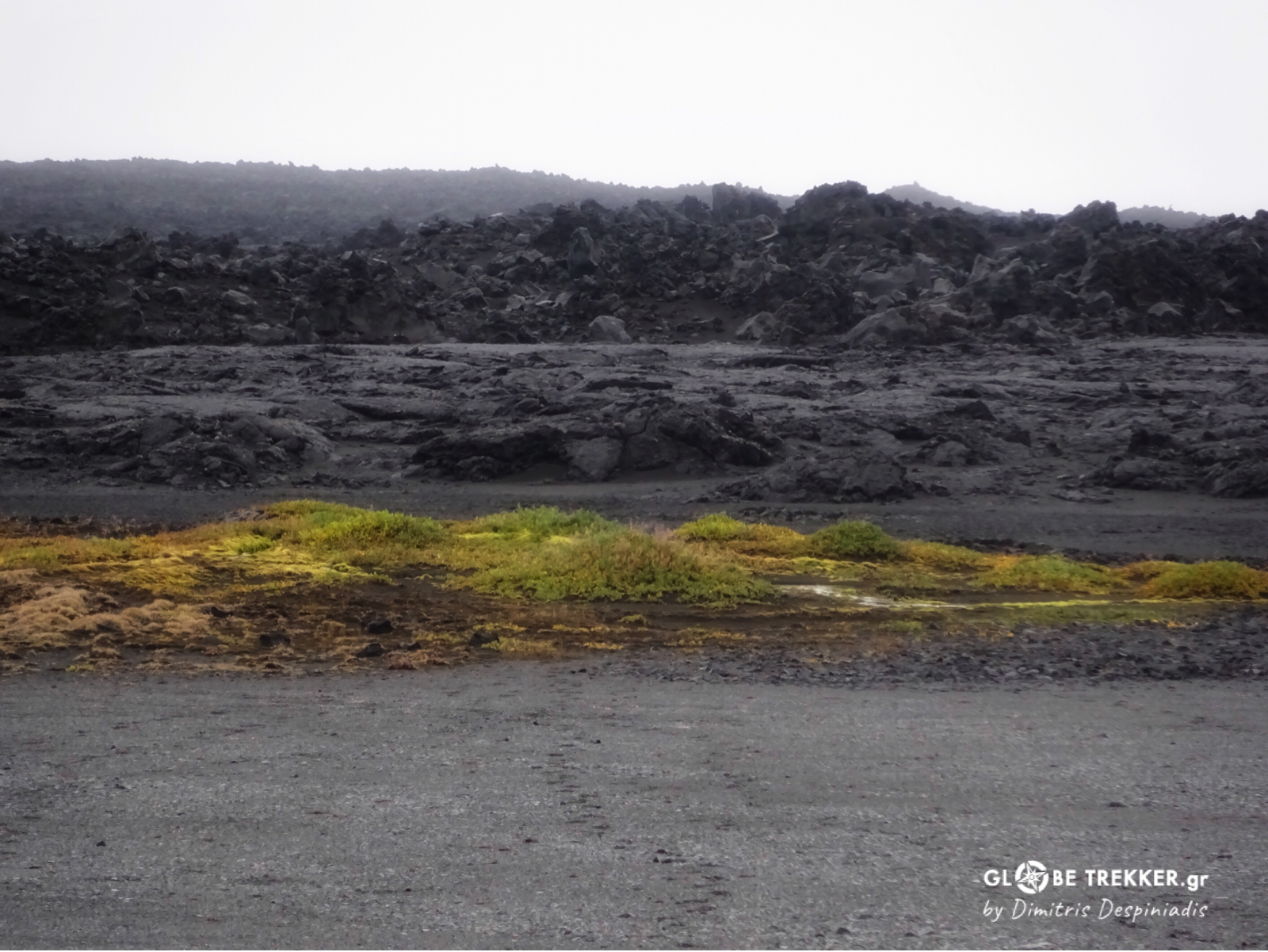 Every night in the tent – that tiny mobile shelter – we were swallowing the last of the 3000 kcal that we had for the day.
Bread, molasses and plant based butter for Argiris and two vegetarian expedition meals for me. These, along with two energy bars and two mouthfuls of dried nuts consisted each ones everyday diet. But we were burning a lot more calories and they were not enough!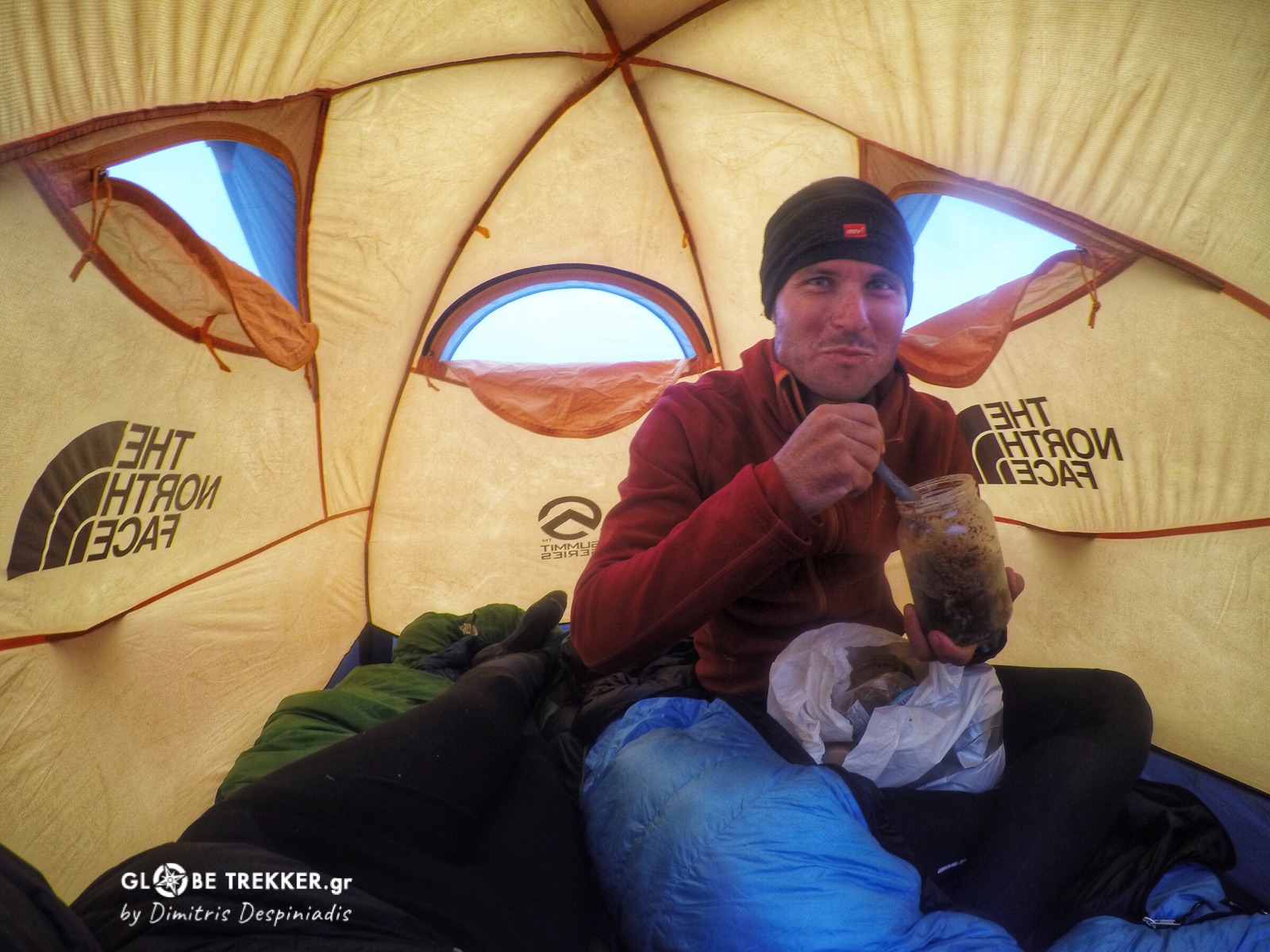 On the other hand, every night our backpack weighted 650 gr less and that was good. And every night we were studying on the map our next day's march. And as kilometers and days were passing by, one topo map (out of seven) followed the other. And just two had remained and that was good too.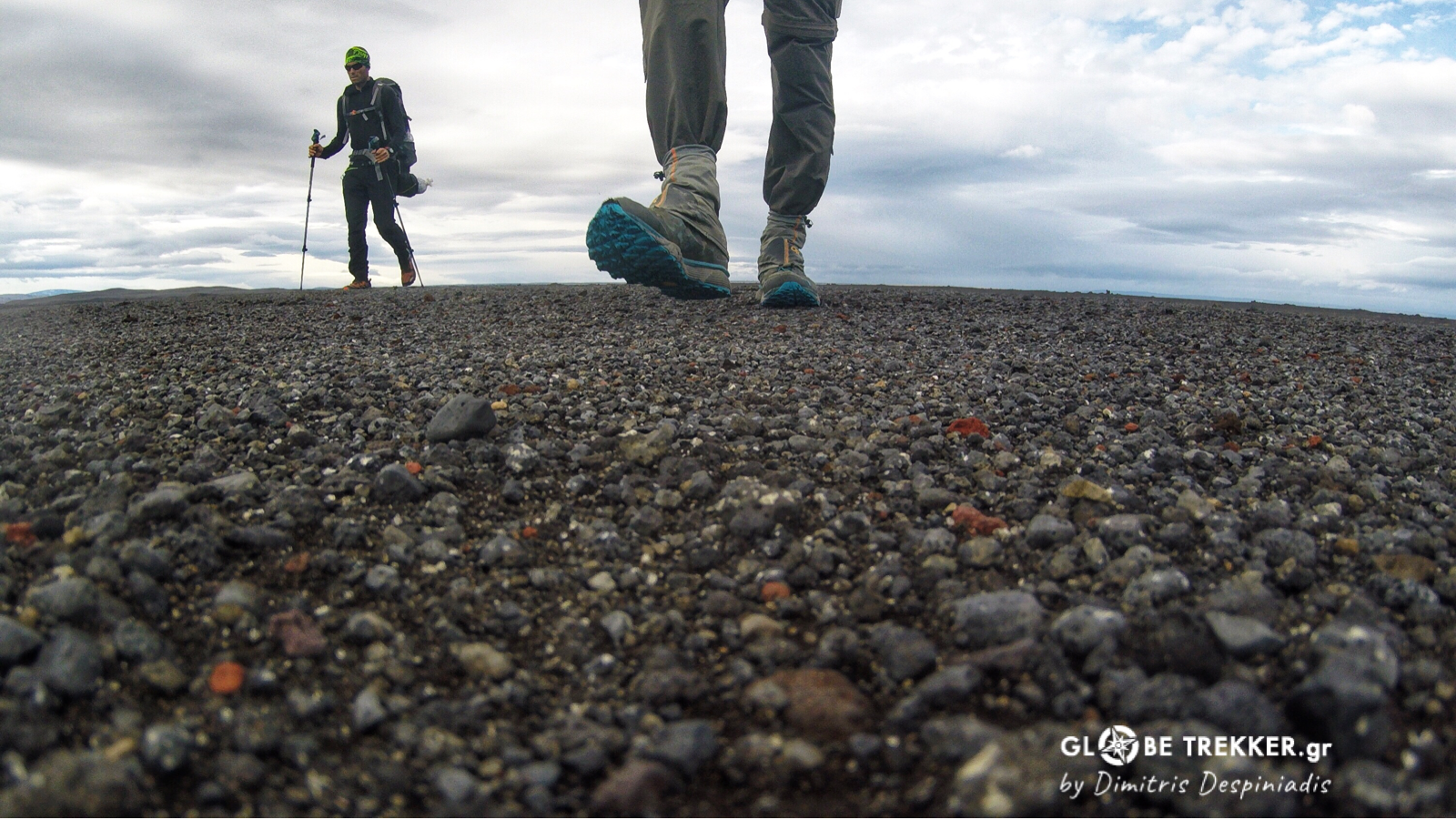 And it was the day that we encountered the worst weather – after ascending and descending a pass without seeing anything – that in late afternoon the wind picked in and cleared the gray skies. Our mood altered for the better! So we pitching our tent and kept staring at Tungnafell – a colorful volcano – and its glacier emerging from the clouds. One thing was certain! The remotest- totally gray- part of our crossing was already left behind!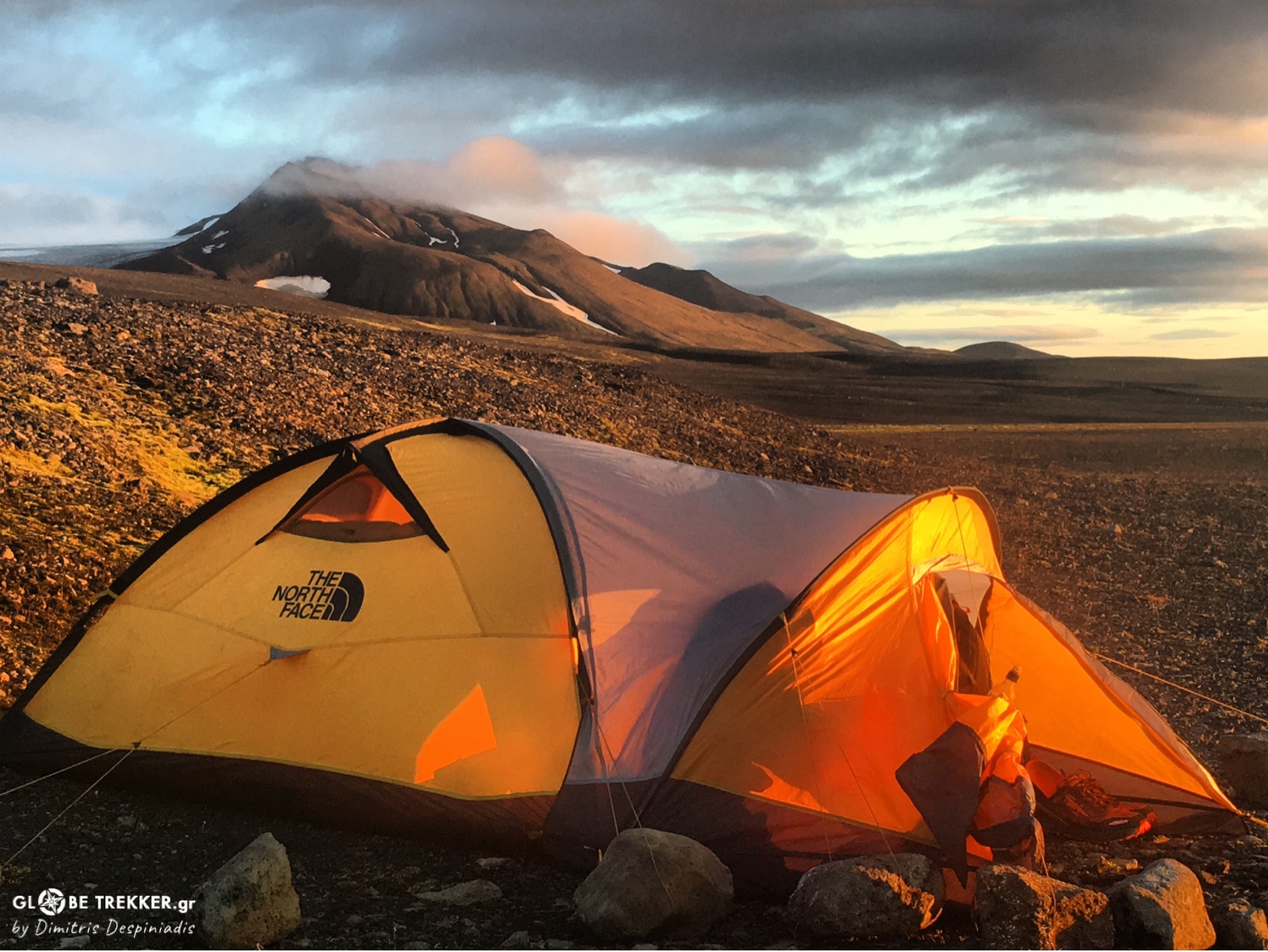 Arid spaces continued to dominate the landscape, but from now on water and patches of green were appearing in regular intervals. The weather improved considerably. With Hofsjökull glacier always on our right, we crossed endless sandy plains towards lake Porisvatn.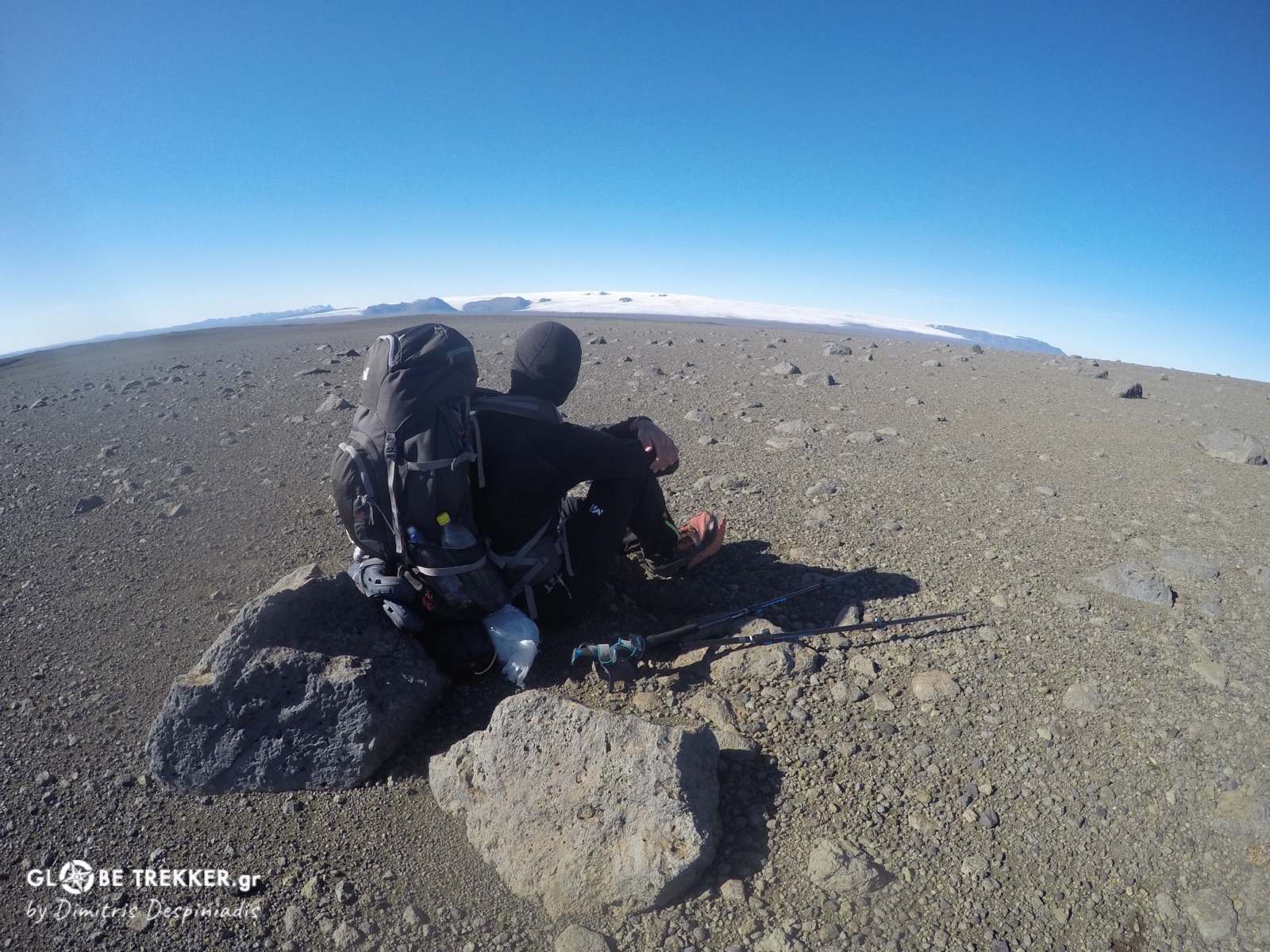 From there we headed south, towards a group of mountains. We camped just 23 km north of Landmannaulaugar.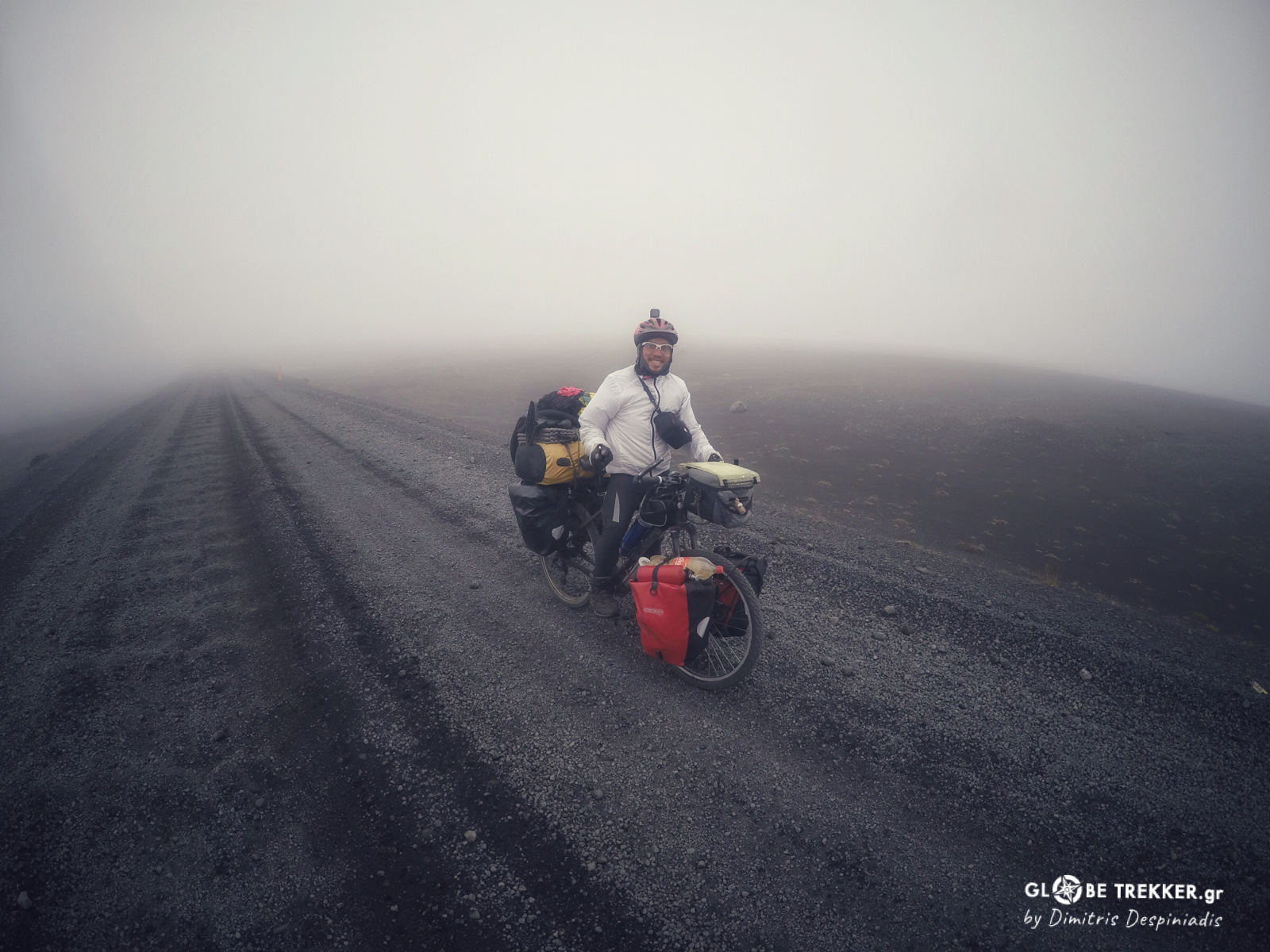 Laugavegur
By now , our backpacks weighted just 16-17 kg and we arrived really quickly to the popular "geothermal paradise" of Landmannaulaugar. Hikers from around the globe come here in summer reason, as it consists the starting-ending point of Laugavegur, the most popular multi day trekking route and ARGUABLY one of the worlds most scenic.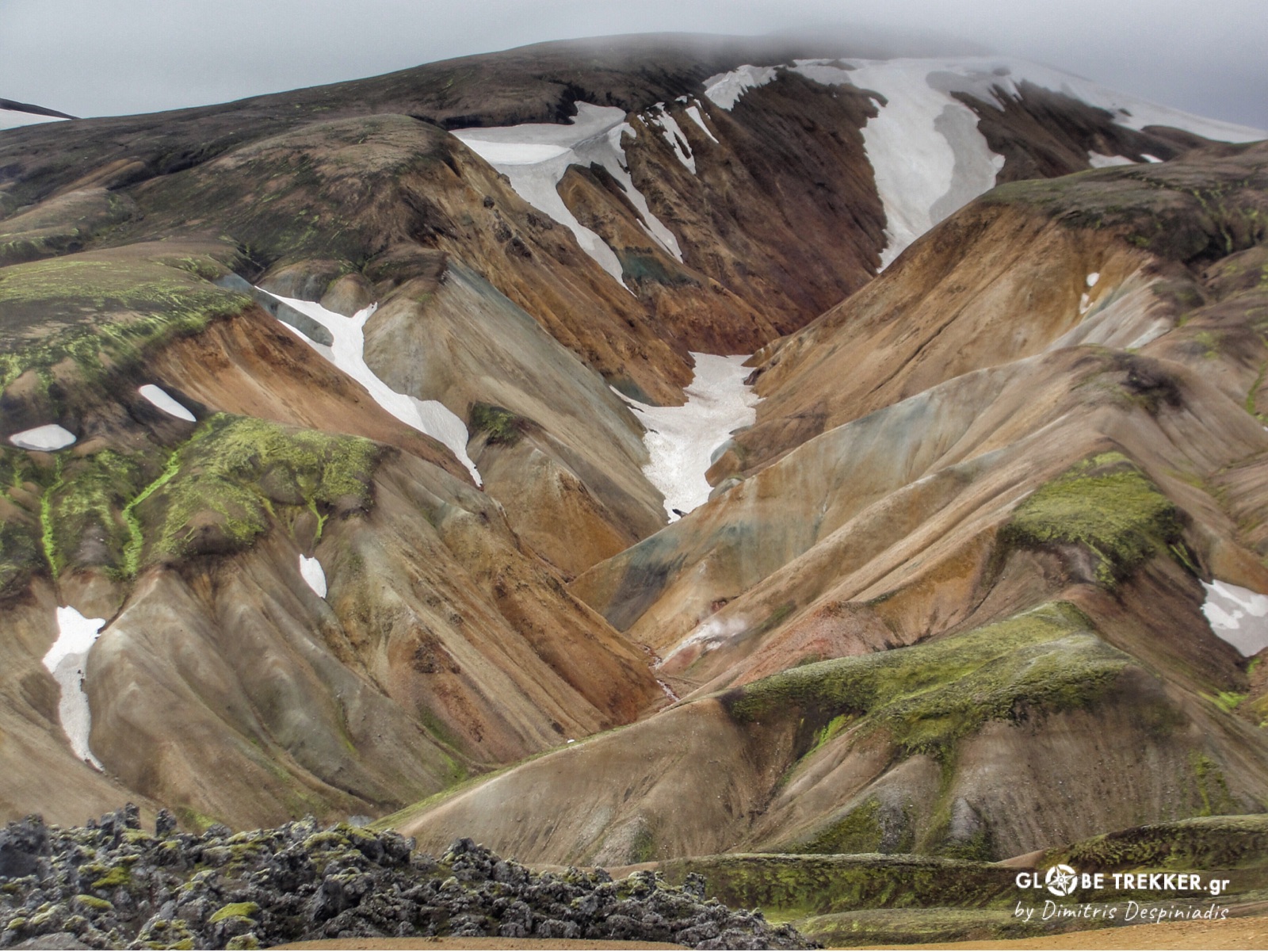 A year earlier, I hiked the route with my wife ( video εδώ ) and I was so impressed by the constant change of amazing scenery, that I thought that my friend ought to see it too.
So we entered the trail and kept greeting and bypassing hikers with their clean clothes, wondering how we – dusty ourselves – looked like to them.
We traversed the colorful rhyolite slopes of Brennisteinsalda, then a plateau with obsidian lava and from there on another geothermal field.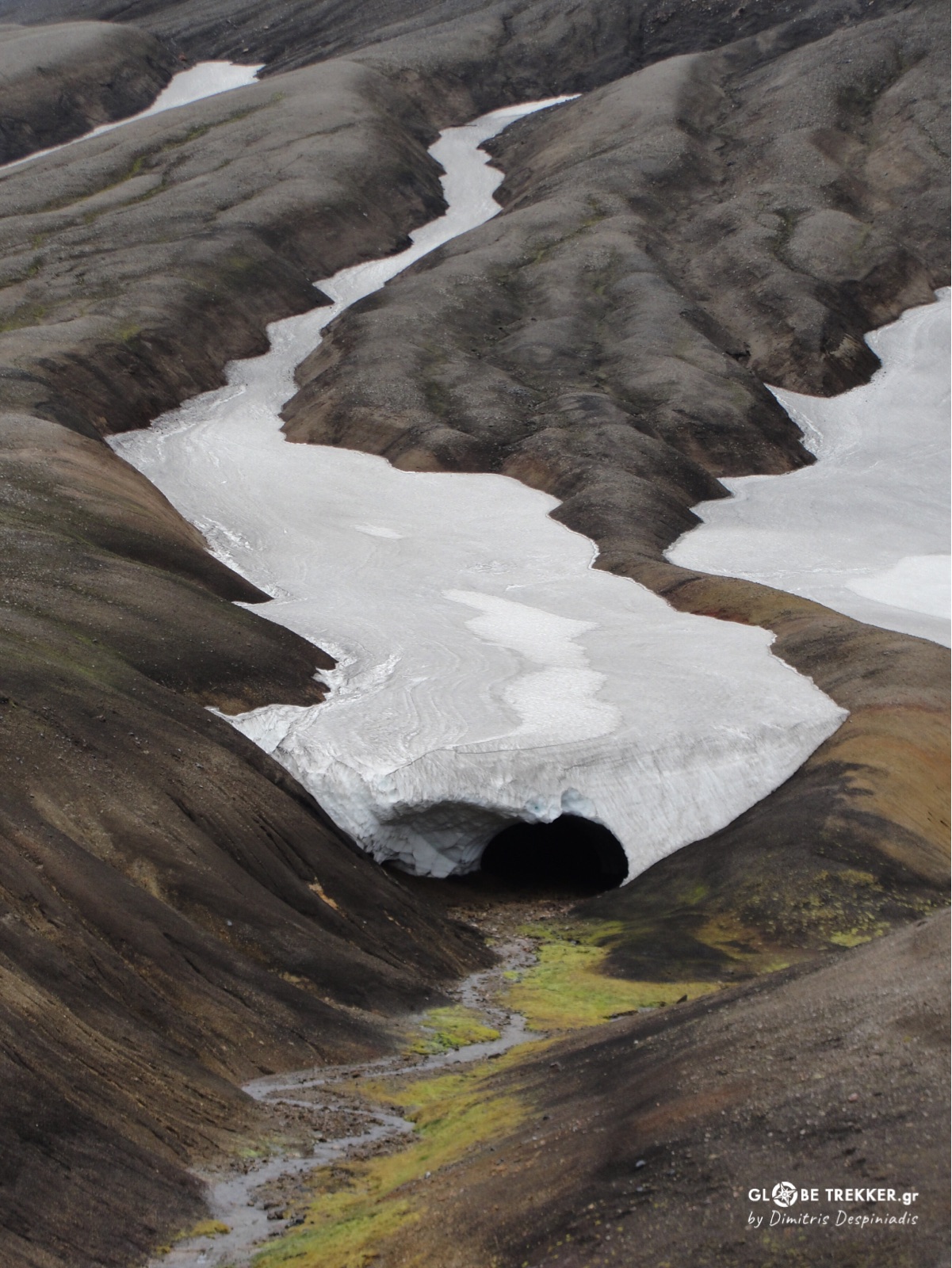 Rain-that was falling all morning- stopped and mist started to play with the sun's light.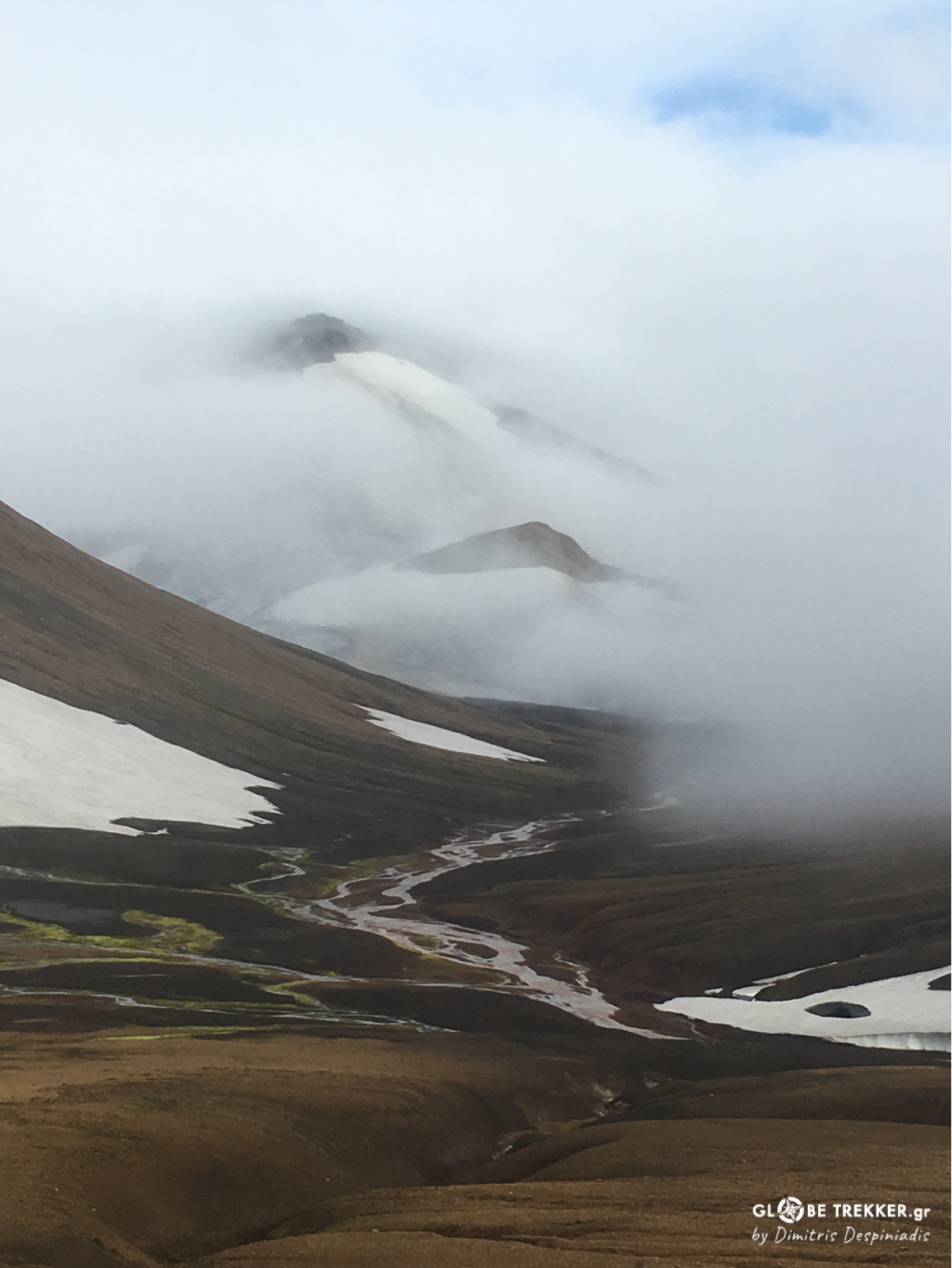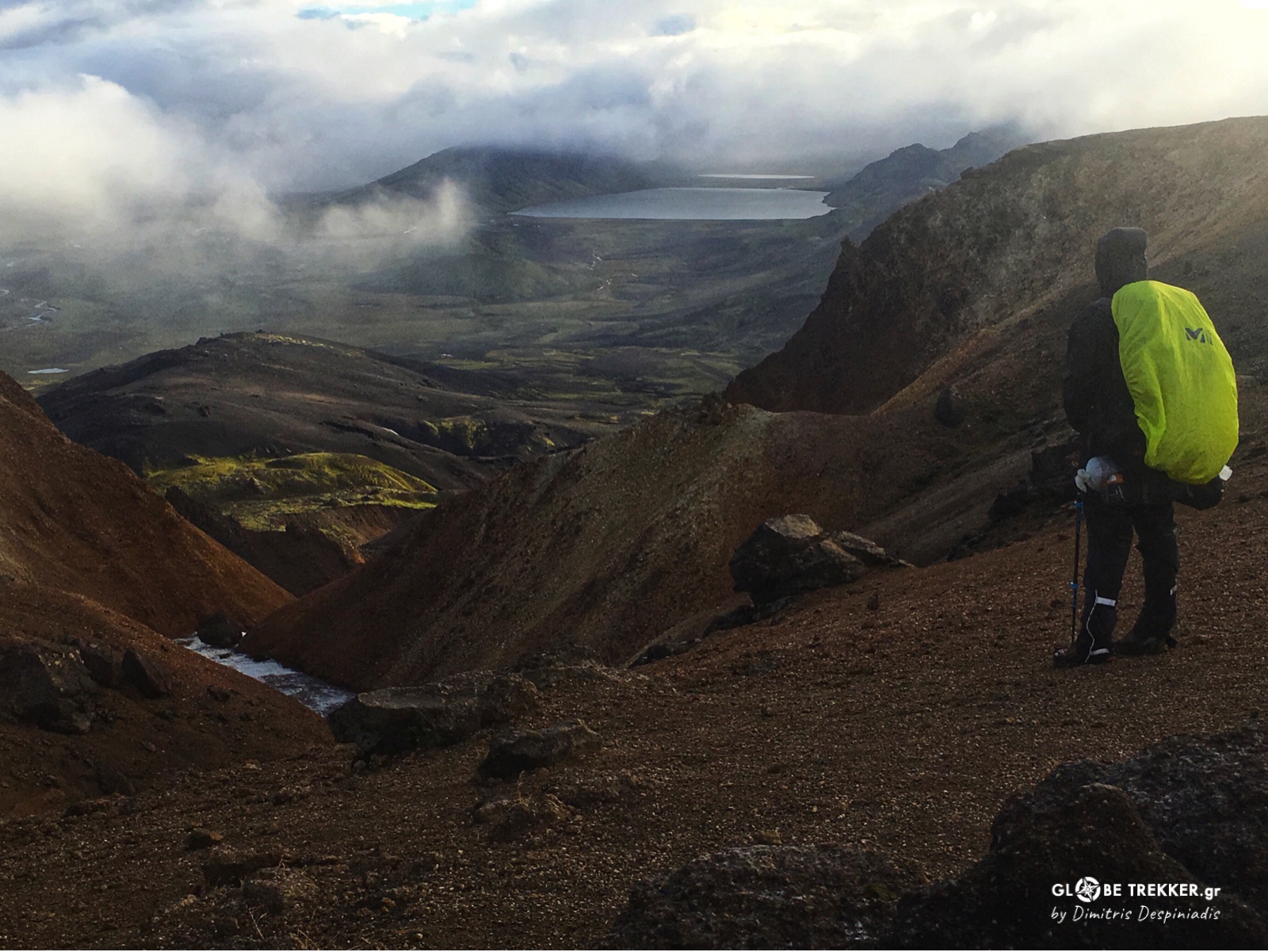 A sequence of slopes cut by small ravines led us to a pass, from where we admired a valley of volcanoes.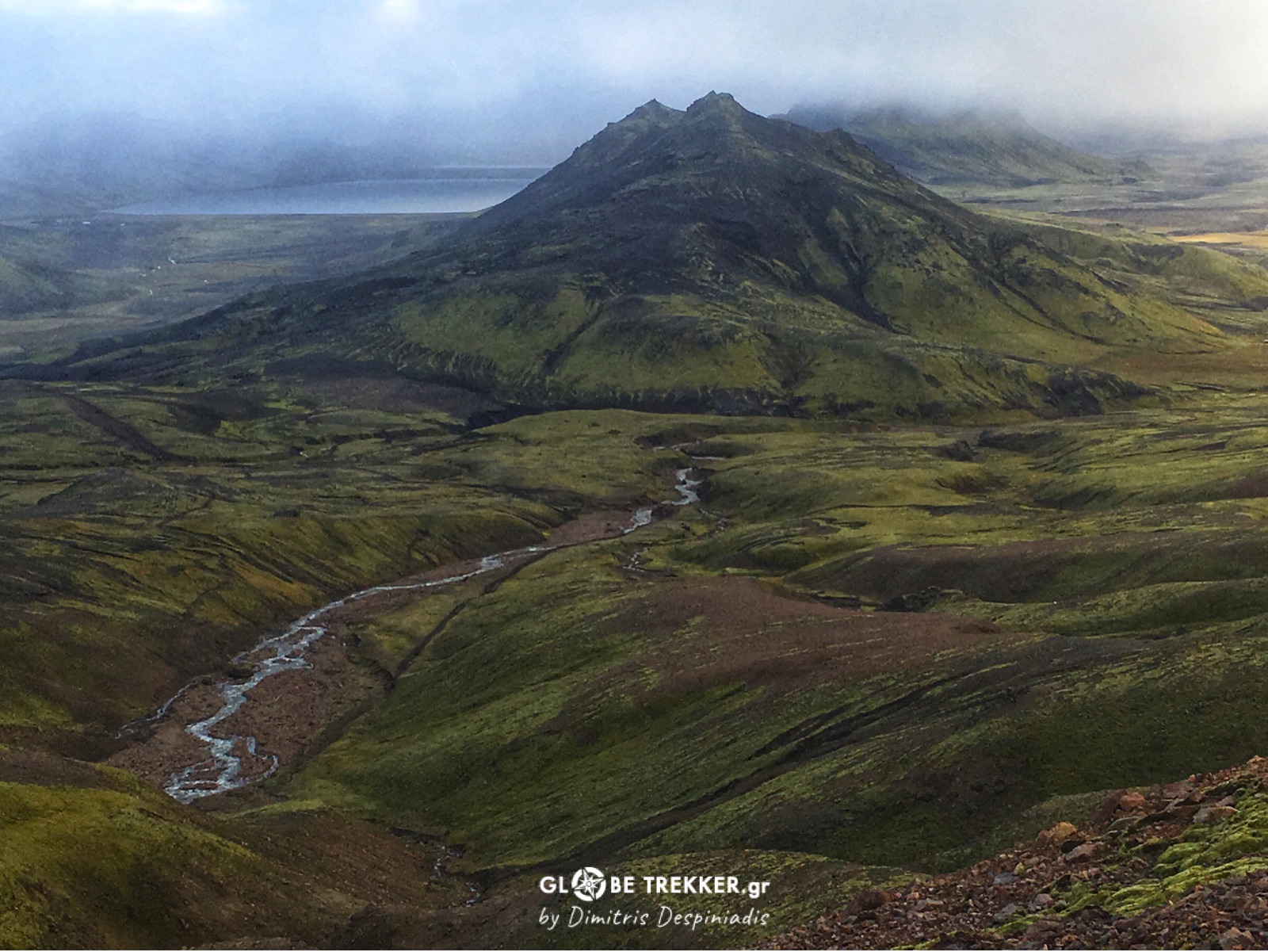 We camped on the shore of lake Álftavatn. The increased altitude profile was perfect after many days in almost flat terrain. We were back on business!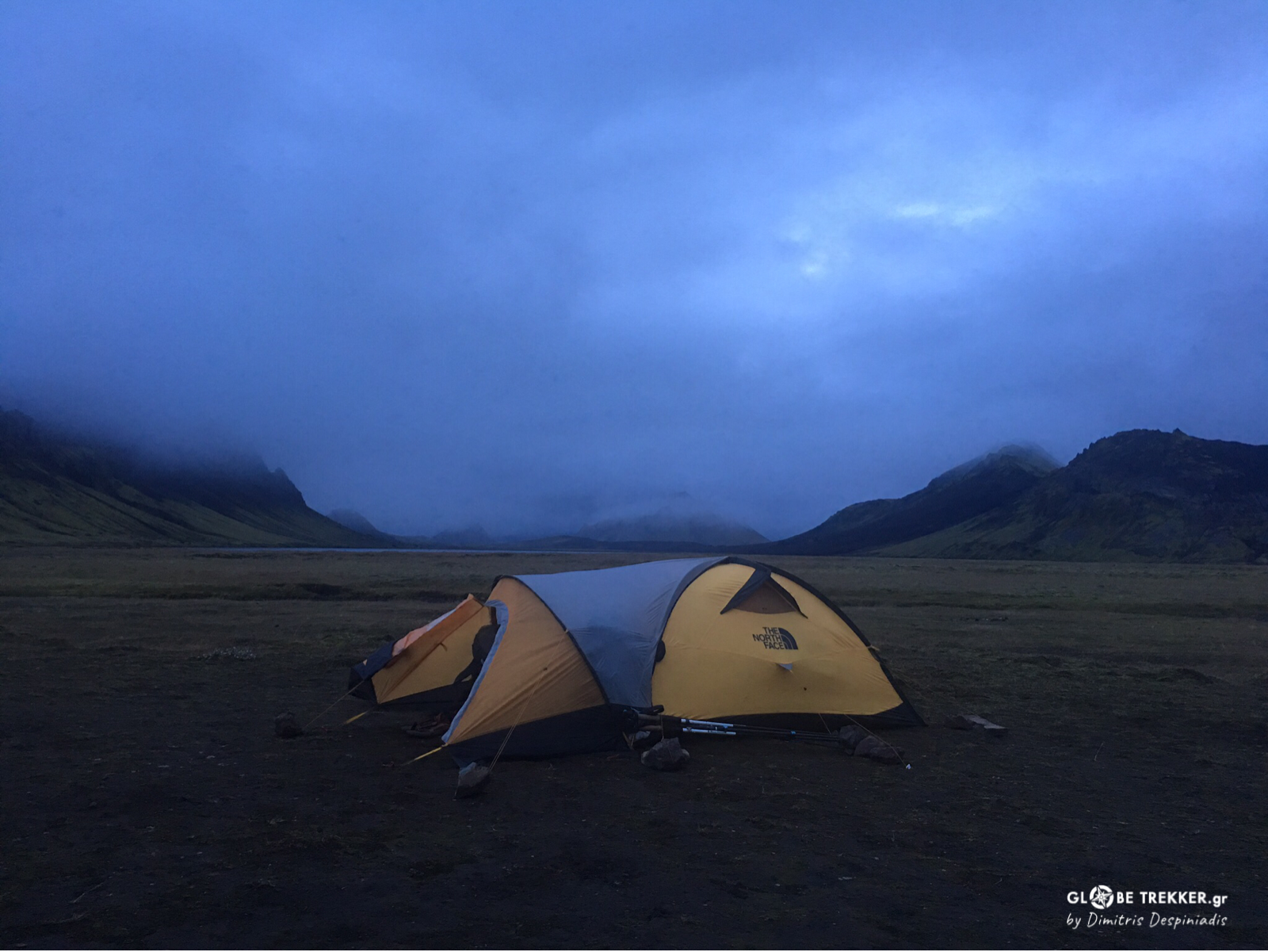 We continued crossing the ever changing landscape the following morning on a good pace.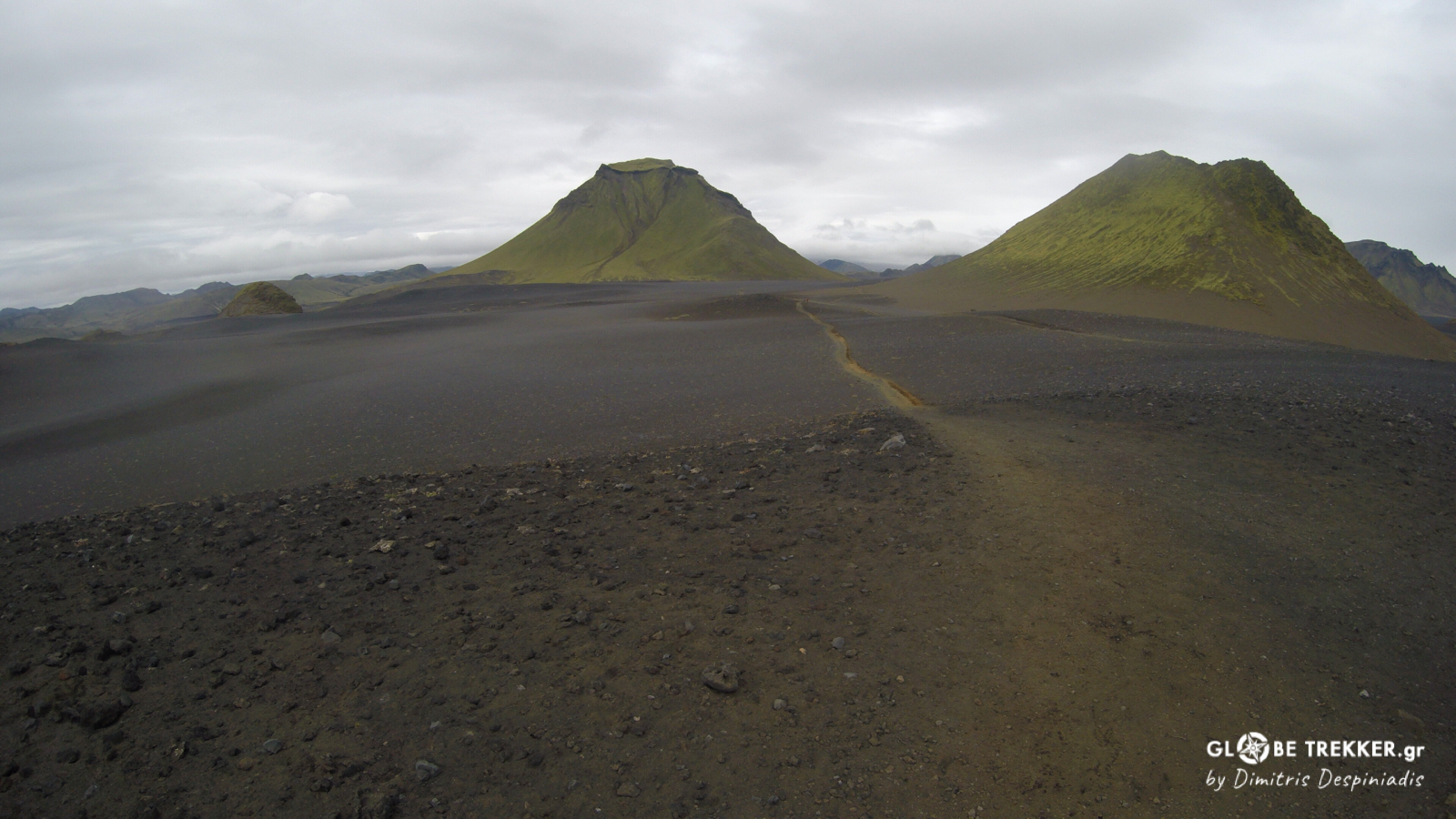 The black sandy plain followed another impressive canyon.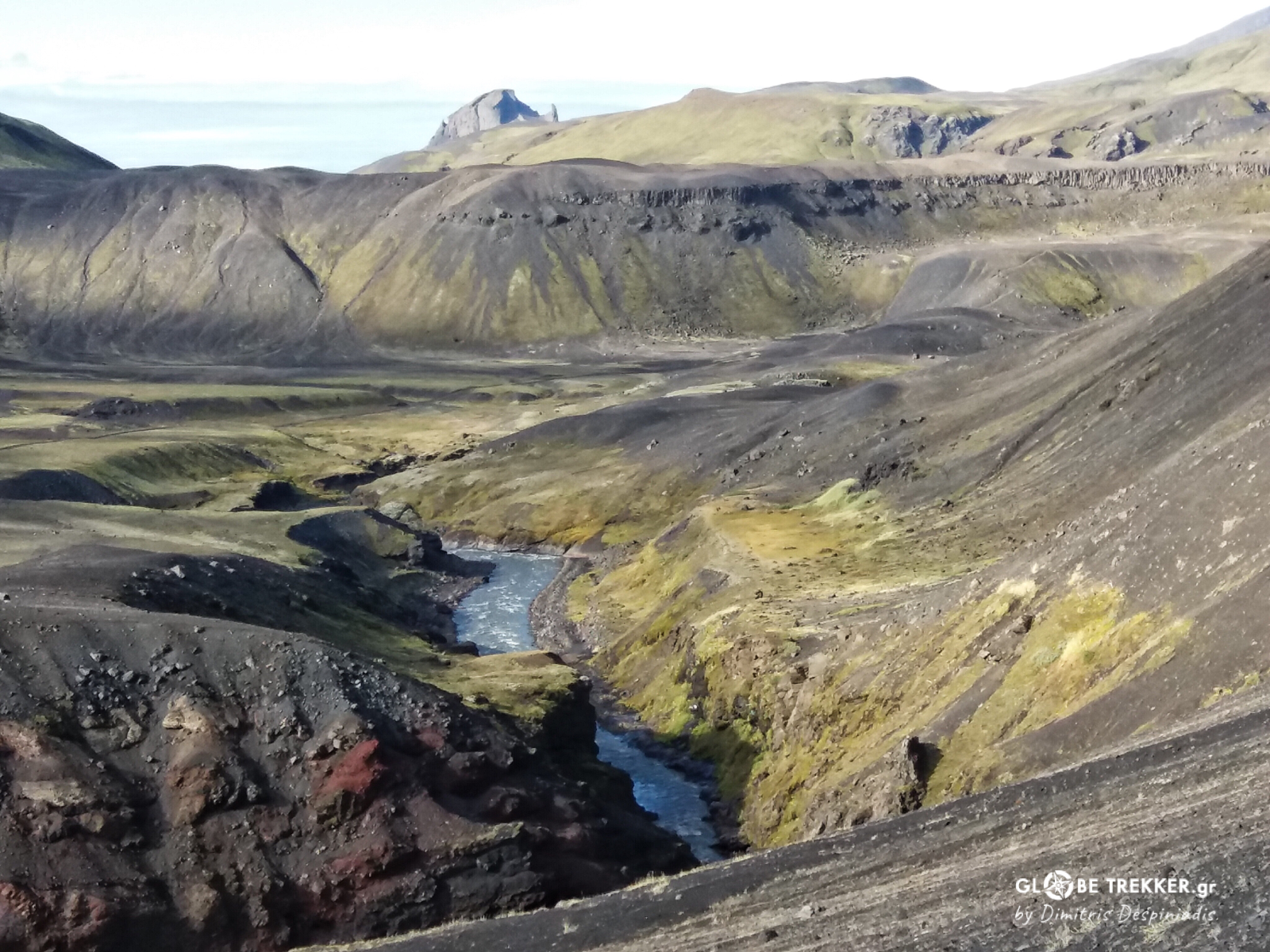 Even the trees reappeared after…400 km, forming a birch forest at the lovely glacial valley of Þórsmörk!
Fimmvörðuháls pass
The weather report that was posted outside the nearby refuge indicated that the weather would start deteriorating from the night and for the next two days. So, despite it was already late afternoon, we decided to continue in order to reach the pass Fimmvörðuháls. We were eager to reach the ocean the following day.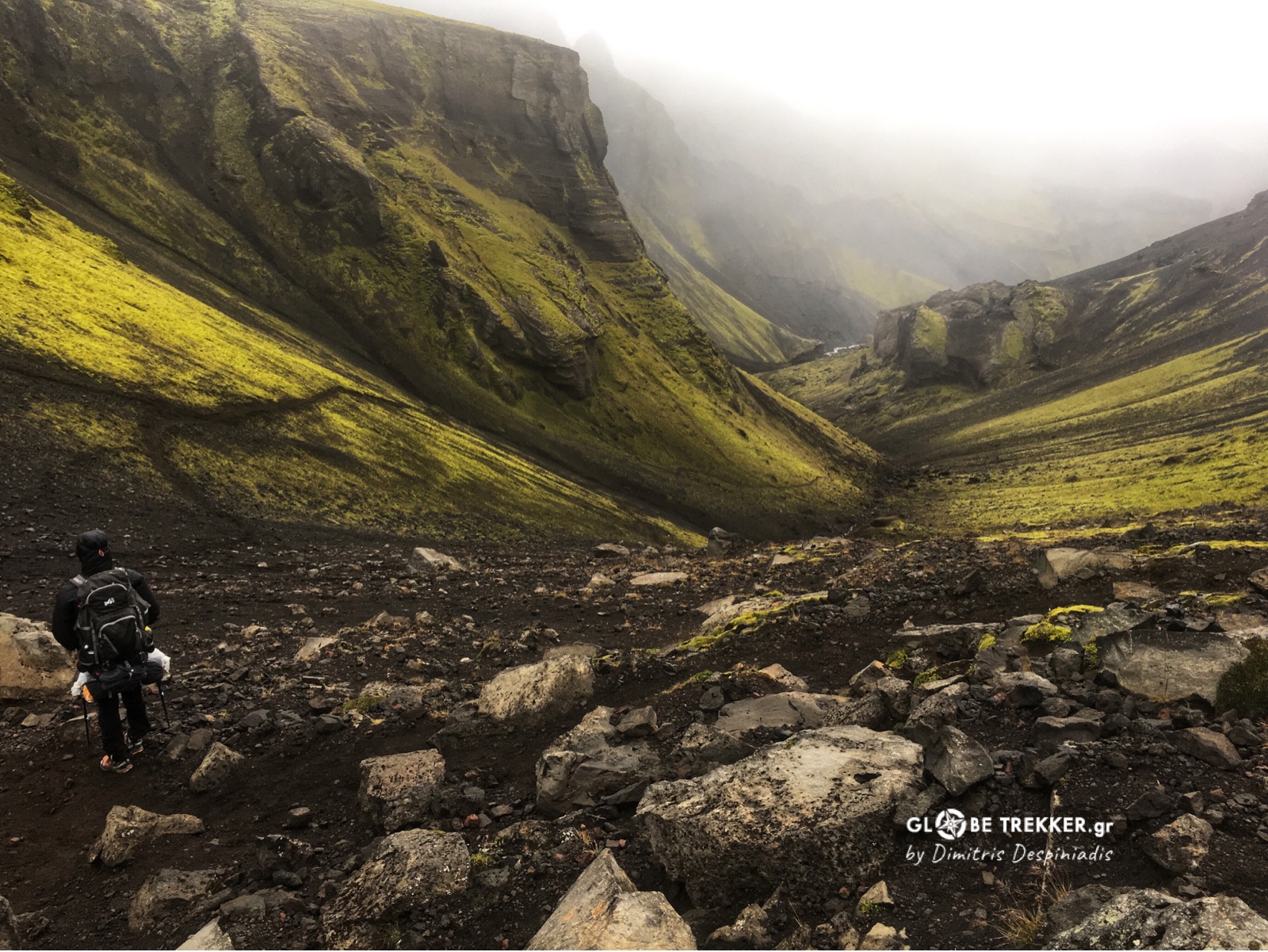 Fimmvörðuháls pass lies between Mýrdalsjökull glacier and Eyjafjallajökull volcano. When the latter erupted in 2010, it had caused a weeklong chaos ( due to the ash) in Europe's air transportation.
After Krossa river, we started ascending rapidly the green slopes of a canyon. According to Argiris calculations, we would reach it by nightfall. The wind at the Col was ferocious, dousing our faces with horizontal rain.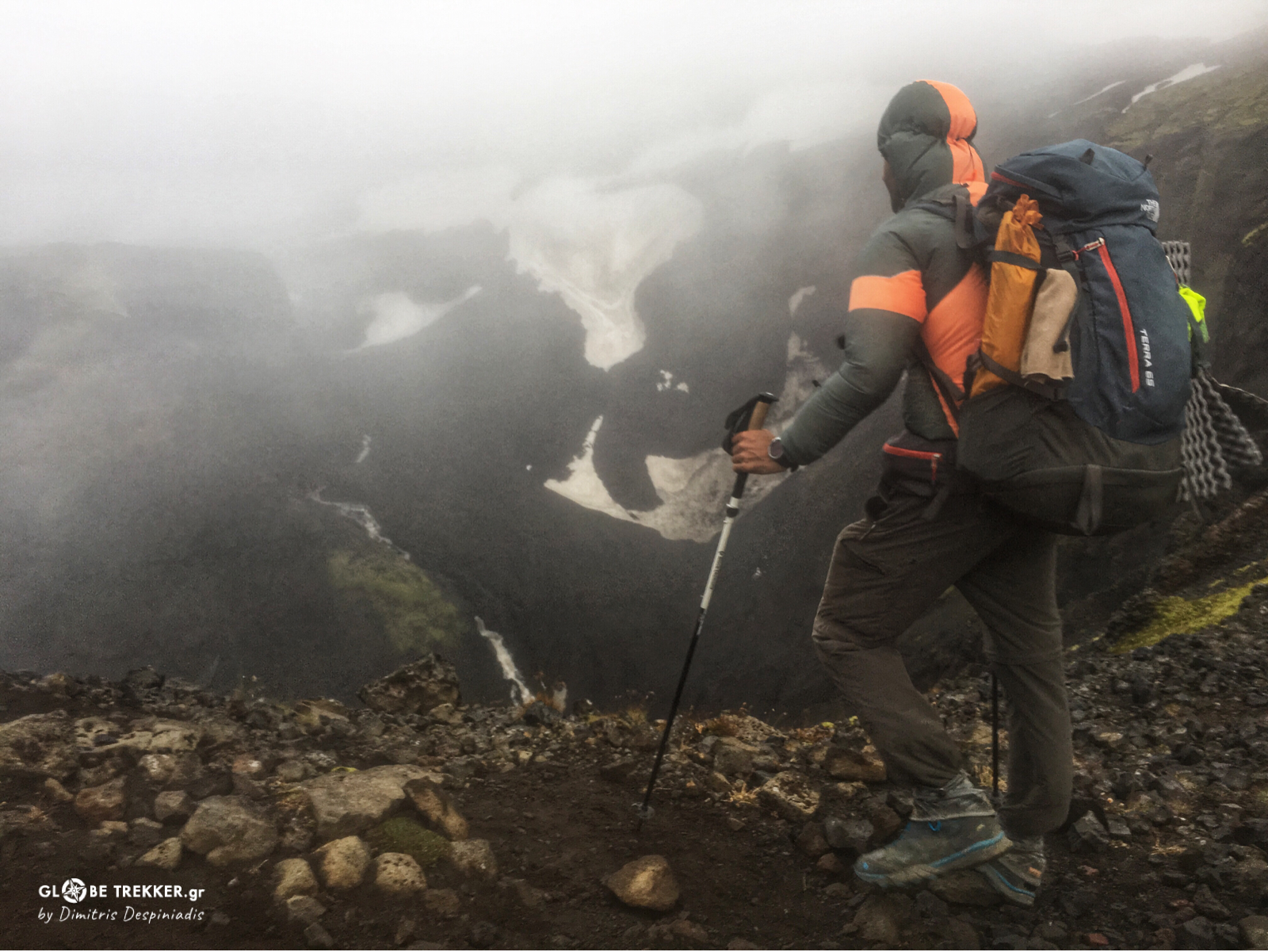 We crossed a lunar plateau and climbed up the last meters to the pass in the dark. We pitched our tent at the foot of a "baby" – 7 years old – crater. We were totally soaked!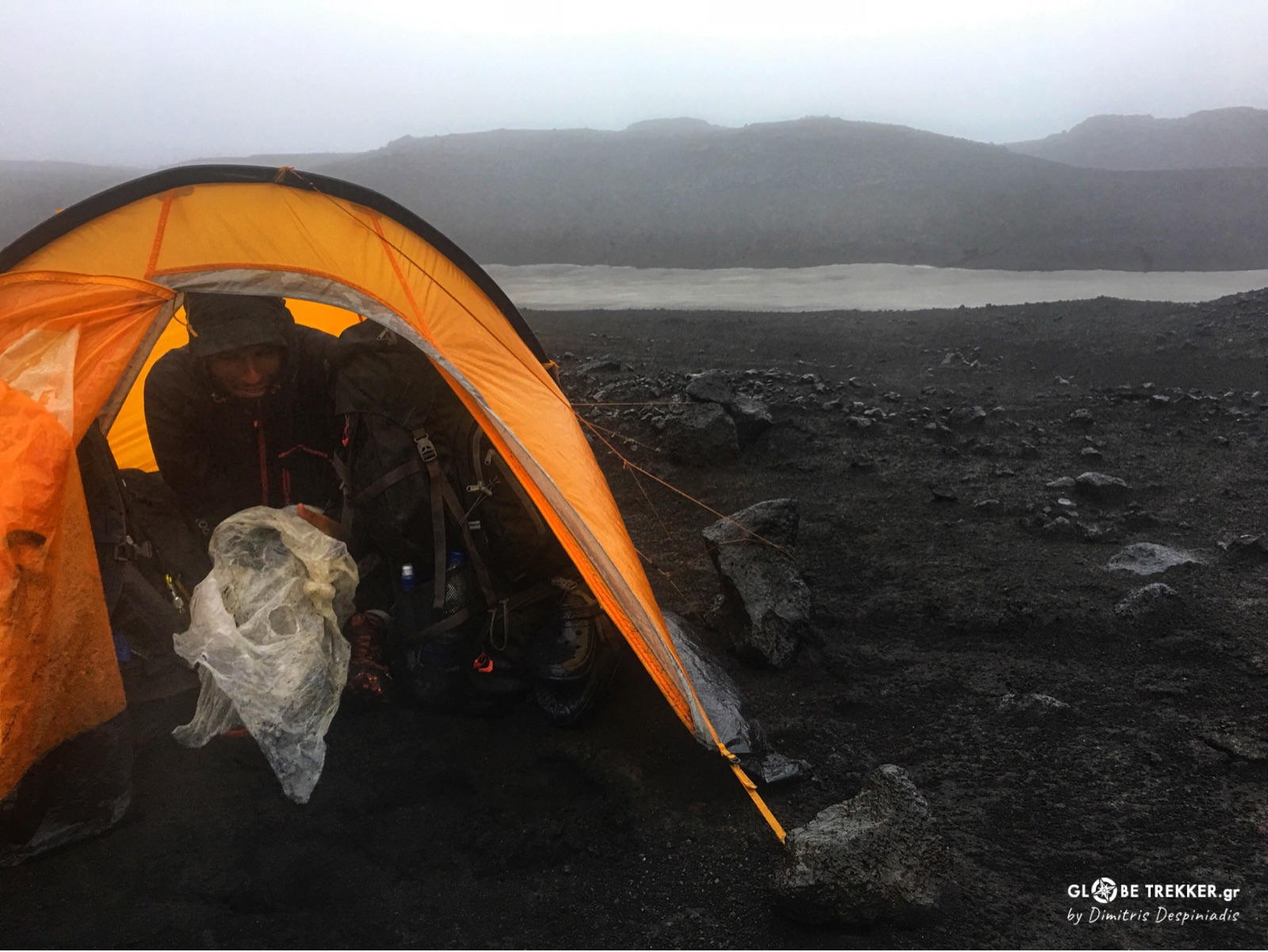 We broke camp by the first light. Fog was so dense that we found our way through snowfields and volcanic moraines only thanks to the GPS.
After losing considerable altitude, we followed the course of Skógá river, stopping once in a while to admire one of its numerous impressive waterfalls in its green canyon.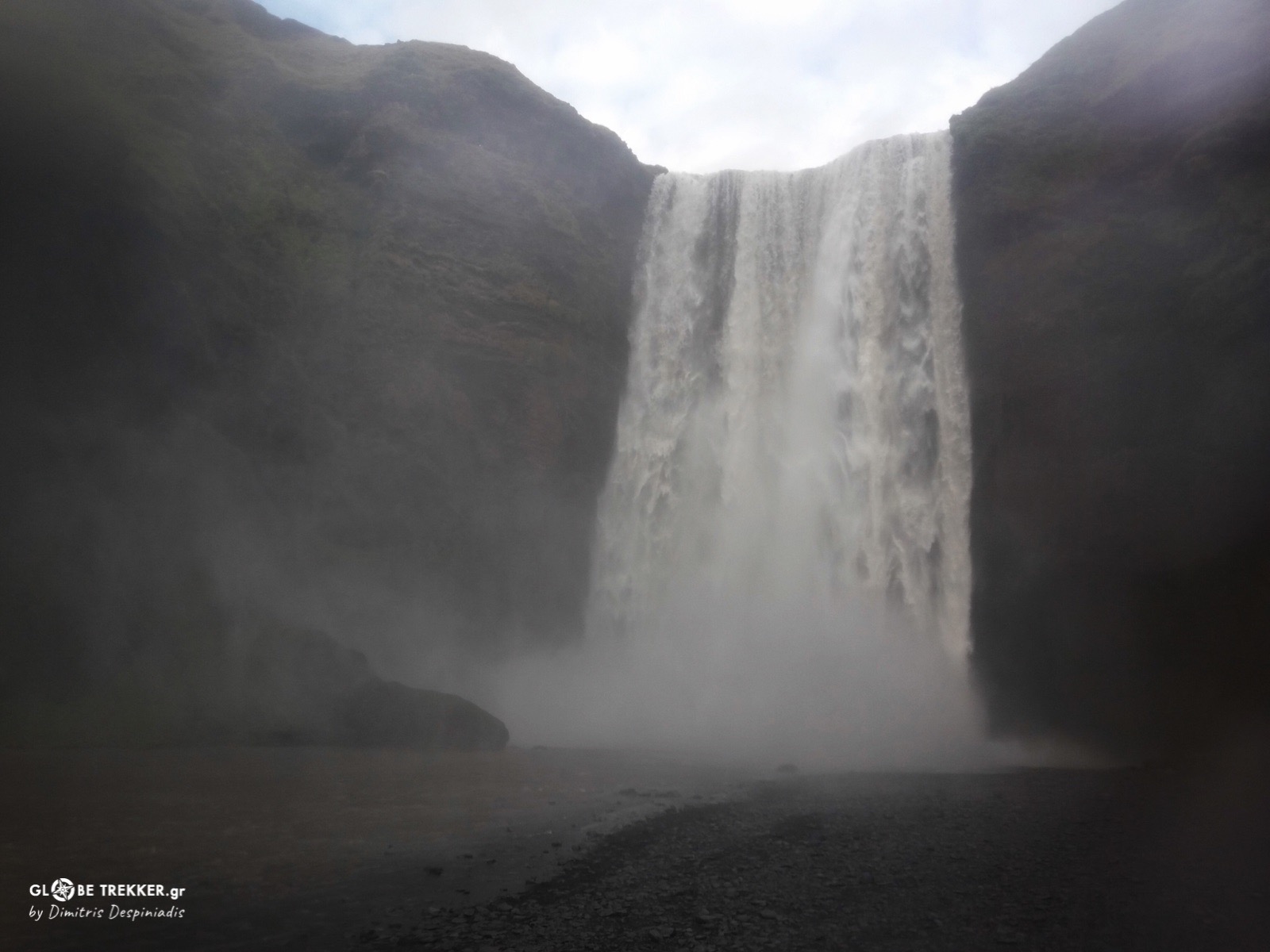 The ocean's breeze accompanied us for the last monotonous – but strangely purifying – kilometers at the side of the asphalt.
September 4, 2017

Dyrhólaey beach, South Iceland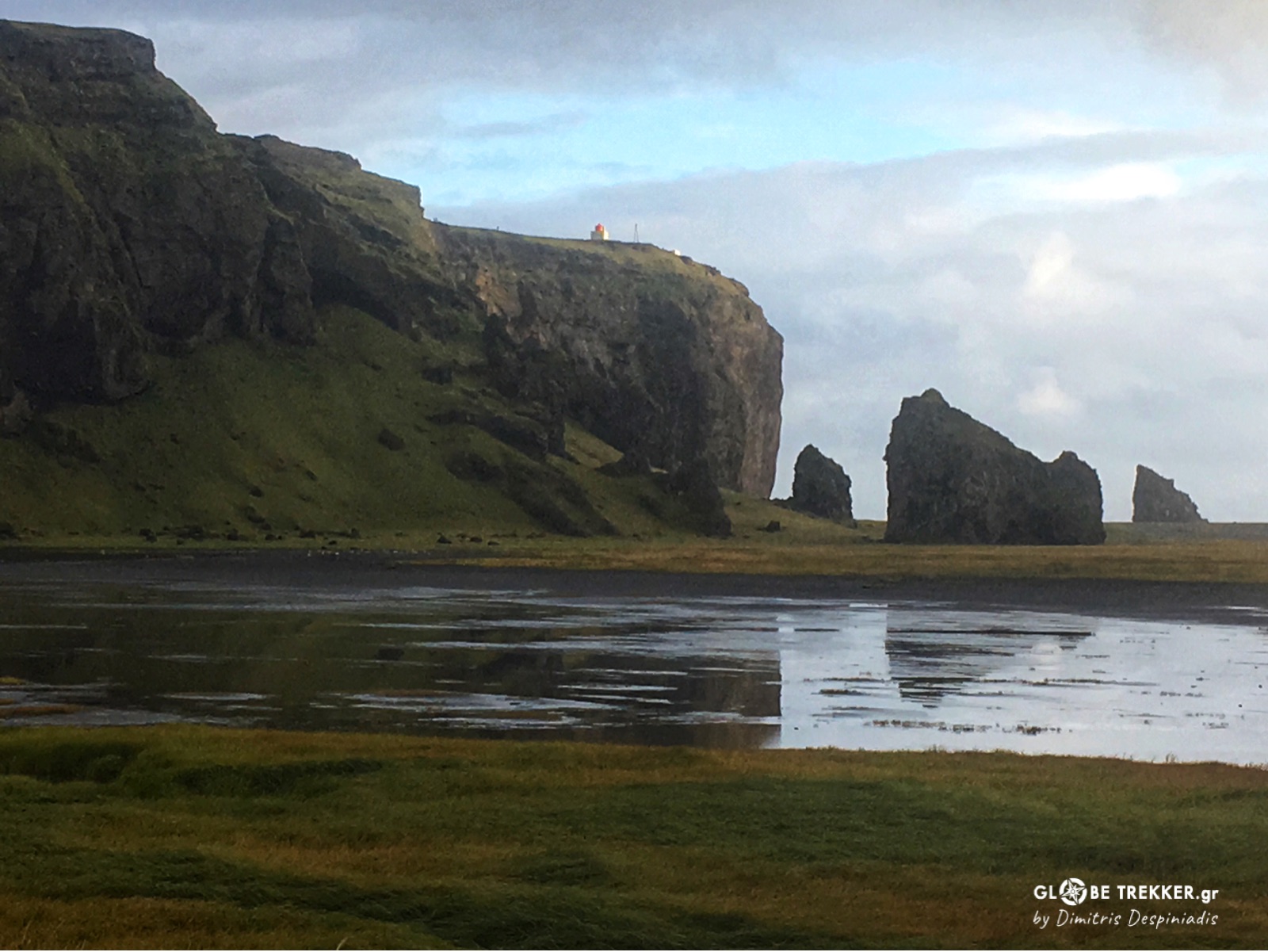 Just a few more meters lay before us. Even the rain stopped. I can see the waves of the Atlantic crashing against the rocks and rolling on the black sand beach. We did it!
I close my eyes and everything comes to me back again:
The crystal clear water emerging beneath the rough lava, the constant sound of the wind, the open spaces, the tent moving ,how delicious the crumbs of an energy bar can taste ..


Time CAN expand! And as my good friend Argiris said:

«"Deep satisfaction , Joy!"»