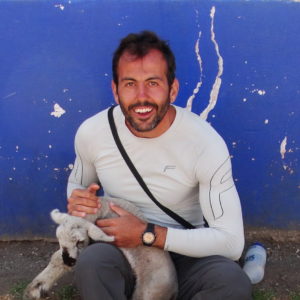 Hi ! I'm Dimitris Despiniadis.
I was born in Thessaloniki, Greece.
As long as I can remember I always had a special interest in sports, ge-ography and human cultures but above all an unconditional love for the natural world.
In the years that followed adolescence, my exploits in the mountains be-came so frequent and intense that can be considered as personal life-style.
Nowadays , I split my time between Thessaloniki (where I work) and Li-tochoro, the charming little town at the foot of the legendary mount Olympus, a place that I consider as my TRUE home.
Besides my love for thru-hiking and trekking – which I believe is an ideal way to explore the wanders of nature and immerse yourself to the worlds cultures – I enjoy mountaineering, mountain biking, running, snowshoeing, swimming as well as other outdoor activities.
My passion for travel and exploration brought me to special places with exceptional ethnological interest, such as the Amazon rainfor-est, the Tibetan plateau and the holy rivers of India.
During the last 15 years I planned and led numerous compact trek-king expeditions ( some of them exploratory ) and thruhikes in Chile, Peru, Ecuador, Argentina, Nepal, India, Iceland, Norway, Sweden, Scotland, Wales, Spain, France, Jordan and my home country (Greece).
 Over the years I have developed a fast & light approach that ena-bles me to cover greater distances while feeling comfortable and secure.
 From the most recent trips, the ones that stand out are two of the traverses I did with my good friend Argiris Vamvakitis :
–  the Unsupported crossing of Iceland (~600km) from the north-ernmost to the southernmost tip in 15 days (August 2017) and
– the crossing of Jordan from the Syrian to the Saudi Arabian bor-der (~650km) in 16 days (March 2018)
as well as the solo traverse :
– of the Spanish Pyrenees (820km) from the Atlantic to the Mediter-ranean Sea in 24 days (September 2021).
On the other hand, 2-3 times per year I love participating in demanding Ultra- trail competitions in my home country and abroad, such as Tor des Geants ( 330 Km, 24000 D+ ) in the Italian Alps – 1st Greek to finish the race – and Ronda dels Cims ( 170 Km, 13500 D+ ) in the Pyrenees of Andorra. In Greece, I participate yearly in the most notable ones (SALEWA Olympus Mythical Trail 100k and ROUT 100 miles) where I frequently place myself at the top10 overall positions.
From 2015 till April 2018 I have been a member of The North Face (Greece) Explorers team.
Since May 2018, I have the honor to be sponsored by SALEWA, one of the worlds leading mountain brands!
I speak Greek, English, Spanish and I'm currently learning French.
I often find inspiration in the stories of people who left their mark in ex-ploration and adventure , but also in those with positive vibes who re-spect the others and the environment !
I am constantly dreaming up and planning new, bolder adventures to some of the worlds remotest lands!
Through this website I want to share with you stories from my journeys, personal thoughts as well as useful tips about skills , equipment and trip planning that could help aspiring hikers to build confidence in order to enjoy ( if they wish) the outdoors independently .
I would love to take your feedback … or meet you on the trail ! 🙂