The Wild side of the Mediterranean!
FIRST IMPRESSION
[June 04, 2014. Corsica]
Quite surreal moments unfold this hot summer day on the most rugged of the Mediterranean islands.My wife Sia and I ,are standing for the last 10 minutes on Punta a e Porte, a narrow pass between barren granite peaks. She is definitely not in ease and she is trying her best not to panic.
This , in fact is the first level spot we have found for quite some time.Oh…I almost forgot to mention.Sia has a fear of heights and she recently decided to give herself a try to overcome it in our vacations. So, here we are on our third day of backpacking in these mountains, before heading to the iconic southern beaches.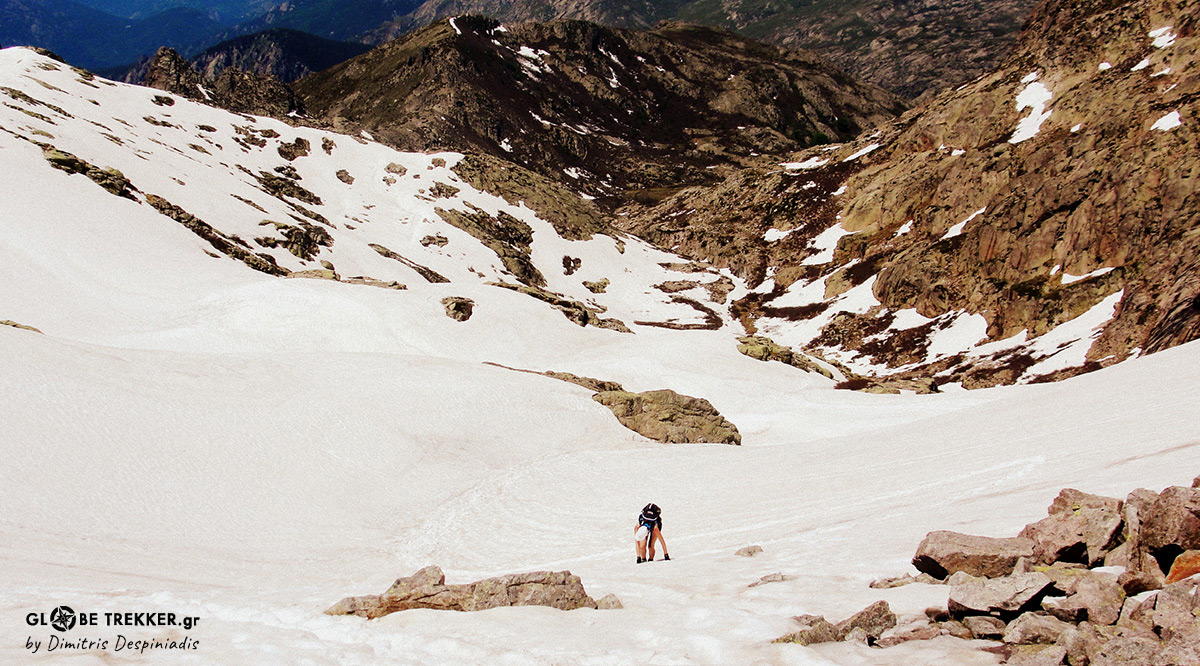 Beneath her back is the snow slope that we have just ascended, but what lies in front of us is a whole other story. A cirque that could make a lot more to hesitate, I guess . The route is quite exposed ( for a hiking route ) and snowbound for the best part, which is something we did not expect for this altitude and latitude, this time of year!
Our location is the "V" forming on the ridge ( in the middle of the photo ) and we're about to traverse to the left, like those two tiny dots on the upper part of the snowfield.
While she's trying to calm, a black raven comes and stands beside her and the Rescue Service helicopter passes simultaneously above our heads.Is that a sign..? I am trying my best not to laugh. I can't! Even at the thought that she has to traverse all these snowbound slopes, she feels desperate.
-" What do you think? " I ask, almost sure that she will ask me to turn back.
-" Lets go onwards and see what happens! " replies rather worn out.
The following 6 hours pass full of uncertainty and adrenaline. Just before sunset, while pitching our tent, I observe her face. It's shining more from excitement than relief.
"I can't believe what I've lived today! It's the most adventurous day of my life!"
" Never Stop Exploring " I reply, thinking that I want to return here SOON and for MORE !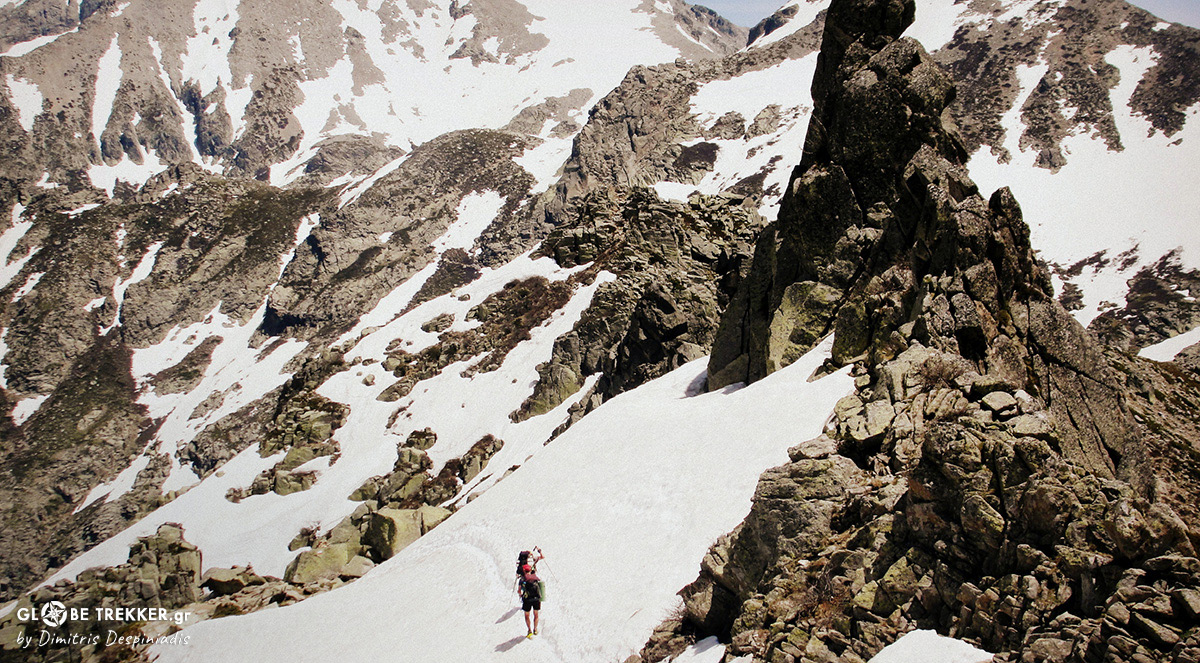 THE ISLAND
Corsica is the 4th biggest Mediterranean island ( a little more than Crete ) and by far the most rugged. It's part of France, although it's closer – I believe – to Italy, both by distance and culturally.Corsicans are very proud of their origin and consider their island- that witnessed a lot of conquerors throughout its history – an autonomous region. Their flag and native tongue are just two examples among others.
The Ancient Greeks were impressed by Corsica's sharp contrasts and called it " Kallisty", which means " the most beautiful ". Iconic beaches ( that are considered among Mediterranean's finest), green valleys, picturesque villages and – above all – a wild mountainous interior characterize the island.
A 1500km trail network makes Corsica a paradise for outdoor lovers, with legendary GR 20 ( known as the most demanding long distance European hiking path ) standing right on top !
MY RETURN
[September 08, 2015]
It's almost dark. My hiking companion Danis and I, are sitting on the tiny back seats of a sports car, the one that we hitched from the bus stop in order to leave us at a camping site at the SE corner of the island. In front of us are two young women.The one is driving and the other one turns the music louder.
Rolling Stones: " I Can't Get No Satisfaction !"
The road runs through a pine forest and there's a light breeze in the air . What a pleasant surprise. Just the day before it was 37 degrees Celsius in my home city in Greece.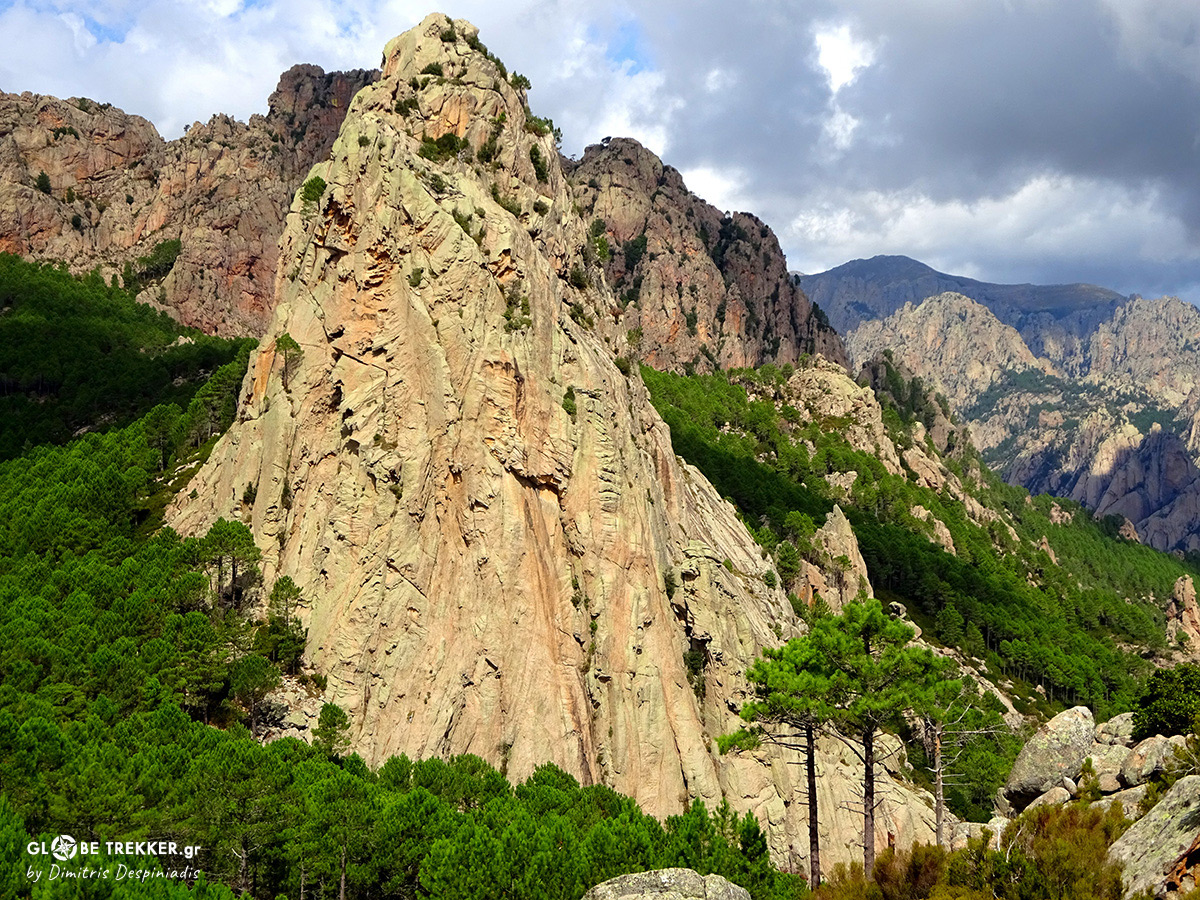 Our two backpacks ( how on earth did they fit inside) are stuffed with clothing, camping and cooking equipment and enough food to get us going for 9 days. Mine weighs more than 15 kilos.
Like this, unsupported , we'll try to cross the island from the SE ( Conca ) to the NW corner ( Calenzana ) through the interior's continuous mountain chain!
THE SOUTH
[Col de Bavella: 1215m]
I am standing right next to the statue of Madonna, which is situated on the pass and observe with curiosity the dozens of offers that surround it. Thick clouds cover the sky, adding a touch of
mystery to the impressive Bavella massif, a mass of granite towers and needles that dominate the landscape!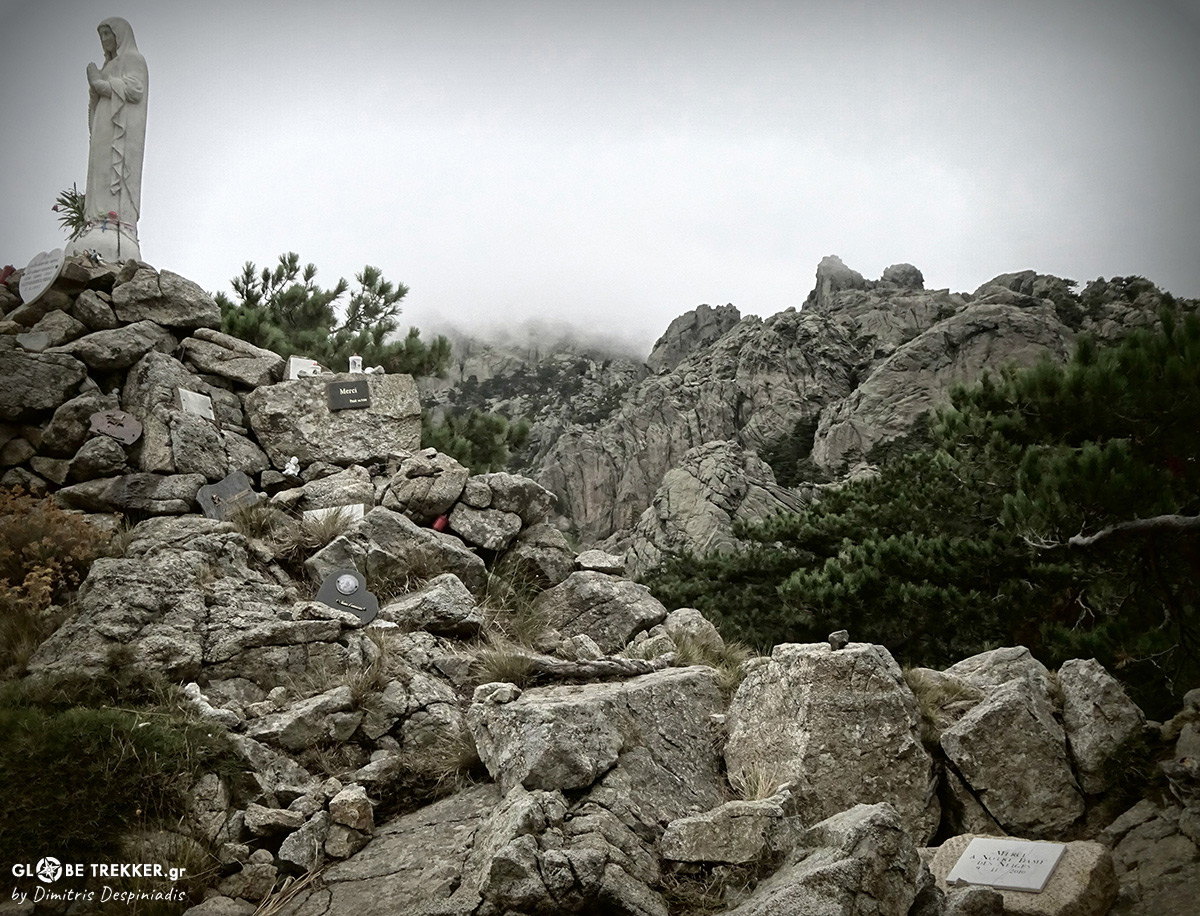 The route here splits into two and I choose to follow the alpine option, which is way more scenic and takes me to the heart of the massif. I scramble through granite slabs and boulders and release my backpack in order to enjoy a snack with a view.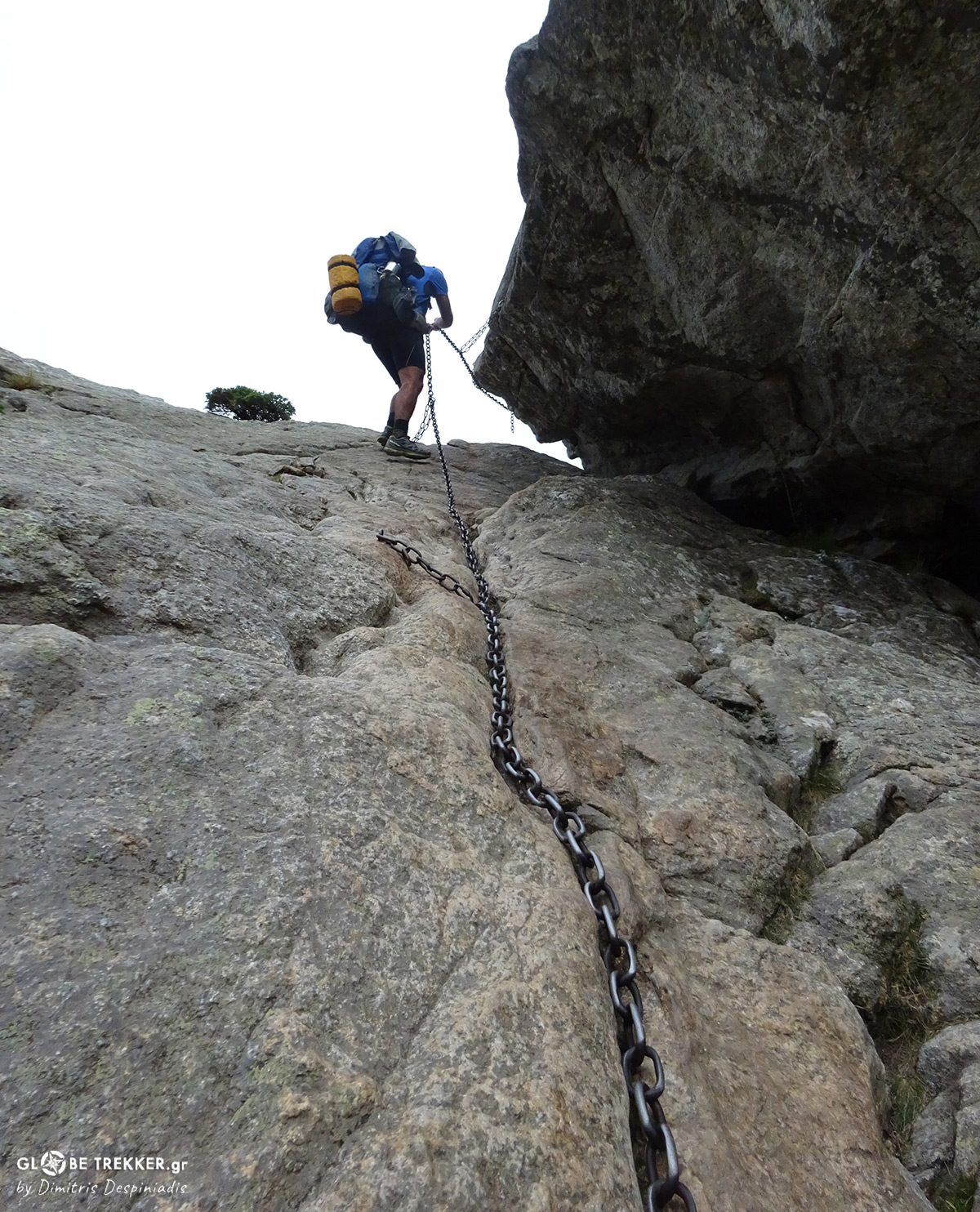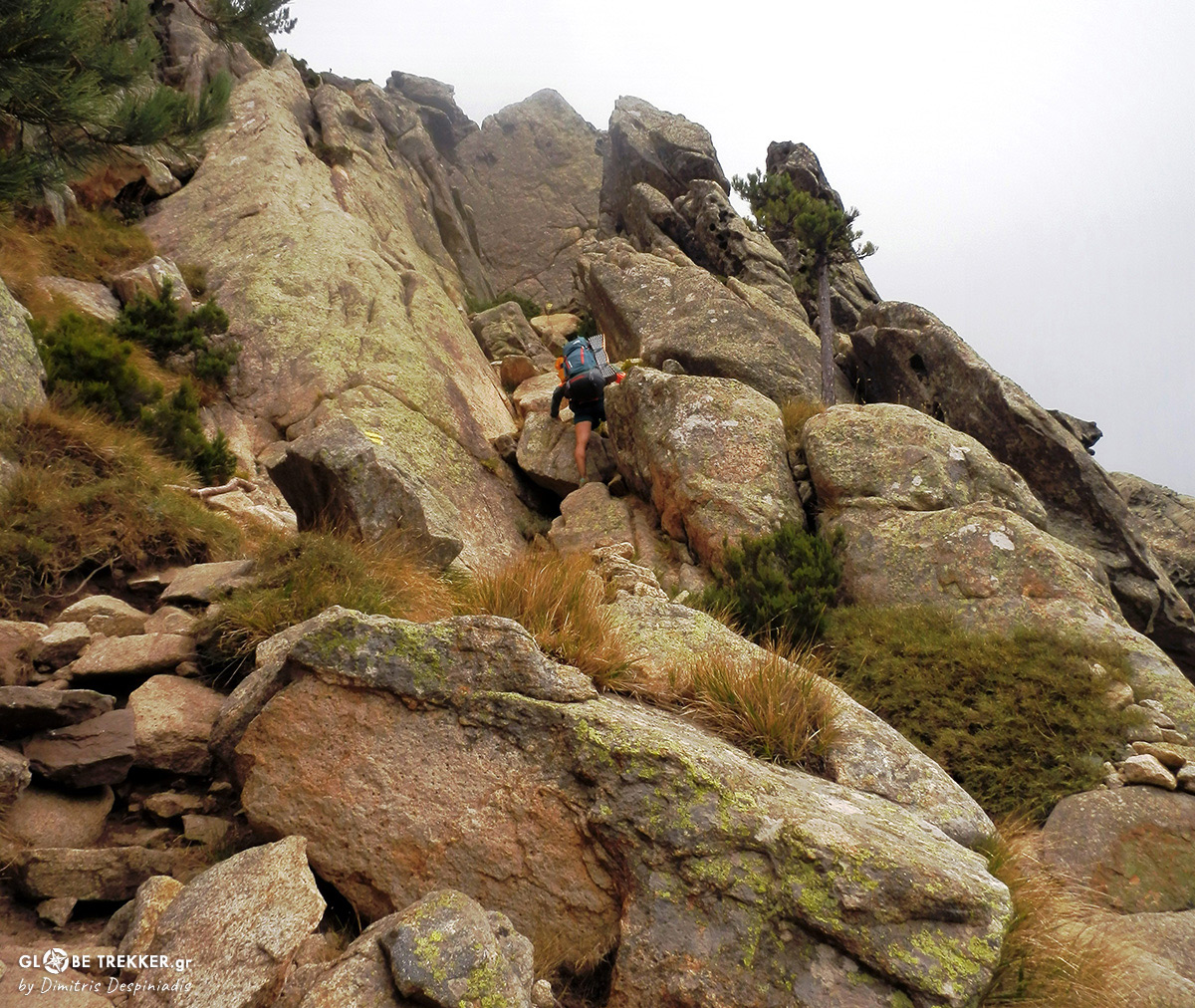 The landscape that surrounds me is so wild and rewarding that I can't get enough of it! And it's not just that. On this 1st day I've already seen beautiful " laricio " pine forests, a wild boar, natural pools "calling" me for a deep and numerous rock formations carved by time, water and the wind.
– " If this is the easy part ( South ), how difficult is North?" asks my friend Danis, who just came tired but full of enthusiasm.
– " Bienvenu en Corse ( Welcome to Corsica )!"
From the first day each one of us is hiking on his own pace in order to enjoy the solitude in nature, something that we both appreciate !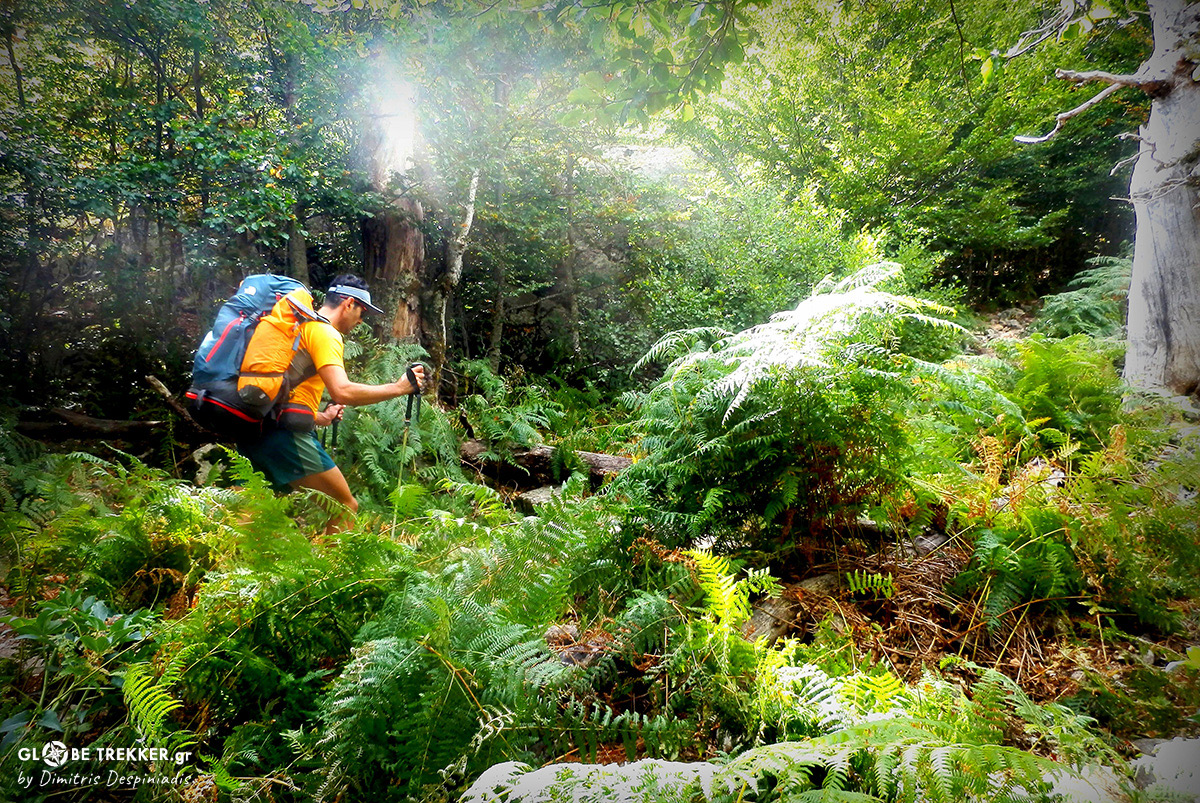 On the other hand, by starting early in the morning, we have plenty of time in our disposal.This equals progress.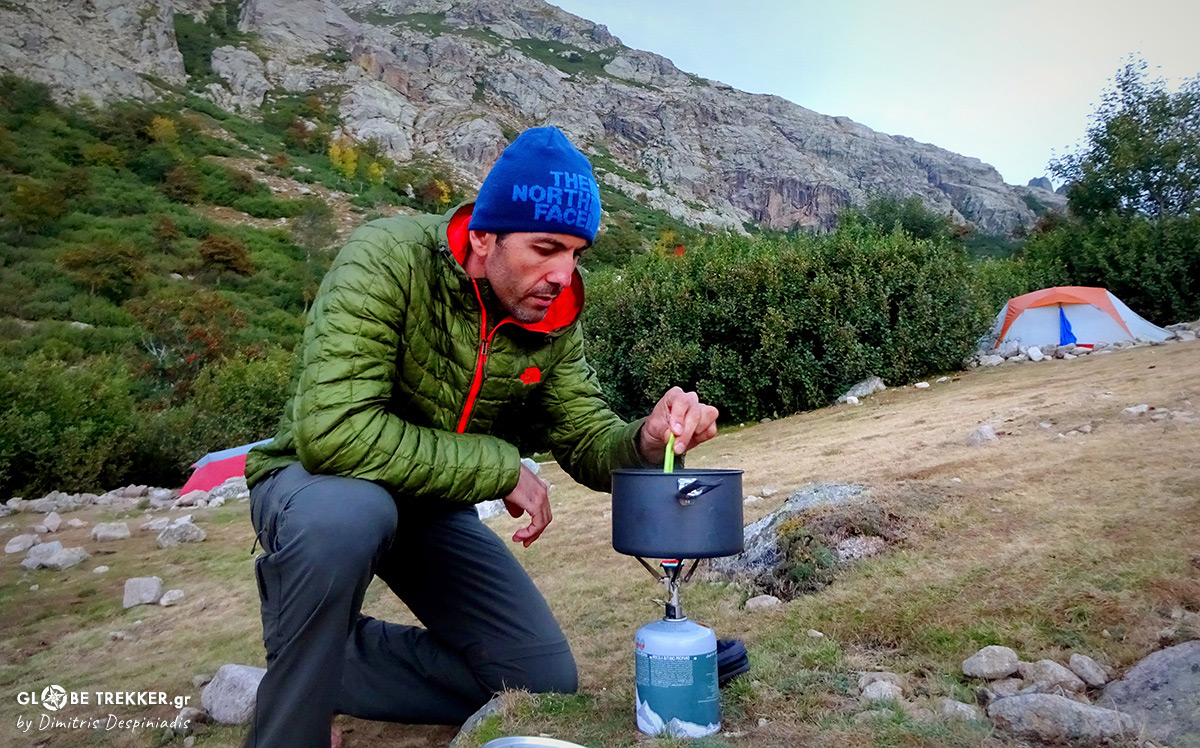 THE ENTRY TO THE NORTH
We are already on day 5. Impressive ridges, forests with centuries old oaks and beeches, as well as a wide mountain meadow with wild horses have made the previous days more than interesting!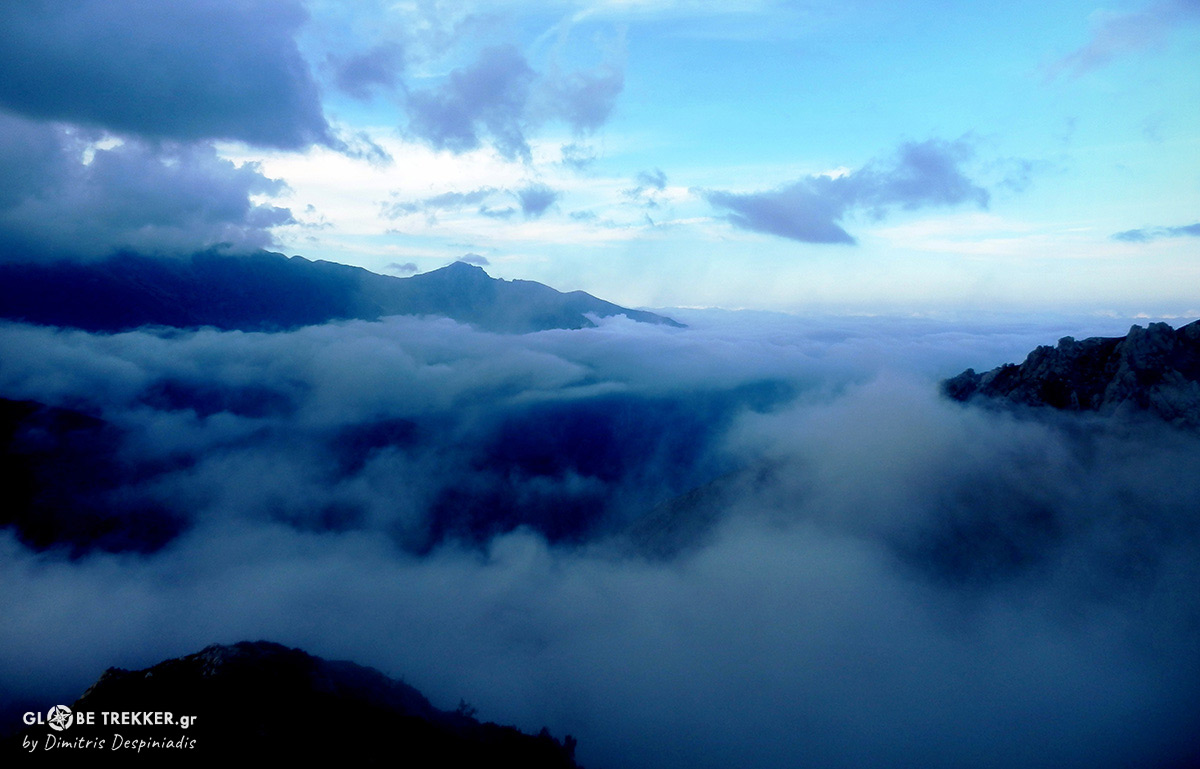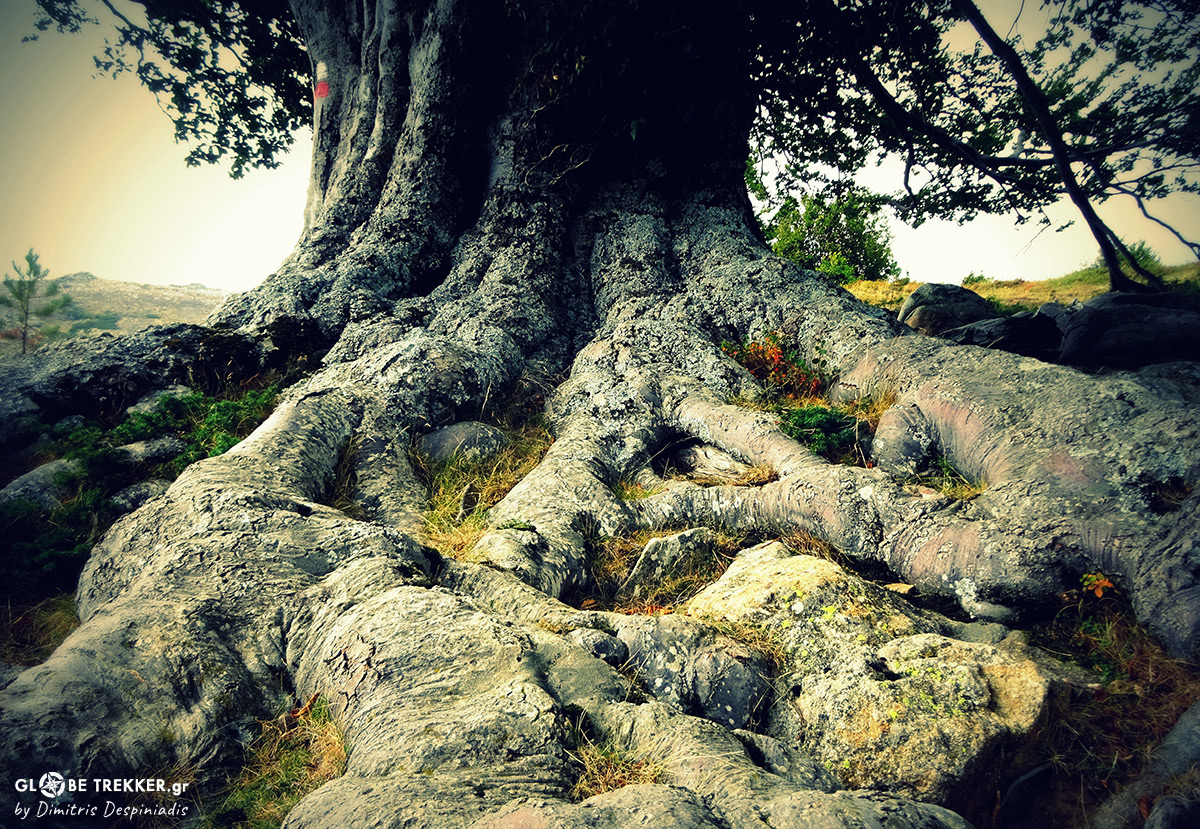 Yesterday we passed from the train station and the magical forest of Vizzavona, that consist the entry to the northern part of the route.
Today I am on the opposite direction in familiar terrain, the one that impressed me a lot the previous year. The day started with a heavy storm, that made scrambling on wet rock even more interesting.
[Breche du Capitellu: 2225m]
The dark waters of Capitellu glacial lake ( that was frozen the previous year) are adding a calmer touch to the wild, composed of grey granite landscape.This place is amazing, so I prepare an instant beverage and stop for a while to take it all in.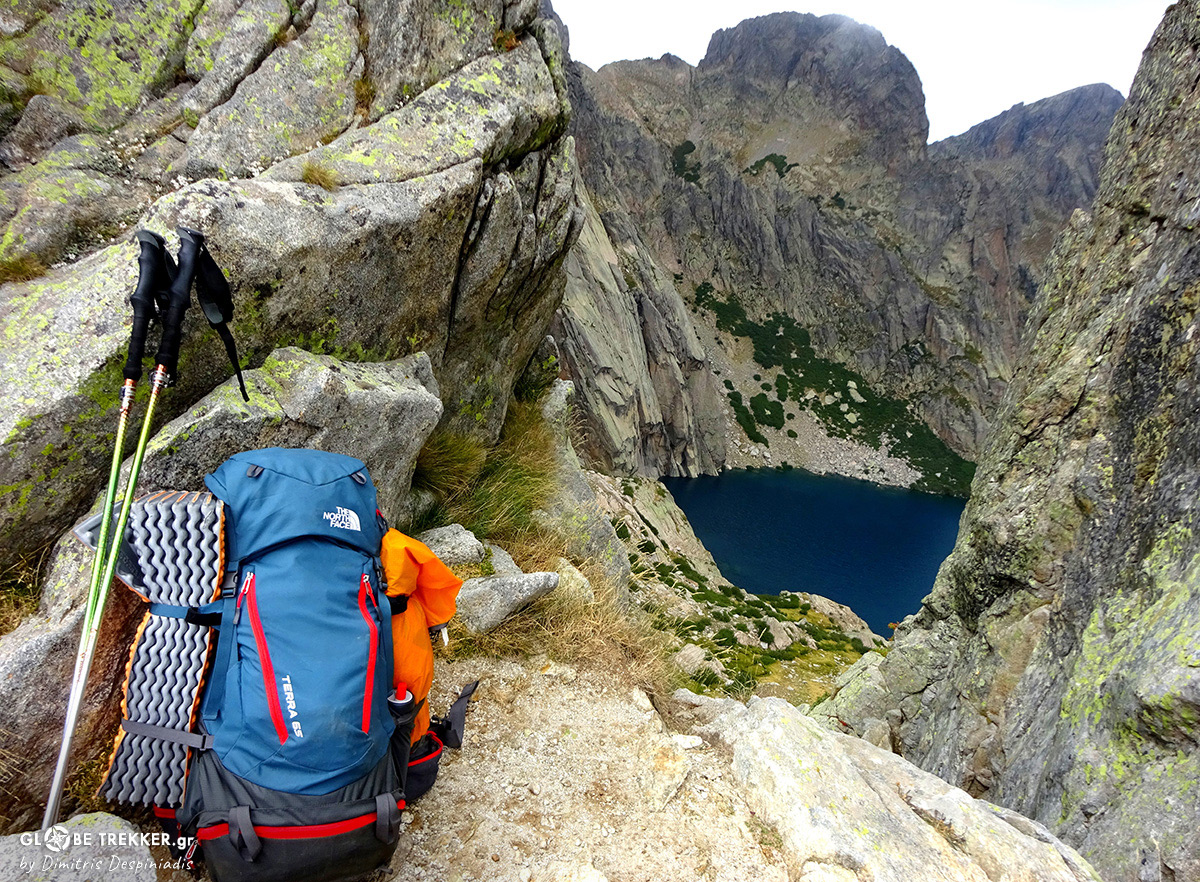 It's really interesting that I haven't seen a single soul for the last 3 hours. The GR 20 is definitely a popular route ( how couldn't it be actually , as it is considered one of the best established hiking routes worldwide ) . But the majority of the hikers complete only 1 stage / day from the 15 that form the route, and then rest at the pricy refuges that are located between them. So, as long as there's will – and happy feet – you can have the mountains "for yourself " in the afternoons.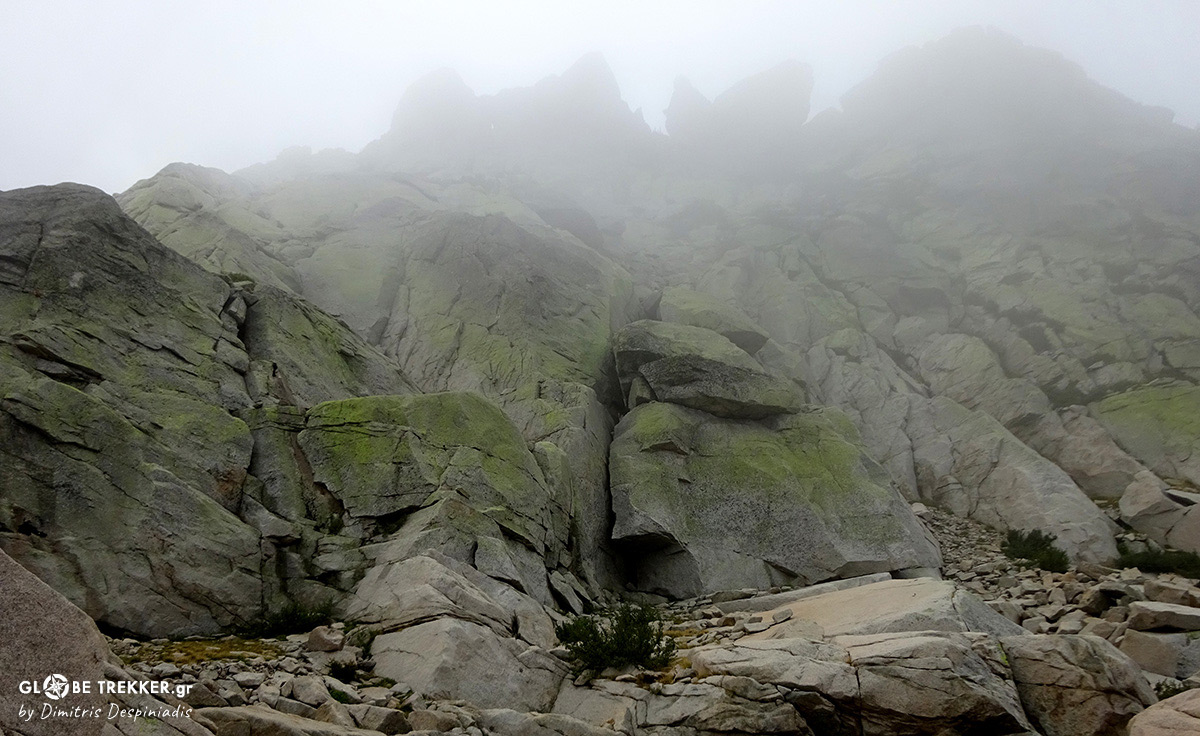 THE ISLAND'S ROOF
[ Tighjettu refuge's helicopter landing platform ]
Day 7, 11:00 o'clock.Complete silence and no sign of life from the nearby refuge, that looks like hanging from the slope.Today's forecast is superb for the better, as it's going to be one more long day.
I feel in really good shape. as I down climbed pretty fast the steep ridge from yesterday's camp at the pass between the summits of Paglia Orba and Capu Tafunatu.
While waiting for my friend to come,I read the wooden sign next to me:
" Cirque de la Solitude Ferme" which means The Cirque of Solitude is Closed !
The sign informs me for something that all of us, who started the last 2 months to cross the island, know.
On June 10, an accident causing the loss of human lives occurred at this section- the most technical of the entire GR 20 – when following heavy rainfalls, giant boulders slipped and fell. The report of the geologic service experts found the " Cirque de la Solitude" too risky – for now – and prohibited entry, as large boulders are still hanging precariously on the slopes.
The days following the accident, "Parc Naturel Régional de Corse" staff members developed a – perhaps- equally interesting route and secured its exposed sections with chains.
This alternative route passes through the emblematic Monte Cintu, Corsica's highest summit, adding more distance and elevation gain to the GR 20 ( >200km, >14000D+ ). But here in Corsica numbers are just numbers and the real player is its rugged terrain !
A lengthy and steep ascend leads me higher where, after numerous turns, I arrive to the wind exposed Col. On my right , just an hour of easy scrambling away, is the summit.

A super steep descent will lead us just before sunset to an abandoned Ski Center. There, among pine trees, we will pitch our tent and we'll get to meet our neighbors.
THE EXIT TO THE SEA
Day 8. Today I saw for the first time Calvi's port from Murvella pass. Tomorrow will probably be the last day of our crossing, but tomorrow is another day and GR 20 is offering us a thrilling finish, obliging us to concentrate to the absolute present.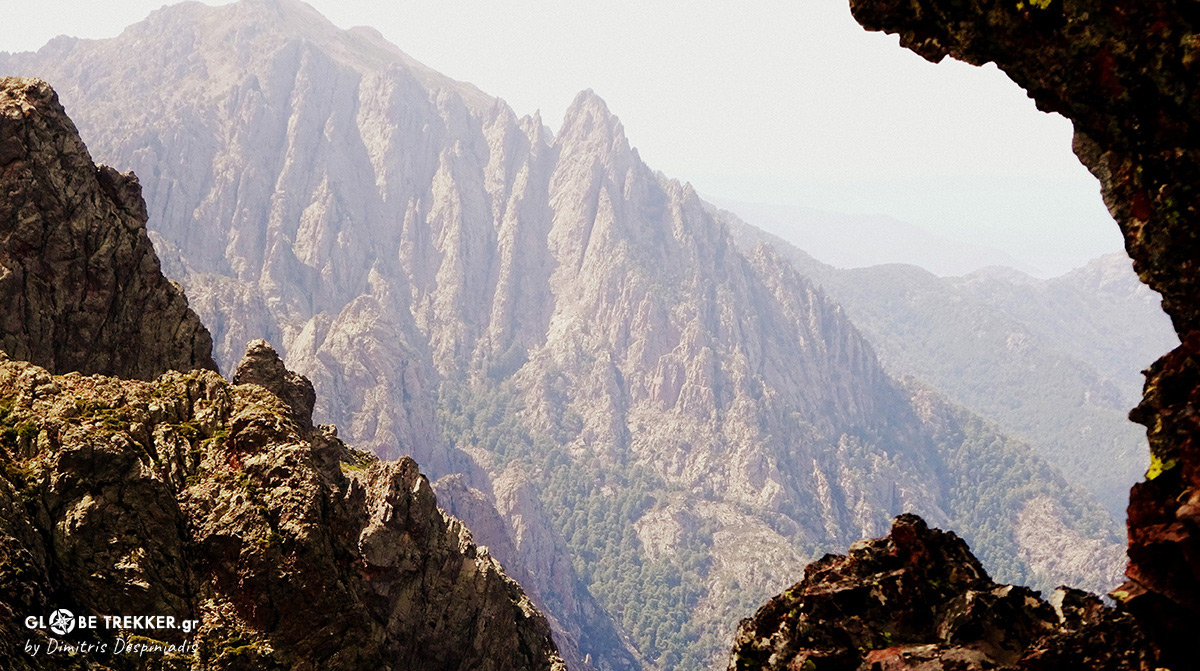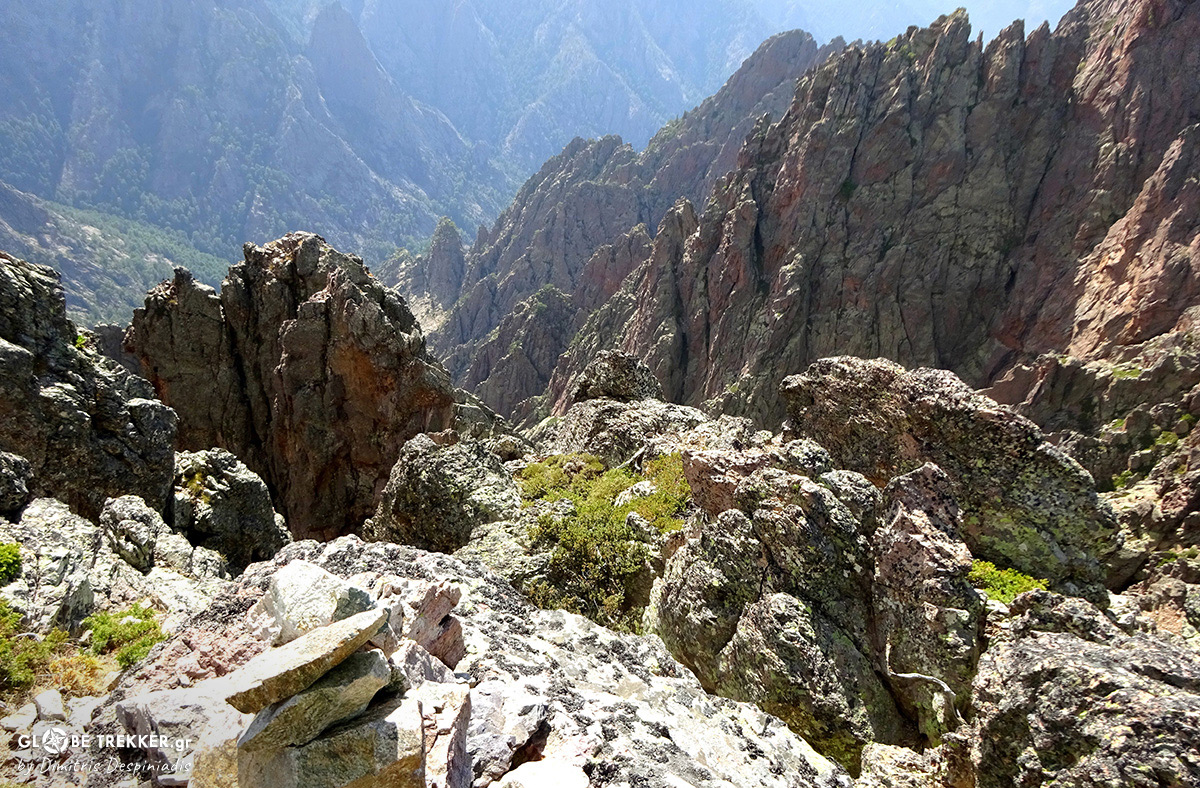 Continuous ups and downs through narrow couloirs, an exposed traverse of Capu Landroncellu's south face and ridge walking … all day ! What a day !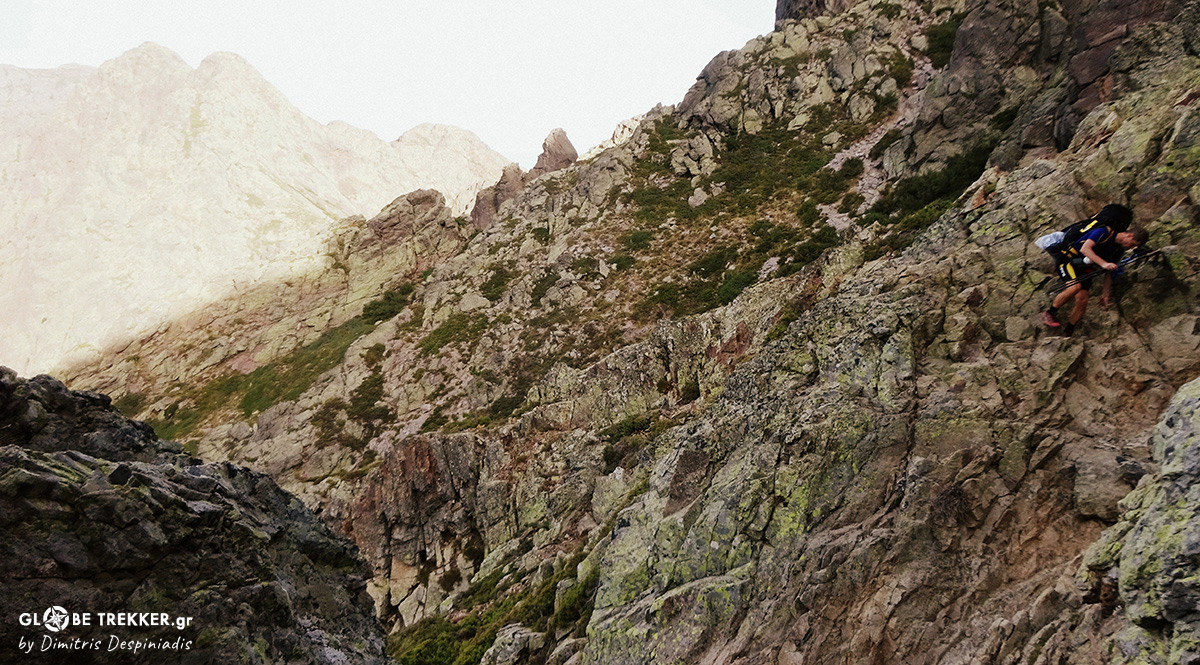 PISCIAGHJA PASS
[Bocca di Pisciaghja: 1950m]
Here, at Pisciaghja pass, above chaotic cliffs and just before the descent to our final camp, I observe in awe the Great Barrier of the north, that rewarded us with such a scenery and emotions! Wild island !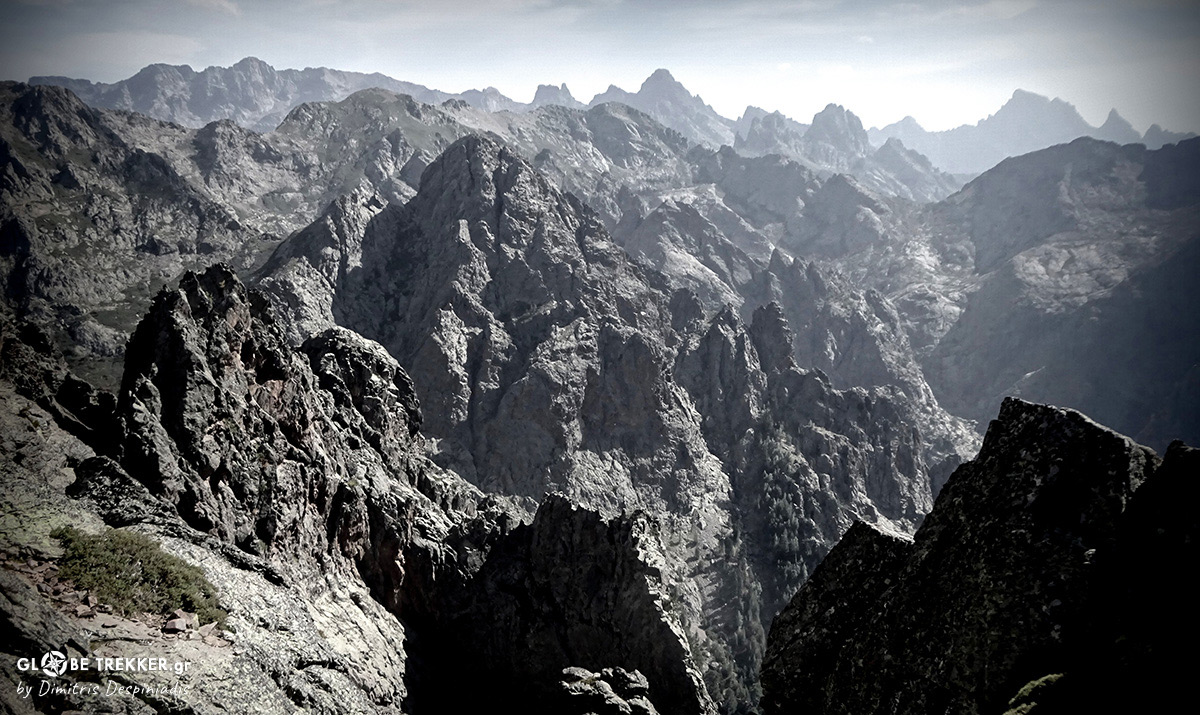 Just to mention, the final scene of our journey was played in a back alley of Bastia's port, where we had our share of the famous Corsican cheeses !
Corsica's crossing exceeded our expectations in terms of scenery and difficulty and we enjoyed every single minute of these 8 1/2 days. I would definitely recommend it to backpackers with a bit of experience on exposed and particularly rugged terrain !
Note
For those who might be interested, a whole bunch of information about hiking in Corsica ( including 4 interesting and way easier routes that traverse the island ) can be found at:
www.CorsicaforHikers.com
Whatever you do, wherever you go, Enjoy ! 🙂